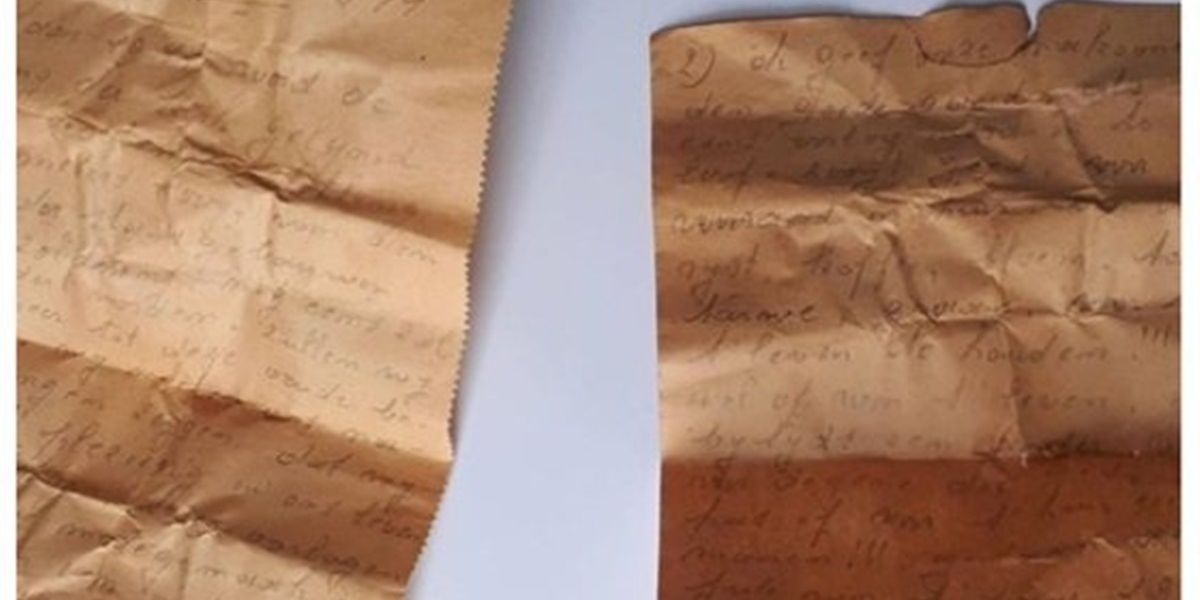 Construction on St. James Church in Antwerp, Belgium began in 1476 and wasn't completed for another 180 years. Over the generations, it would become the burial site for many of the area's notable residents including Baroque painter Peter Paul Rubens.
The church was constructed in Gothic style with a Baroque interior and is famous for having one of the largest working tower clocks in the world.
---
Like any great piece of architecture from hundreds of years ago, the church is constantly being renovated. Currently, the site is undergoing restoration of its inner and outer shells.
via Wikimedia Commons
Recently, a worker on the site discovered a secret message left by men who performed a similar job on the church nearly 80 years ago.
The restoration worker was looking in a keystone that hangs from one of the ceilings in the tower and noticed a matchbox tucked inside an ornament. When he opened the matchbox, he found a note written on the back of two coupons.
via stad_antwerpen / Instagram
via stad_antwerpen / Instagram
The note was dated July 12, 1941, and signed by four workers at the chapel: John Janssen, Jul Gyselinck, Louis Chantraine, and Jul Van Hemeldonck.
The note was dedicated to anyone who happened to find it in the future. It recounts the struggles of a bygone era but gives some positive advice to about how to live the best life possible, no matter the circumstances.
via stad_antwerpen / Instagram
"If this ceiling will be painted again, we will no longer belong to this earth…We have to tell the following generations that we didn't have a happy life. We have lived through two wars. One in 1914 and one in 1940, that can still count! We're working here hungry they extort us to the last cent to eat little."

"I advise our descendants when it comes to war again. In the course of life, take good care of a stock in the house, such as rice, coffee, flour, tobacco, wheat, grain for you to keep alive. Have a sufficient amount of food in excess like rice, coffee, flour, tobacco, grains, wheat, to keep you alive…Enjoy life to the fullest and if necessary take another wife. The ones who are married: Just go home! Salut men!"
It's interesting to see that when the workers were providing advice to people in the future, it was about making sure that you have the necessities to make it through hard times, because they were probably luxuries during that time.
But they also said that it's just as important to share your life with someone that you love.
via Wikimedia Commons
When the letter was written, Belgium was in turmoil. Although the country was neutral at the onset of World War II, the country soon had to mobilize after it was invaded by Hitler in May of 1940, a little more than a year before the letter was written.
Antwerp was an important port in the war that handled 40,000 tons of supplies a day until it was captured by the Nazis.
The occupation of Belgium would last until 1944.
From Your Site Articles
Related Articles Around the Web
function rm_fn_9000afc3d3fb8457c9fe38b660cb490c() {
!function(f,b,e,v,n,t,s) {if(f.fbq)return;n=f.fbq=function(){n.callMethod? n.callMethod.apply(n,arguments):n.queue.push(arguments)}; if(!f._fbq)f._fbq=n;n.push=n;n.loaded=!0;n.version='2.0'; n.queue=[];t=b.createElement(e);t.async=!0; t.src=v;s=b.getElementsByTagName(e)[0]; s.parentNode.insertBefore(t,s)}(window, document,'script', 'https://connect.facebook.net/en_US/fbevents.js'); fbq('init', '1676218835946757'); fbq('track', 'PageView'); } window.REBELMOUSE_LOW_TASKS_QUEUE.push(rm_fn_9000afc3d3fb8457c9fe38b660cb490c);
function rm_fn_e3323212a5c1a85caff08537172126b3() { function fbvideoID(frame) { var myRegexp = /2F(d+)%/g; var match = myRegexp.exec(frame); return match[1]; } var fbIframe = document.querySelector('iframe[src^="https://www.facebook.com/plugins/video.php?"]'); if (fbIframe) {fvVidID = fbvideoID(fbIframe.getAttribute('src')); if (fvVidID) { fbIframe.insertAdjacentHTML("beforebegin", '
'); // fbIframe.parentNode.removeChild(fbIframe); } } var videoId = "promoted-video"; var oldFacebookVideo = document.getElementById(videoId); if (!oldFacebookVideo) { return }; var facebookVideoPost = oldFacebookVideo.closest(".widget"); if (!facebookVideoPost) { return };
var facebookVideo = facebookVideoPost.querySelector("#" + videoId); facebookVideo.classList.add("fb-video"); var firstPost = document.querySelector(".widget.post-partial");
function onScriptLoad() { FB.init({ appId: window.REBELMOUSE_BOOTSTRAP_DATA.fbId, version: window.REBELMOUSE_BOOTSTRAP_DATA.fbAppVersion, status: true, cookie: true, }); FB.XFBML.parse(); if(fbIframe){ fbIframe.parentNode.removeChild(fbIframe); } }
function loadFacebookScript() { var existingScript = document.querySelector('script[src="https://connect.facebook.net/en_US/sdk.js"'); if (!existingScript) { var script = document.createElement("script"); script.src = "https://connect.facebook.net/en_US/sdk.js"; document.head.appendChild(script); script.addEventListener("load", onScriptLoad); } }
function intersectorCallback(video_player) { var booted = false; var totalSeconds = 0; var interval = null;
function impressionCounter() { totalSeconds++; console.log("I've been watching for " + totalSeconds + " seconds"); } return function intersector(entries) { var entry = entries[0]; if (entry.isIntersecting) { if (!booted) { booted = true; video_player.mute(); video_player.play(); } interval = setInterval(impressionCounter, 1000); } else { if (interval) { console.log("I've stopped watching at " + totalSeconds + " seconds"); clearInterval(interval); interval = null; } } }; }
function trackVideo(video_player) { var observer = new IntersectionObserver(intersectorCallback(video_player), {}); observer.observe(facebookVideo); }
function onFacebookElementLoaded(msg) { if (msg.type === "video" && msg.id === videoId) { trackVideo(msg.instance); } }
function onFacebookReady() { FB.Event.subscribe("xfbml.ready", onFacebookElementLoaded); if (window.oldFacebookWaiter) window.oldFacebookWaiter(); }
if ("FB" in window) { onFacebookReady(); } else { window.oldFacebookWaiter = window.fbAsyncInit; window.fbAsyncInit = onFacebookReady; loadFacebookScript(); } } window.REBELMOUSE_TASKS_QUEUE.push(rm_fn_e3323212a5c1a85caff08537172126b3);