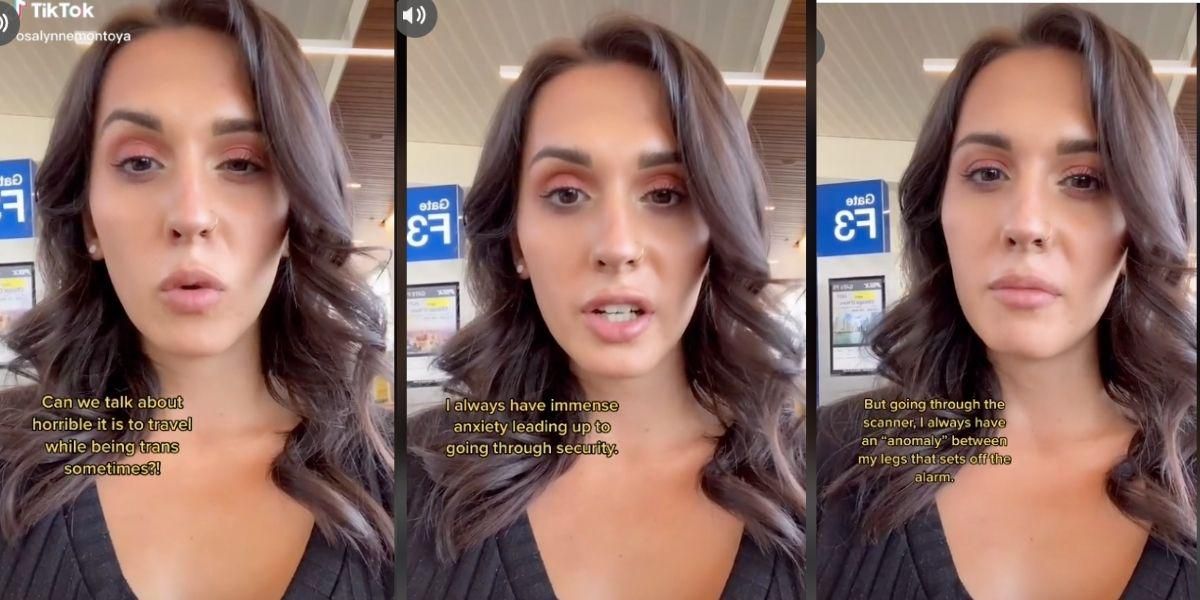 Rose Montoya was flying from Phoenix to Los Angeles when she passed through the TSA screeners, as all air travelers are required to do. However, her security screening experience was problematic in ways that people who aren't transgender might not ever think about.
Montoya's video about her experience on TikTok has drawn millions of views, as she explains the issues she runs into with TSA scanners and agents who don't have the experience or training to process transgender people's security screenings in a respectful, appropriate manner.
"Going through the scanner, there's a male scanner and a female scanner in the TSA checkpoint," she said. "And, looking at me, you know, I look like a woman and I am a woman. So, that's great. I love having systemic privilege when I feel unsafe, which is in an airport. But, going through the scanner, I always have an 'anomaly' between my legs that sets off the alarm. And so she (the TSA attendant) asked me if I had anything in my pants and I told her 'no' and she's like, 'Well, maybe it's just like the metal on your shorts, so let's scan you again.'"
---
The agent tried again, and again the alarm went off. "So, I was like look, I'm trans," she said. "Just pat me down. And her solution was, 'Do you want to be scanned as a man instead?' I didn't. But, I ended up doing it and then my boobs set off the scanner because, of course. So, I tried to make a joke out of it. I was like, 'Oh yeah, there's a lot of plastic in there! It's fine.' So then she was like, 'OK, well we have to pat you down. Do you want a man to do it?' I said, 'NO! Absolutely not.'"
Montoya explained to Buzzfeed that agents have to make a visual judgment of whether a passenger is male or female before they enter the scanner, which can cause issues for transgender people, especially when a person isn't fully surgically transitioned or is non-binary.
"The scanners at TSA checkpoints are made with only two settings, forcing the TSA agents to make a split-second decision on whether to scan travelers as male or female."
ProPublica did an investigative report on TSA scanners and how screenings impact transgender passengers in 2019, which revealed that the issues Montoya describes are not new. The binary nature of TSA scanners has been a problem for transgender people since they were implemented in 2010, but they aren't the only issue. TSA policy is that patdowns happen by agents that match the presenting gender of a transgender person, but as Montoya's story shows, implementation of policy isn't always consistent. Some transgender people have reported having to strip down and show their genitals to TSA agents, which is invasive, humiliating, and anxiety-producing.
According to the TSA representatives ProPublica spoke to, agents aren't supposed to ask people to—or even let people—take off their clothes to reveal private body parts. However, Peter Neffenger, who served as TSA administrator for the last 18 months of the Obama administration, told ProPublica that he wouldn't be surprised if it happened. The TSA is a huge organization and turnover is quite high, he said, so keeping people trained properly presents a challenge.
Neffenger also understood the anxiety the gendered scanners brought on.
"As many in the transgender community explained to me, it's one of the most stressful parts of the screening process for them," he said.
It's not unusual for transgender people to be treated with disdain or disgust, to be asked disrespectful questions, or to be touched inappropriately. When such treatment happens in public and comes from the hands of officials who have control over whether or not you're allowed to get on an airplane, it can be particularly traumatic. One transgender man ProPublica spoke to said his experience—in which two male TSA agents had him remove his binder and lifted each of his breasts with their hands—kept him from flying for five years. After a transgender woman was refused a patdown by female agents, two male agents took her to a private room and had her take off her leggings to show her genitals. And the screening took so long she missed her flight.
The TSA began a training program for helping transgender passengers through the screening process in February of 2019, but ProPublica wasn't able to review it. And again, training 65,000 employees, some of whom are undoubtedly undereducated and underexposed to transgender people in their own lives, is a challenge. Something definitely needs to change, though, if transgender people can't go through the airport security process without feeling anxious due to how their bodies are going to be processed.
Montoya tried to look at the bright side of her Phoenix airport encounter, pointing out that she at least had paperwork that showed her gender and name correctly and how traveling as a transgender person used to be even worse.
"Afterwards, I took a deep breath, grabbed my things and bought myself a cookie butter latte and a snack," she told Buzzfeed. "I felt dysphoric and disrespected, but remembered how much worse this experience used to be. I FaceTimed my boyfriend, who listened to my story and calmed me down."
She also said that she'd been approached by representatives from the TSA asking how they can do better, and she's scheduled to meet with them today.
Here's hoping some progress comes from Montoya's viral story and that all people, regardless of gender, can travel without unnecessary embarrassment or hardship.
From Your Site Articles
Related Articles Around the Web
window.REBELMOUSE_LOWEST_TASKS_QUEUE.push(function(){
var script = document.createElement('script'); script.src = "https://cdn.cookielaw.org/scripttemplates/otSDKStub.js"; script.charset = "UTF-8"; script.setAttribute("data-domain-script","1118f59d-8351-4eb7-bea6-6a23d2f57cf9"); document.getElementsByTagName('head')[0].appendChild(script);
});
window.REBELMOUSE_LOWEST_TASKS_QUEUE.push(function(){
var tags = [ 'https://pymx5.com/scripts/ready.js', 'https://pymx5.com/scripts/ims.js', 'https://pymx5.com/scripts/load_tags.js' ]
function l() { if (tags.length) { var tag = tags.pop(); var script = document.createElement('script'); script.setAttribute('src', tag); script.onload = l; document.body.appendChild(script); } else { window.ia = window.ia || function () { (window.ia.q = window.ia.q || []).push(arguments); } ; ia('track', 'PAGE_VIEW');
docReady(function() { ims.startServices(); } ); } }
l();
});
window.REBELMOUSE_LOWEST_TASKS_QUEUE.push(function(){
window.REBELMOUSE_STDLIB.loadExternalScript("https://ats.rlcdn.com/ats.js", function() {
ats.start( { "placementID": 103, "storageType": "localStorage", "detectionType": "scrape", "cssSelectors": [ "input[type=text]", "input[type=email]" ], "logging": "error" });
});
});
window.REBELMOUSE_LOWEST_TASKS_QUEUE.push(function(){
!function(f,b,e,v,n,t,s) {if(f.fbq)return;n=f.fbq=function(){n.callMethod? n.callMethod.apply(n,arguments):n.queue.push(arguments)}; if(!f._fbq)f._fbq=n;n.push=n;n.loaded=!0;n.version='2.0'; n.queue=[];t=b.createElement(e);t.async=!0; t.src=v;s=b.getElementsByTagName(e)[0]; s.parentNode.insertBefore(t,s)}(window, document,'script', 'https://connect.facebook.net/en_US/fbevents.js'); fbq('init', '1676218835946757'); fbq('track', 'PageView');
});
window.REBELMOUSE_LOWEST_TASKS_QUEUE.push(function(){
function triggerComscorePageView() { console.log('triggerComscorePageView'); window.COMSCORE && COMSCORE.beacon({c1: "2", c2: "18736521"}); fetch("https://www.upworthy.com/res/3rdparty/comscore_pageview"); }
if (typeof rblms !== 'undefined') { rblms.require(['core/event_dispatcher'], function(eventDispatcher) { eventDispatcher.on('viewRegistry:initViews', triggerComscorePageView); }); }
document.addEventListener('click', event => { if (event.target && event.target.classList.contains('show-more')) { triggerComscorePageView() } });
urlChangeHandler(triggerComscorePageView);
});
window.REBELMOUSE_LOWEST_TASKS_QUEUE.push(function(){
(function() { try{var a={l1:document.location.host.replace(/^www./,""),l2:document.title||"Untitled",l3:"__page__",l4:"-",sa:"",sn:""},b=[],c;for(c in a)b.push(c+"="+encodeURIComponent(a[c]));b=b.join("&");(new Image).src="https://d26n2uyu5tcx3y.cloudfront.net?a=5ac31c1640c74c36900b97047f570f19";var d=document.createElement("script");d.type="text/javascript";d.async=!0;var e=document.getElementsByTagName("script")[0];e.parentNode.insertBefore(d,e);d.src="https://z.moatads.com/upworthy105Vonz37/moatcontent.js#"+b}catch(f){try{var g= "//pixel.moatads.com/pixel.gif?e=24&d=data%3Adata%3Adata%3Adata&i=MOATCONTENTABSNIPPET1&ac=1&k="+encodeURIComponent(f)+"&j="+encodeURIComponent(document.referrer)+"&cs="+(new Date).getTime();(new Image).src=g}catch(h){}}; })();
});
window.REBELMOUSE_LOWEST_TASKS_QUEUE.push(function(){
(function(w,d) { w.kwa || (w.kwa = function()
{ (w.kwa.q = w.kwa.q || []).push(arguments); } ); se = d.createElement('script'), fs = d.scripts[0]; se.src="https://cdn.keywee.co/dist/analytics.min.js"; fs.parentNode.insertBefore(se,fs) }(window, document));
kwa('initialize',603);
});
window.REBELMOUSE_LOWEST_TASKS_QUEUE.push(function(){
(function(h,o,t,j,a,r){ h.hj=h.hj||function(){(h.hj.q=h.hj.q||[]).push(arguments)}; h._hjSettings={hjid:1648575,hjsv:6}; a=o.getElementsByTagName('head')[0]; r=o.createElement('script');r.async=1; r.src=t+h._hjSettings.hjid+j+h._hjSettings.hjsv; a.appendChild(r); })(window,document,'https://static.hotjar.com/c/hotjar-','.js?sv=');
});
window.REBELMOUSE_LOWEST_TASKS_QUEUE.push(function(){
window.REBELMOUSE_STDLIB.loadExternalScript("https://embed.actionbutton.co/widget/widget.min.js", function() {
});
});
window.REBELMOUSE_LOWEST_TASKS_QUEUE.push(function(){
let asd=false
});
window.REBELMOUSE_LOWEST_TASKS_QUEUE.push(function(){
function fbvideoID(frame) { var myRegexp = /2F(d+)%/g; var match = myRegexp.exec(frame); return match[1]; } var fbIframe = document.querySelector('iframe[src^="https://www.facebook.com/plugins/video.php?"]'); if (fbIframe) {fvVidID = fbvideoID(fbIframe.getAttribute('src')); if (fvVidID) { fbIframe.insertAdjacentHTML("beforebegin", '
'); // fbIframe.parentNode.removeChild(fbIframe); } } var videoId = "promoted-video"; var oldFacebookVideo = document.getElementById(videoId); if (!oldFacebookVideo) { return }; var facebookVideoPost = oldFacebookVideo.closest(".widget"); if (!facebookVideoPost) { return };
var facebookVideo = facebookVideoPost.querySelector("#" + videoId); facebookVideo.classList.add("fb-video"); var firstPost = document.querySelector(".widget.post-partial");
function onScriptLoad() { FB.init({ appId: window.REBELMOUSE_BOOTSTRAP_DATA.fbId, version: window.REBELMOUSE_BOOTSTRAP_DATA.fbAppVersion, status: true, cookie: true, }); FB.XFBML.parse(); if(fbIframe){ fbIframe.parentNode.removeChild(fbIframe); } }
function loadFacebookScript() { var existingScript = document.querySelector('script[src="https://connect.facebook.net/en_US/sdk.js"'); if (!existingScript) { var script = document.createElement("script"); script.src = "https://connect.facebook.net/en_US/sdk.js"; document.head.appendChild(script); script.addEventListener("load", onScriptLoad); } }
function intersectorCallback(video_player) { var booted = false; var totalSeconds = 0; var interval = null;
function impressionCounter() { totalSeconds++; console.log("I've been watching for " + totalSeconds + " seconds"); } return function intersector(entries) { var entry = entries[0]; if (entry.isIntersecting) { if (!booted) { booted = true; video_player.mute(); video_player.play(); } interval = setInterval(impressionCounter, 1000); } else { if (interval) { console.log("I've stopped watching at " + totalSeconds + " seconds"); clearInterval(interval); interval = null; } } }; }
function trackVideo(video_player) { var observer = new IntersectionObserver(intersectorCallback(video_player), {}); observer.observe(facebookVideo); }
function onFacebookElementLoaded(msg) { if (msg.type === "video" && msg.id === videoId) { trackVideo(msg.instance); } }
function onFacebookReady() { FB.Event.subscribe("xfbml.ready", onFacebookElementLoaded); if (window.oldFacebookWaiter) window.oldFacebookWaiter(); }
if ("FB" in window) { onFacebookReady(); } else { window.oldFacebookWaiter = window.fbAsyncInit; window.fbAsyncInit = onFacebookReady; loadFacebookScript(); }
});



Source link