Three people, including two police officers, have been shot dead at a Queensland property.
A manhunt is underway for the offenders.
Police were fired on while visiting the property at Wieambilla, about 300km west of Brisbane, in relation to a reported missing person from NSW.
Two police officers died at the scene while a third person died later. A third officer suffered a bullet graze and is in hospital and a fourth officer managed to escape after the shooting.
Queensland Police declared an emergency situation just after 6pm AEST.
Queensland Police Commissioner Katarina Carroll confirmed the fatalities in a media conference.
"It is with deep sadness that I confirm the deaths of three people, including two officers, during an incident in the Western Downs late this afternoon," Carroll said.
"Four officers attended a property on Wains Road in Wieambilla in relation to a reported missing person from New South Wales. Tragically, while in attendance, two officers were shot and declared deceased at the scene.
"A member of the public was also shot and is deceased. Another officer received a bullet graze and is receiving treatment in hospital. A fourth officer managed to escape the property and is also receiving treatment."
Premier Annastacia Palaszczuk said the whole state would be suffering in "shock and sadness".
"I extend my deepest respects to their families and to the Queensland Police Service family as a whole," Palaszczuk said.
"Our police risk their lives every day to keep us safe. I know Queensland joins with me in expressing our shock and sadness."
Police Minister Mark Ryan said the Queensland Police Service "has lost two heroes tonight".
"This is a tragedy on so many levels and the thoughts of all of us are with the police family tonight," Ryan said.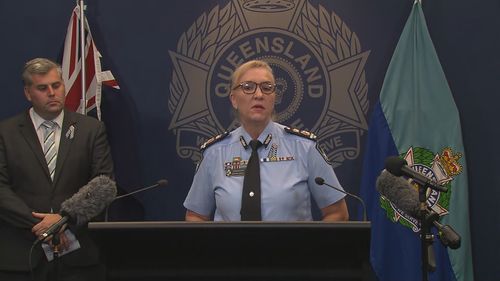 "This is a traumatic, confronting and devastating event for our community.
"I express my sincere condolences to their family, friends and colleagues and the entire police family.
"These officers served with honour and we will always remember their sacrifice in service of our community."
Queensland Police will provide another update in the morning.