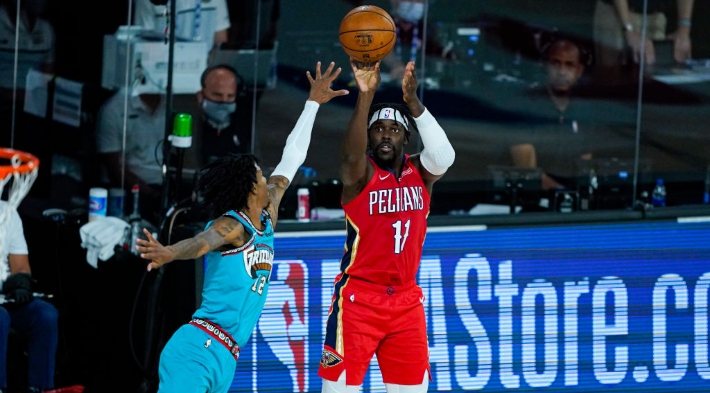 After effectively being on the trade market since the day Anthony Davis was traded last year, a report from Shams Charania indicates Jrue Holiday is finally the subject of more aggressive trade discussion, with the Pelicans reportedly "openly discussing" deals involving Holiday.
With one year plus a player option remaining on his contract and his value still quite high as a capable scorer and play-maker and one of the most versatile perimeter defenders in the NBA, Holiday should fetch a solid return for New Orleans, even at age 30. These days, the NBA demands that you have guards who can do a bit of everything, which means Holiday could slide onto just about any team fairly easily.
So it's no surprise that many contending teams have been linked to Holiday, according to Charania's reporting. As the discussions likely heat up heading toward the Draft, several teams appear to be solid matches in trades with the Pelicans. The biggest question facing all of these teams in trying to negotiate a deal for Holiday is: What do the Pelicans want? They had playoff aspirations last season and fell just short, and that was with their rookie star missing most of the season. However, if they're moving off Holiday, one would think they're looking for at least some longterm help that fits the timeline of their young core a bit better than the veteran guard.
As such, it can be difficult to gauge exactly what a trade package will look like, as we don't know whether David Griffin will be eyeing something heavier on draft compensation, young players that can still contribute now, or veterans elsewhere on the court. Here we look at a few potential landing spots for Holiday, and some of the framework they could work around, with draft compensation obviously needing to be worked out.
Brooklyn Nets
While the Nets are likely to go into next season among the teams expected to compete for the title, the roster overall is very short on defense. It's hard to expect Kevin Durant to be at full capacity on that end after missing 18 months recovering from a ruptured Achilles' tendon, while Kyrie Irving has almost never been a plus defender. Aside from those two stars, the team is mostly made up of scoring guards and shooters. Flipping a few of those young offense-first players for Holiday could balance Brooklyn out and make them a more dynamic squad in the playoffs.
In the trade outlined above, Brooklyn dishes Spencer Dinwiddie, who's a bit redundant with Kyrie Irving and Caris LeVert, as well as Taurean Prince (who the Nets smartly signed to an extension that is perfect matching salary in trades like this) plus this year's 19th overall pick to make Holiday their starting off-guard next to Irving. There's always the chance a negotiator like Pelicans president David Griffin, who wrung a ton out of the Lakers and Hawks before last year's draft, demands LeVert in this trade or asks that it include another young prospect like Brooklyn's Nic Claxton, but generally this is what the two teams would be looking at.
From the Pelicans' side, Dinwiddie would slot in next to Lonzo Ball and keep New Orleans' versatility and up-tempo offense intact. They could find a spot for Prince in the rotation and would likely love another pick as they build up their young core.
Denver Nuggets
Despite Jamal Murray's incredible breakout in the Bubble, the Nuggets are still in an interesting spot when it comes to building around himself and Nikola Jokic. They can clearly get away with those two as the primary play-makers, but every team could use another guy who can make shots and defend. This isn't so much about Holiday being able to do things Harris can't, because Holiday will still basically fill Harris' role, but it's mostly about the fact that Holiday could do it better, and would be a better outlet for the two stars when their usual tricks aren't working.
At the cost of basically Harris and an additional two first-round picks (not pictured), it's probably worth it. But Denver probably isn't going to include Michael Porter Jr. here (does Bol Bol move the needle?). That means they basically have to determine if the upgrade from Harris to Holiday is worth it, or if continuing to utilize their depth (including the return of Will Barton, who was injured during the restart) and keeping the cap sheet clean would be more valuable.
Mostly this comes down to how Denver sees Porter. If they believe he's a possible superstar (which wouldn't be all that crazy), then giving up assets for a fringe All-Star like Holiday doesn't make a ton of sense. This offer is also a bit weak compared with others discussed here, so the Pelicans may not take it, but if Harris can return to the level of play he was capable before he began struggling with injuries, he'd fit in nicely next to Ball in the Pelicans' backcourt.
Los Angeles Clippers
This would be an easy way for the Clippers to kill two birds with one stone, even if it involves them throwing in a first-round pick or two (although, they don't really have any of those to trade in a time period that would move the needle for New Orleans). It's clear that, at least with how Los Angeles plays, Lou Williams cannot stay on the court in the postseason. By including him here, the Clippers could move on while also using his value as part of a trade for another complementary piece in Holiday. In that case, Patrick Beverley becomes a bit expendable as well, since he is effectively a discount Holiday.
Among the problems with a trade like this are that it tosses another ball-handler into the mix for a Clippers team that clearly wants to play through its wings, though like Denver, it can be nice to have a more traditional fallback option. There's also the question of whether New Orleans prioritizes younger pieces, which would make this deal less desirable for them. It's hard to see where Williams fits into the equation for the Pelicans.
Expect the Clippers, the team with the wealthiest owner in the NBA and perhaps the most internal desperation to win, to sniff around any time an opportunity like this comes around, but the fit here is less than perfect, especially from New Orleans' side. Beverley and Williams give them a pair of veterans that can help shepherd their youngsters and possibly get moved down the line, while Mann had his moments as a rookie.
Milwaukee Bucks
As with the Chris Paul sweepstakes, the construct of a deal is pretty simple. Basically, this would mean Milwaukee flipping both of its best guards for Holiday. The reasons why they would do that are pretty clear: Eric Bledsoe has consistently underperformed in the postseason and George Hill is solid, but expendable. They would probably have to throw in a couple first-round picks to get this done, but it's probably worth doing with a Giannis-sized incentive to make the Finals if not win a championship in 2021.
A couple things to note here, though: First, the Paul fit is way better in Milwaukee because of how they play defense (Paul is more of a point guard defender whereas Holiday is effective because of his versatility) and their need for a true playmaker. Second, this deal, like the Clippers deal, centers on the Pelicans getting back veteran guards when they already have Ball, Nickeil Alexander-Walker, and other young guys at that spot, with more available in future drafts.
If the Bucks strike out on Paul and need a quick backup plan, this is a solid option. But it doesn't seem to be New Orleans' best plan, making it imperfect for both sides.
Philadelphia 76ers
The expectation is that the Sixers will also make a run at Paul with a similar package in place. Much of Philadelphia's offseason will hinge on how highly opposing teams value Al Horford and Tobias Harris, and the reality is likely to be that nobody wants either player's contract. However, Horford was linked to New Orleans last summer and presents a really strong pairing for Zion Williamson. If Daryl Morey and the Sixers are willing to give up several assets to strike this deal, maybe it becomes worthwhile for the Pelicans and it goes through.
Should it get to that point, the Pelicans may be wise to target Matisse Thybulle, who is one of the better overall young prospects realistically available to them among the teams listed here. The impetus for the Sixers to poke around here is obvious, but this would likely be among the lesser deals available to New Orleans — although it does bear mentioning that Philly has the No. 21 pick in this Draft, and using that to sweeten the pot would help.
The Pelicans, especially because they are run by Griffin, won't take a deal in which they don't get what they want. There is no need for them to strike now. Holiday will still help their team in 2021 and maintain value through to the trade deadline. A collection of middling first-round picks or secondary prospects may not be worth it. But showcasing Holiday ahead of the draft means the Pelicans get to strike first in the trade market and take advantage of desperation or other teams jumping the gun.