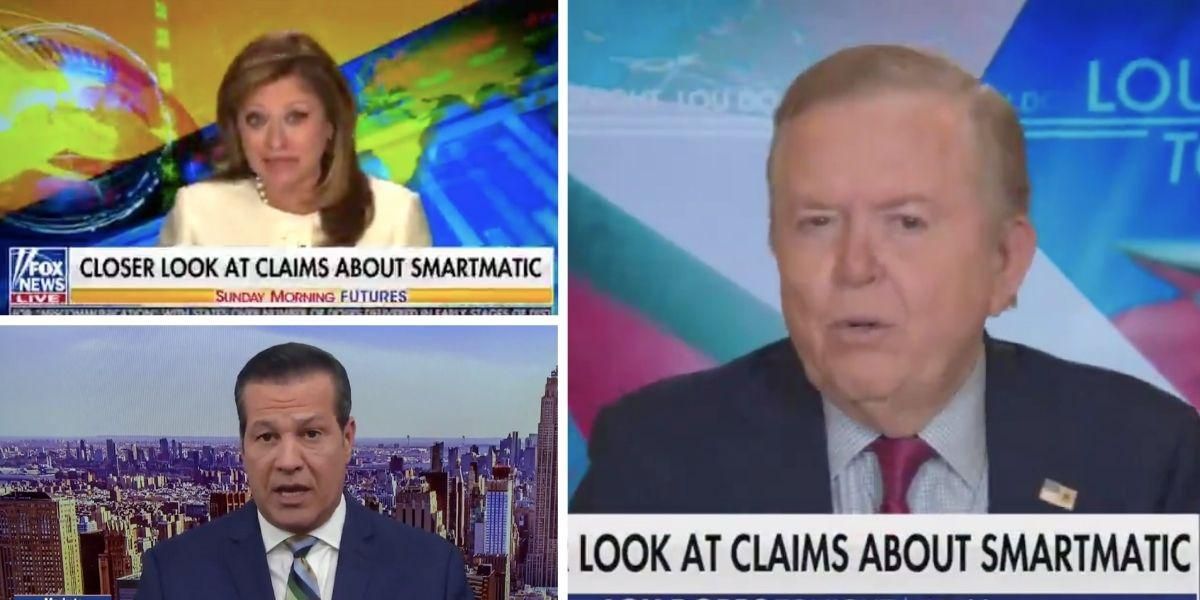 The information age sometimes feels more like the misinformation or disinformation age, with seemingly no end to the deluge of "alternative facts" constantly bombarding people on social media. That problem is only made worse when media outlets themselves—ones that are supposed to share actual news—participate in flooding the zone with unfounded conspiracy theories and outright lies.
For the past month, Fox News, Newsmax, and One America News (OAN) have been amplifying the voices of people claiming that the 2020 presidential election was rampant with fraud and pushing the false idea that Trump actually won the election. As part of those claims, these networks have peddled conspiracy theories about voting machine companies Smartmatic and Dominion being tied to various people from Hugo Chavez to George Soros, tabulating U.S. votes overseas, and outright changing votes via the companies' software.
How can they keep pushing this stuff if it isn't true? Well, the Fairness Doctrine that required broadcasters to cover controversial issues in an honest, fair, and balanced way hasn't been in effect since 1987—and cable networks were never bound to it anyway—so there's not really any official check on accuracy or truth.
---
That leaves two main avenues for keeping networks accountable for the information they share—public response and legal action. Public response is fairly useless, as people tend to eat up whatever confirms their views and beliefs and reject what goes against them, regardless of what the facts are. But legal action? That still holds some weight.
Facts and truth actually matter in a court of law. That's why none of the lawsuits alleging widespread fraud in the election have actually gone anywhere, as judge after judge and court after court have dismissed the dozens of cases Trump's team and allies have filed, both on their standing and on their merits.
Now, Smartmatic and Dominion are utilizing legal channels to hold these networks accountable for the election falsehoods they're peddling that involve them. The New York Times reports that both companies have legal counsel preparing libel action, with Smartmatic having already sent a 20-page demand letter to the networks to forcefully correct the misinformation about them.
Watching those legal threats force these networks into telling the truth is eye-opening—and frankly, quite satisfying.
First, Fox News has aired this video debunking claims pushed by their own network on at least three of their shows so far. Hosts Lou Dobbs, Jeanine Pirro, and Maria Bartiromo have aired the segment during their shows, and other hosts that have pushed the same claims may follow.
An amazing sequence of events:
11/12-11/16: Lou Dobbs promotes conspiracy theories about Smartmatic
12/10: Smartmat… https://t.co/4NLVLerE0k

— Jan Wolfe (@Jan Wolfe)1608341440.0
It's quite clear that Smartmatic specified exactly which claims needed to be corrected. According to the Times, the company is requiring the networks to keep documentation for an upcoming defamation suit.
Fox News hosts caught in a web of lies. Maria Bartiromo, Jeanine Pirro, Lou Dobbs all forced by the network to air… https://t.co/qweXBbcaiu

— Mike Sington (@Mike Sington)1608482782.0
Newsmax gave similar details in this video "clarifying" their coverage of Smartmatic and Dominion's role—or lack thereof—in the 2020 election. In this clip, John Bachmann tries to distance the network from the claims of the guests it has had on its shows and makes it very clear that Newsmax has evidence that anything those guests claimed is true.
Newsmax just aired this note to "clarify" its coverage of Smartmatic and Dominion. https://t.co/I5XZ7CQpAk

— John Whitehouse (@John Whitehouse)1608572944.0
The content of this clip is also posted on the Newsmax website under "Facts about Dominion, Smartmatic You Should Know":
"Newsmax has found no evidence that either Dominion or Smartmatic owns the other, or has any business association with each other.
We have no evidence that Dominion uses Smartmatic software or vice versa, and no evidence has been offered that Dominion or Smartmatic used software or reprogrammed software that manipulated votes in the 2020 election.
Smartmatic has stated its software was only used in the 2020 election in Los Angeles, and was not used in any battleground state contested by the Trump campaign and Newsmax has no evidence to the contrary.
Dominion has stated its company has no ownership relationship with the House Speaker Nancy Pelosi's family, Sen. Dianne Feinstein's family, the Clinton family, Hugo Chavez, or the government of Venezuela.
Neither Dominion nor Smartmatic has any relationship with George Soros.
Smartmatic is a U.S. company and not owned by the Venezuelan government, Hugo Chavez or any foreign official or entity.
Smartmatic states it has no operations in Venezuela. While the company did election projects in Venezuela from 2004 to 2017, it states it never was founded by Hugo Chavez, nor did it have a corrupt relationship with him or the Venezuelan government."
The impact of the legal actions from Smartmatic is spilling over into interviews on these networks as well, as they try to save their tails from further action from allowing their guests to push their wild conspiracy theories. For instance, watch Sebastian Gorka interrupt MyPillow CEO Mike Lindell as he starts to make unsubstantiated claims about Dominion voting machines and move him in another direction entirely.
Host Seb Gorka cuts MyPillow guy Mike Lindell short after Lindell starts to push conspiracy theories about voting m… https://t.co/niro9YqZHb

— Aaron Rupar (@Aaron Rupar)1608598304.0
Watching these networks debunk election fraud claims they themselves have been pushing is really something. So far, OAN—the favored media child of President Trump—appears to be doubling down on their fraud conspiracy claims. We'll see how that risk/benefit ratio works out for them.
If threatening or bringing lawsuits is the only way for media outlets to be held accountable for the falsehoods they air, so be it. Enough was enough a long time ago. Thank goodness someone is finally standing up to the absurdity in a way that actually counts.
From Your Site Articles
Related Articles Around the Web
function menuClick(e) { e.preventDefault();var x=document.getElementsByClassName('navbar-wrapper')[0]; document.getElementsByClassName('menu-wrapper')[0].classList.toggle("openz");
if (x.style.display === "block") {x.style.display = "none";} else {x.style.display = "block";}
var homeContainer = document.getElementsByClassName('content-page-wrapper'); if (homeContainer[0] != undefined) { homeContainer[0].classList.add('background-opacity'); }
var adPlaceholder = document.getElementsByClassName('ad-placeholder'); if (adPlaceholder[0] != undefined) { adPlaceholder[0].classList.add('background-opacity'); }
var followUs = document.getElementsByClassName('follow-us-wrapper'); if (followUs[0] != undefined) { followUs[0].classList.add('background-opacity'); }
// document.querySelector('.topbar-wrapper .image-element').classList.add('background-opacity');
var opac = document.querySelector('.content-page-wrapper.background-opacity'); opac.addEventListener("click", menuCloseClick);
var scrollPosY = window.pageYOffset | document.body.scrollTop;
setTimeout(function() { var topbarPanel = document.querySelector('.js-hidden-panel.active'); if (topbarPanel != null) { document.getElementsByClassName('navbar-wrapper')[0].style.marginTop = '121px'; } else if (scrollPosY <= topMarginForAd) { document.getElementsByClassName('navbar-wrapper')[0].style.marginTop = '-'+(topMarginForAd - scrollPosY-6) + 'px'; } else { document.getElementsByClassName('navbar-wrapper')[0].style.marginTop = '14px'; } }, 100); } function menuCloseClick() { document.getElementsByClassName('navbar-wrapper')[0].style.display = 'none'; document.getElementsByTagName('body')[0].style.overflow = 'unset'; var homeContainer = document.getElementsByClassName('content-page-wrapper'); if (homeContainer[0] != undefined) { homeContainer[0].classList.remove('background-opacity'); } var adPlaceholder = document.getElementsByClassName('ad-placeholder'); if (adPlaceholder[0] != undefined) { adPlaceholder[0].classList.remove('background-opacity'); } var followUs = document.getElementsByClassName('follow-us-wrapper'); if (followUs[0] != undefined) { followUs[0].classList.remove('background-opacity'); } document.querySelector('.topbar-wrapper .image-element').classList.remove('background-opacity'); } function addMenuClickListener() { var menuArrow = document.getElementsByClassName('menu-wrapper'); menuArrow[0].addEventListener('click', menuClick); } addMenuClickListener(); }); window.REBELMOUSE_TASKS_QUEUE.push(function(){ function fbvideoID(frame) { var myRegexp = /2F(d+)%/g; var match = myRegexp.exec(frame); return match[1]; } var fbIframe = document.querySelector('iframe[src^="https://www.facebook.com/plugins/video.php?"]'); if (fbIframe) {fvVidID = fbvideoID(fbIframe.getAttribute('src')); if (fvVidID) { fbIframe.insertAdjacentHTML("beforebegin", '
'); // fbIframe.parentNode.removeChild(fbIframe); } } var videoId = "promoted-video"; var oldFacebookVideo = document.getElementById(videoId); if (!oldFacebookVideo) { return }; var facebookVideoPost = oldFacebookVideo.closest(".widget"); if (!facebookVideoPost) { return };
var facebookVideo = facebookVideoPost.querySelector("#" + videoId); facebookVideo.classList.add("fb-video"); var firstPost = document.querySelector(".widget.post-partial");
function onScriptLoad() { FB.init({ appId: window.REBELMOUSE_BOOTSTRAP_DATA.fbId, version: window.REBELMOUSE_BOOTSTRAP_DATA.fbAppVersion, status: true, cookie: true, }); FB.XFBML.parse(); if(fbIframe){ fbIframe.parentNode.removeChild(fbIframe); } }
function loadFacebookScript() { var existingScript = document.querySelector('script[src="https://connect.facebook.net/en_US/sdk.js"'); if (!existingScript) { var script = document.createElement("script"); script.src = "https://connect.facebook.net/en_US/sdk.js"; document.head.appendChild(script); script.addEventListener("load", onScriptLoad); } }
function intersectorCallback(video_player) { var booted = false; var totalSeconds = 0; var interval = null;
function impressionCounter() { totalSeconds++; console.log("I've been watching for " + totalSeconds + " seconds"); } return function intersector(entries) { var entry = entries[0]; if (entry.isIntersecting) { if (!booted) { booted = true; video_player.mute(); video_player.play(); } interval = setInterval(impressionCounter, 1000); } else { if (interval) { console.log("I've stopped watching at " + totalSeconds + " seconds"); clearInterval(interval); interval = null; } } }; }
function trackVideo(video_player) { var observer = new IntersectionObserver(intersectorCallback(video_player), {}); observer.observe(facebookVideo); }
function onFacebookElementLoaded(msg) { if (msg.type === "video" && msg.id === videoId) { trackVideo(msg.instance); } }
function onFacebookReady() { FB.Event.subscribe("xfbml.ready", onFacebookElementLoaded); if (window.oldFacebookWaiter) window.oldFacebookWaiter(); }
if ("FB" in window) { onFacebookReady(); } else { window.oldFacebookWaiter = window.fbAsyncInit; window.fbAsyncInit = onFacebookReady; loadFacebookScript(); }
});
window.REBELMOUSE_TASKS_QUEUE.push(function(){
REBELMOUSE_STDLIB.createElementChangeListener(".mb-2", function(item){ checkSponsoredPost(); })
});
function l() { if (tags.length) { var tag = tags.pop(); var script = document.createElement('script'); script.setAttribute('src', tag); script.onload = l; document.body.appendChild(script); } else { window.ia = window.ia || function () { (window.ia.q = window.ia.q || []).push(arguments); } ; ia('track', 'PAGE_VIEW');
docReady(function() { ims.startServices(); } ); } }
l();
});
window.REBELMOUSE_LOWEST_TASKS_QUEUE.push(function(){
window.REBELMOUSE_STDLIB.loadExternalScript("https://ats.rlcdn.com/ats.js", function() {
ats.start( { "placementID": 103, "storageType": "localStorage", "detectionType": "scrape", "cssSelectors": [ "input[type=text]", "input[type=email]" ], "logging": "error" });
});
});
window.REBELMOUSE_LOWEST_TASKS_QUEUE.push(function(){
window.REBELMOUSE_STDLIB.loadExternalScript("https://www.googletagmanager.com/gtag/js.js?id=UA-30098361-1", function() {
window.dataLayer = window.dataLayer || []; /*function gtag(){dataLayer.push(arguments);} gtag('js', new Date());
gtag('config', 'UA-30098361-1', {'optimize_id':'GTM-P5TSK62'});*/
});
});
window.REBELMOUSE_LOWEST_TASKS_QUEUE.push(function(){
!function(f,b,e,v,n,t,s) {if(f.fbq)return;n=f.fbq=function(){n.callMethod? n.callMethod.apply(n,arguments):n.queue.push(arguments)}; if(!f._fbq)f._fbq=n;n.push=n;n.loaded=!0;n.version='2.0'; n.queue=[];t=b.createElement(e);t.async=!0; t.src=v;s=b.getElementsByTagName(e)[0]; s.parentNode.insertBefore(t,s)}(window, document,'script', 'https://connect.facebook.net/en_US/fbevents.js'); fbq('init', '1676218835946757'); fbq('track', 'PageView');
});
window.REBELMOUSE_LOWEST_TASKS_QUEUE.push(function(){
function triggerComscorePageView() { console.log('triggerComscorePageView'); window.COMSCORE && COMSCORE.beacon({c1: "2", c2: "18736521"}); fetch("https://www.upworthy.com/res/3rdparty/comscore_pageview"); }
if (typeof rblms !== 'undefined') { rblms.require(['core/event_dispatcher'], function(eventDispatcher) { eventDispatcher.on('viewRegistry:initViews', triggerComscorePageView); }); }
document.addEventListener('click', event => { if (event.target && event.target.classList.contains('show-more')) { triggerComscorePageView() } });
urlChangeHandler(triggerComscorePageView);
});
window.REBELMOUSE_LOWEST_TASKS_QUEUE.push(function(){
(function() { try{var a={l1:document.location.host.replace(/^www./,""),l2:document.title||"Untitled",l3:"__page__",l4:"-",sa:"",sn:""},b=[],c;for(c in a)b.push(c+"="+encodeURIComponent(a[c]));b=b.join("&");(new Image).src="https://d26n2uyu5tcx3y.cloudfront.net?a=5ac31c1640c74c36900b97047f570f19";var d=document.createElement("script");d.type="text/javascript";d.async=!0;var e=document.getElementsByTagName("script")[0];e.parentNode.insertBefore(d,e);d.src="https://z.moatads.com/upworthy105Vonz37/moatcontent.js#"+b}catch(f){try{var g= "//pixel.moatads.com/pixel.gif?e=24&d=data%3Adata%3Adata%3Adata&i=MOATCONTENTABSNIPPET1&ac=1&k="+encodeURIComponent(f)+"&j="+encodeURIComponent(document.referrer)+"&cs="+(new Date).getTime();(new Image).src=g}catch(h){}}; })();
});
window.REBELMOUSE_LOWEST_TASKS_QUEUE.push(function(){
(function(w,d) { w.kwa || (w.kwa = function()
{ (w.kwa.q = w.kwa.q || []).push(arguments); } ); se = d.createElement('script'), fs = d.scripts[0]; se.src="https://cdn.keywee.co/dist/analytics.min.js"; fs.parentNode.insertBefore(se,fs) }(window, document));
kwa('initialize',603);
});
window.REBELMOUSE_LOWEST_TASKS_QUEUE.push(function(){
(function(h,o,t,j,a,r){ h.hj=h.hj||function(){(h.hj.q=h.hj.q||[]).push(arguments)}; h._hjSettings={hjid:1648575,hjsv:6}; a=o.getElementsByTagName('head')[0]; r=o.createElement('script');r.async=1; r.src=t+h._hjSettings.hjid+j+h._hjSettings.hjsv; a.appendChild(r); })(window,document,'https://static.hotjar.com/c/hotjar-','.js?sv=');
});
window.REBELMOUSE_LOWEST_TASKS_QUEUE.push(function(){
window.REBELMOUSE_STDLIB.loadExternalScript("https://embed.actionbutton.co/widget/widget.min.js", function() {
window.ActionButton.whenButtonLoaded('action_button_container').then(window.ActionButton.loadButton('action_button_container','SPK-QkdERQ=='));
});
});
window.REBELMOUSE_LOWEST_TASKS_QUEUE.push(function(){
let asd=false
});



Source link