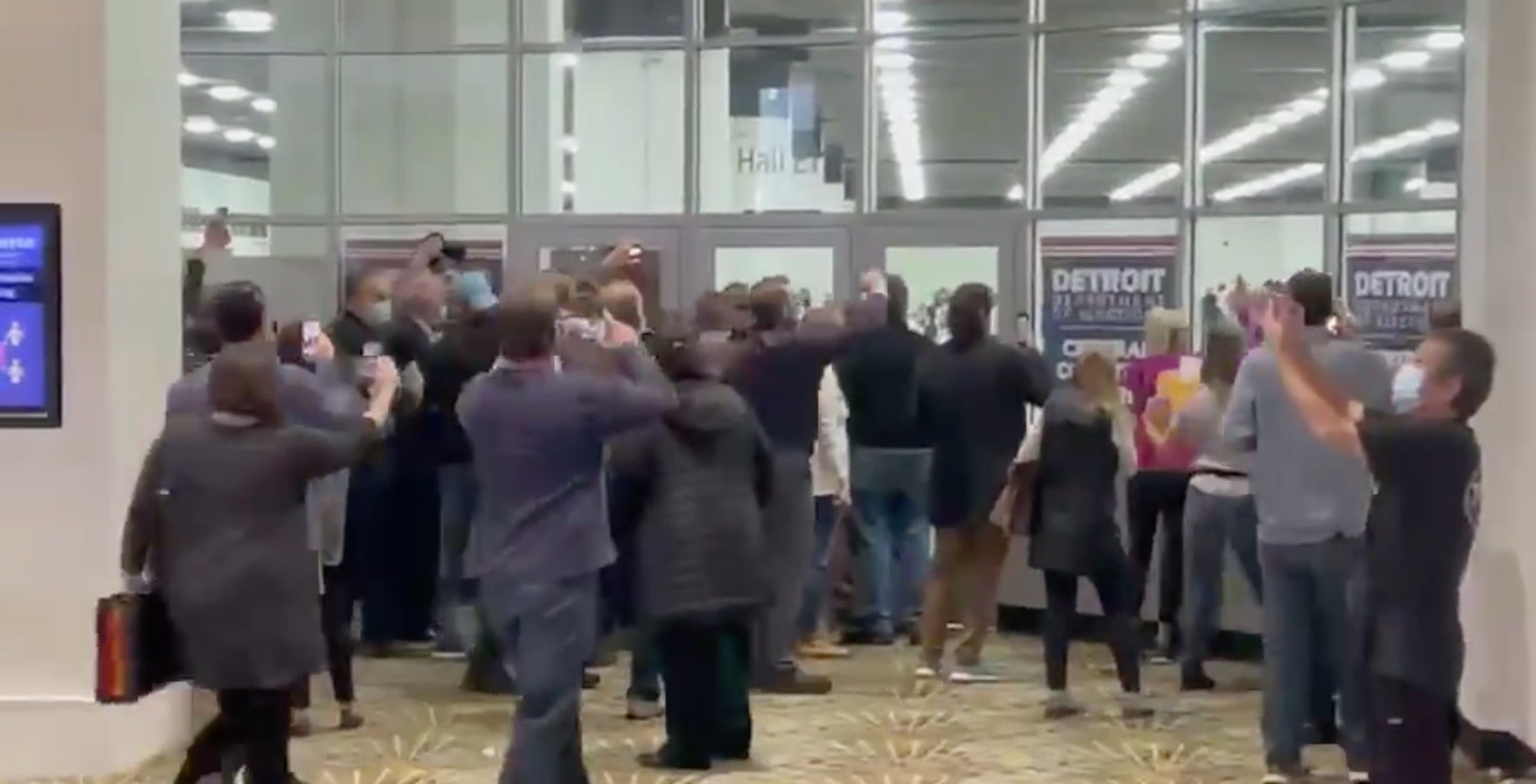 Protesters in Detroit chanting "Stop the Count!" descended on a local convention center on Wednesday, where election officials were counting ballots. The protestors, captured in viral videos from a number of news agencies and bystanders, were calling for Michigan's election count to be stopped—despite Joe Biden leading in the state's vote count.
Michigan and its 16 electoral votes may prove crucial in the outcome of the 2020 presidential election. Though several news outlets have placed Michigan in Biden's column, election officials were working to get an official complete count on Wednesday.
According to NBC News as of early Wednesday evening, about 150,000 of approximately 5.5 million ballots were left to be tallied.
Jordan Acker, a lawyer and University Michigan Board of Regents vice-chair, shared a video from inside the complex. A Reddit user reposting the video to the r/esist subreddit termed it, "Video of anti-democracy protesters in Michigan chanting "'stop the count.'"
Acker's tweet said, "A large number of trump "challengers" have decided to March down changing "stop the count" and banging on the door as they complete counting. Still can't get back in."
Another Acker tweet lauded Detroit's police as "extremely professional in dealing with this but this is absurd."
Several tweets shared on news correspondent accounts captured the agitators at the glass doors of the room where the counting was taking place. NBC News' Steve Patterson described them as a "large, animated crush."
Outside the TFC Center, Patterson's colleague Heidi Przybyla characterized the action as "an increasing mob-like scene of self-proclaimed 'poll watchers' who say that they want to get access to the building."
Police in Detroit worked to secure the scene. Detroit is expected to help Biden secure a larger margin in Michigan after all votes are finished counting.
---
More election 2020 coverage

*First Published: Nov 4, 2020, 6:36 pm
Phil West is a veteran professional writer and editor, and the author of two books on soccer, 'The United States of Soccer,' and 'I Believe That We Will Win,' both from The Overlook Press. His work has appeared most recently in MLSSoccer.com, Pro Soccer USA, Texas Highways, and Howler. Based in Austin, he is also a lecturer in the Writing Program at the University of Texas at San Antonio.