Conservative media and President Donald Trump were fooled by a parody account pretending to be his elder sister Elizabeth Trump Grau.
On Nov. 18, an account going as Betty Trump with the handle @TheBettyTrump went live on Twitter. It launched with praise for Trump and quickly began attacking his enemies, unleashing a flurry of tweets over the next three days.
As its following grew, conservative media took notice. "Betty Trump has now entered the blue bird arena," proclaimed one headline. The Wayne Dupree Show blogged victoriously that though she very rarely publicly comments, Grau had issued a "bold statement" supporting her brother's efforts to overturn the election results. "This was so powerful," the subhead gushed.
Trump himself retweeted the article, writing, "Thank you Elizabeth, LOVE!"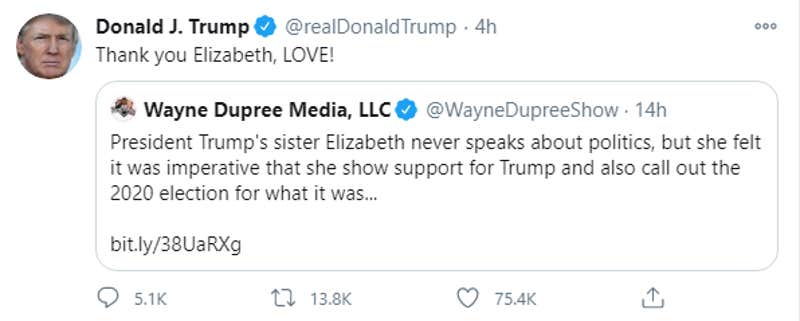 There's just one little problem: The account is a parody.
Chris Megerian, a reporter with the Los Angeles Times, first noticed something amiss. On Friday morning, Megerian wrote that he when he clicked the link to the article Trump retweeted, he found "an odd disclaimer."
"This alleged account of Pres. Trump's sister Elizabeth has not been removed by Twitter and has not been fact-checked by the social media executives," it read. "We posted it, based on it being shared by many other publications, but we want to make sure to let you know it has yet to be officially 'fact-checked.'"
Delving further, Megerian determined that the fluffy blog about Trump's sister gushing praise for her brother was based on @TheBettyTrump, an unverified account with many clues that it isn't being run by the actual Elizabeth Grau, starting with the fact that it doesn't even use her married name.
The account's history is homophobic, transphobic, foul-mouthed and includes tons of tweets about cable news and disloyal Republicans. It even once suggested that the "perfect Trump drink on a rough day" is Natty Daddy.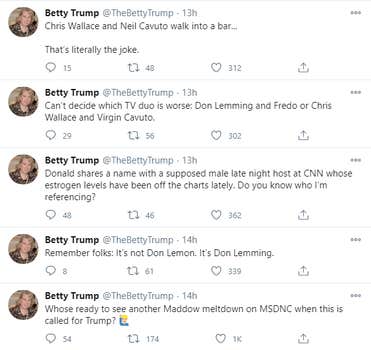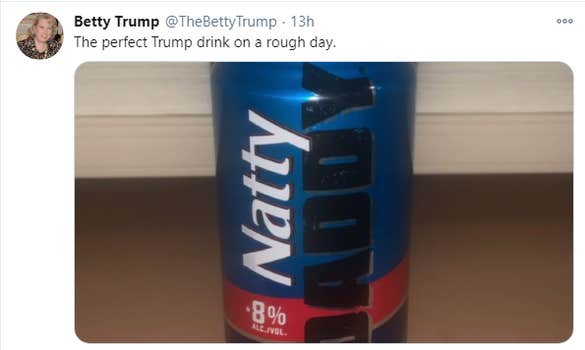 Although the account's profile originally claimed it was legitimate, there were other fairly obvious clues that it's satire. The header photo of Grau and her brother is found in many articles mentioning her in the wake of their niece Mary Trump's tell-all book this summer. Similarly, its avatar is a grainy picture that Heavy used
in a piece about Grau, which it credited to a Facebook user.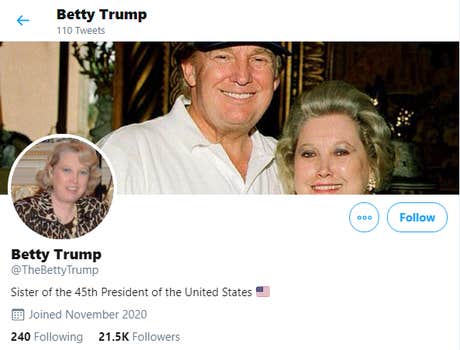 While it follows Trump's personal account, it doesn't follow any other Trumps. The rest of the 239 accounts @TheBettyTrump follows as of this writing are unverified Trump supporters.
The communication style is also rather unexpected for a 78-year-old millionairess. Anderson Cooper is repeatedly referred by the nickname "Anderson Pooper."
On Nov. 19, it tweeted, "If someone pours gravy down Chris Wallace's pants at Thanksgiving dinner, I promise, I will take care of the legal fees!"
It's fat-shamed Chris Christie; slammed Tucker Carlson, Chris Wallace and Laura Ingraham; tweeted homophobic insults about Cooper, Rachel Maddow and others; and made a not-so-subtle nod at some QAnon conspiracy theorists' belief that John F. Kennedy Jr. is alive.

It doesn't appear that Elizabeth Grau goes by the nickname Betty, either, as stories about her prior to this account's creation consistently refer to her Elizabeth, as did Trump's tweet thanking her.
None of this has stopped thousands from following the account—20,000 in just two days—liking and retweeting it, and conservative media falling for the act.
As speculation swirled about the account's authenticity, Dupree's website updated with a disclaimer that it was being told the account is a parody. "If this is true, we deeply regret the error and apologize," it said, "…It is never our intent to "fool" anyone, or spread misinformation."
The real Grau also told Vice that she isn't even on Twitter.
Subsequently, the account finally conceded to being a fake. It also said it didn't anticipate fooling the president.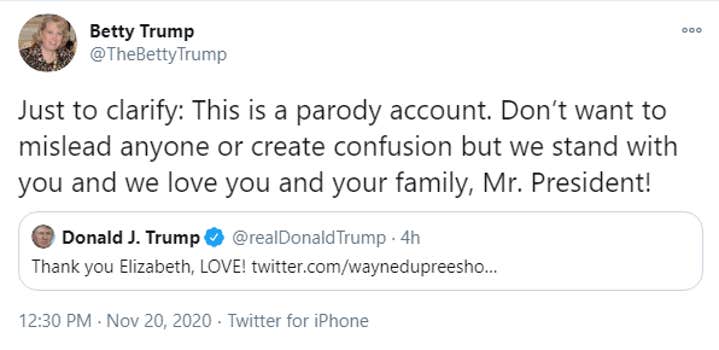 It then changed its description to note that it's a parody.
To be fair, it's not like @TheBettyTrump was trying particularly hard to fool anyone. After all, who could possibly believe that the wealthy near-octogenarian sister to the president would joke that Wallace and Neil Cavuto "missed their calling in Revenge of the Nerds," or tweet that Cavuto's show coming on means it's "time to start drinking"?
Well, apparently a lot of conservative media and the president of the United States.
More election 2020 coverage

*First Published: Nov 20, 2020, 1:30 pm
Claire Goforth is an award winning journalist covering politics and justice from her home base in Jacksonville, Florida. Her work has appeared in publications ranging from regional alt-weeklies to Al Jazeera.