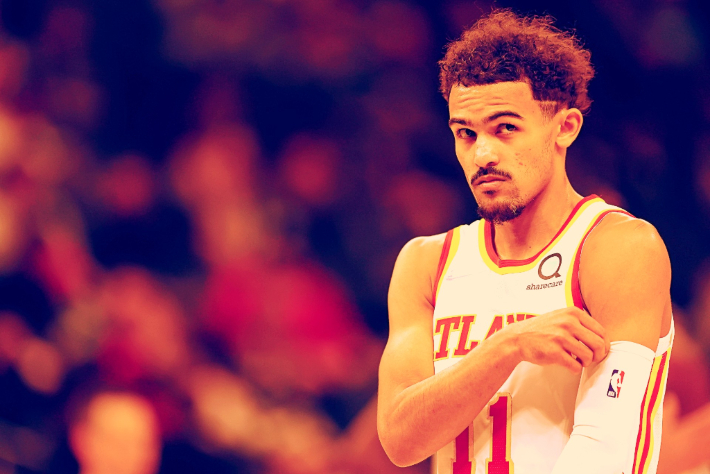 For years, NBA pundits and fans have responded to the league's three-point revolution by saying "midrange is dead" or "midrange is a lost art." It's not necessarily reflective of reality — plenty of teams and players still occupy the midrange, just less so than before because they understand it's a region that is best considered a comfortable secondary option.
There are outliers, of course, such as Kevin Durant, Nikola Jokic, and Chris Paul. For many stars, though, it remains a vital counter to diversify one's approach — usually a mandate for postseason success — and thrive where the defense is typically willing to concede space.
Months removed from a surprise Eastern Conference Finals appearance, Trae Young is diversifying his approach to thrive in the spaces the defense concedes and aiming to establish last season's run as a yearly routine rather than any sort of outlier. He's playing the best basketball of his career and issuing a legitimate case to be considered among the league's best players.
Young's pick-and-rolls with Clint Capela are one of the most effective actions in the game. Increasingly, opponents are sitting on Capela's dives to the rim or switching screens altogether and preventing Young from effortlessly floating a lob to the big man. Just as he did last year, he'll still parlay that real estate into open floaters. But driving so deep into the paint offers defenses a chance to acutely play the one-on-two and fluster Young as both a scorer and facilitator, a feat the Philadelphia 76ers accomplished for stretches during last spring's playoff series.
So, instead of wiggling his way into precarious situations as often, Young is embracing more jumpers off the bounce inside the arc. According to Synergy, his floater frequency has dropped from 35.7 percent last season to 27.2 percent this season. Meanwhile, per Cleaning The Glass, his frequency of shots between 14 feet and the three-point arc, classified as "long midrange," has ballooned to a career-high 18 percent. His previous career-high, set last year, was 13 percent.
When the opposition parks in Capela's orbit on the roll and abandons Young, he's seamlessly firing and cashing open pull-ups. He's shooting 52 percent on long midrange attempts, which ranks in the 85th percentile. Few players can sustain that level of efficiency, but the quality of looks he's generating from those spots is quite encouraging.
His yo-yo handle and jitterbug shiftiness also enable him to create space when the opportunities aren't quite as simple, and he holsters a nasty shot fake to send defenders flying past him.
Last season, Young was a leading practitioner of the "short-stop" foul-drawing gambit, one the NBA has looked to legislate out as it grants defenses more freedom with physicality and aims to avoid rewarding scorers for hunting contact. Those general rules have contributed to Young's free-throw rate declining from .468 over the past two years to a career-low .298 this year.
Rather than seeking those short-stop fouls as regularly, Young is snaking around high screens and effectively doubling the utility of the picks to manufacture separation and bury cozy pull-ups. By adapting his game, he's avoided any precipitous drop in scoring efficiency. His 58.1 percent true shooting is 2.8 points higher than league average, better than last season's mark of plus-1.7 and just behind his career-best of plus-3.0 set in 2019-20.
While other perimeter-oriented foul merchants like Damian Lillard, Bradley Beal, and Shai Gilgeous-Alexander haven't yet tailored their shot-making to mitigate diminished free-throw rates, Young has recognized the merits of vacant hardwood and the dangers of a small guard venturing into the paint these days. Whereas defensive physicality could previously be consistently leveraged into free throws, the NBA's amended officiating has reduced those opportunities. Young, unlike some contemporaries, is simply migrating away from all that reliance on trickery and toward the space available, resulting in easygoing shots.
In addition to a holistic leap from midrange, he's also canning triples at a career-high rate of 39.2 percent after shooting 34.3 percent his initial three years. He's long showcased feathery, elite touch inside the arc on floaters and free throws. Now, he's marrying two-point excellence with long-range results.
Specifically, Young has been a deadeye on pull-up threes, draining 39.3 percent of them, well above his 33.5 percent clip the prior two seasons. Among 62 players hoisting at least two off-the-bounce threes per game, Young's 39.3 percent number ranks fifth. Once a marksman whose volume and gumption exceeded true production, he's achieving all three and it's helping fuel a standout campaign.
Do not let the Atlanta Hawks' middling 13-12 record confuse you. Young is at the apex of his game this season. He's an All-NBA guard. Few ball-handlers have outshined him. His passing wizardry persists and seems a little more precise than before. His scoring has been fine-tuned to account for rule changes and the long ball is peaking to unmatched heights. Even if the three-point shooting mildly falls off, he's produced a .357 free-throw rate the last 10 games, a notable uptick from .261 in the first 15 games. That could offset some shooting regression as he rediscovers his gaudy free-throw rate.
This is Trae Young, a steadfast playmaking savant whose scoring is catching up to punctuate his status as an offensive virtuoso and budding top-10 superstar.