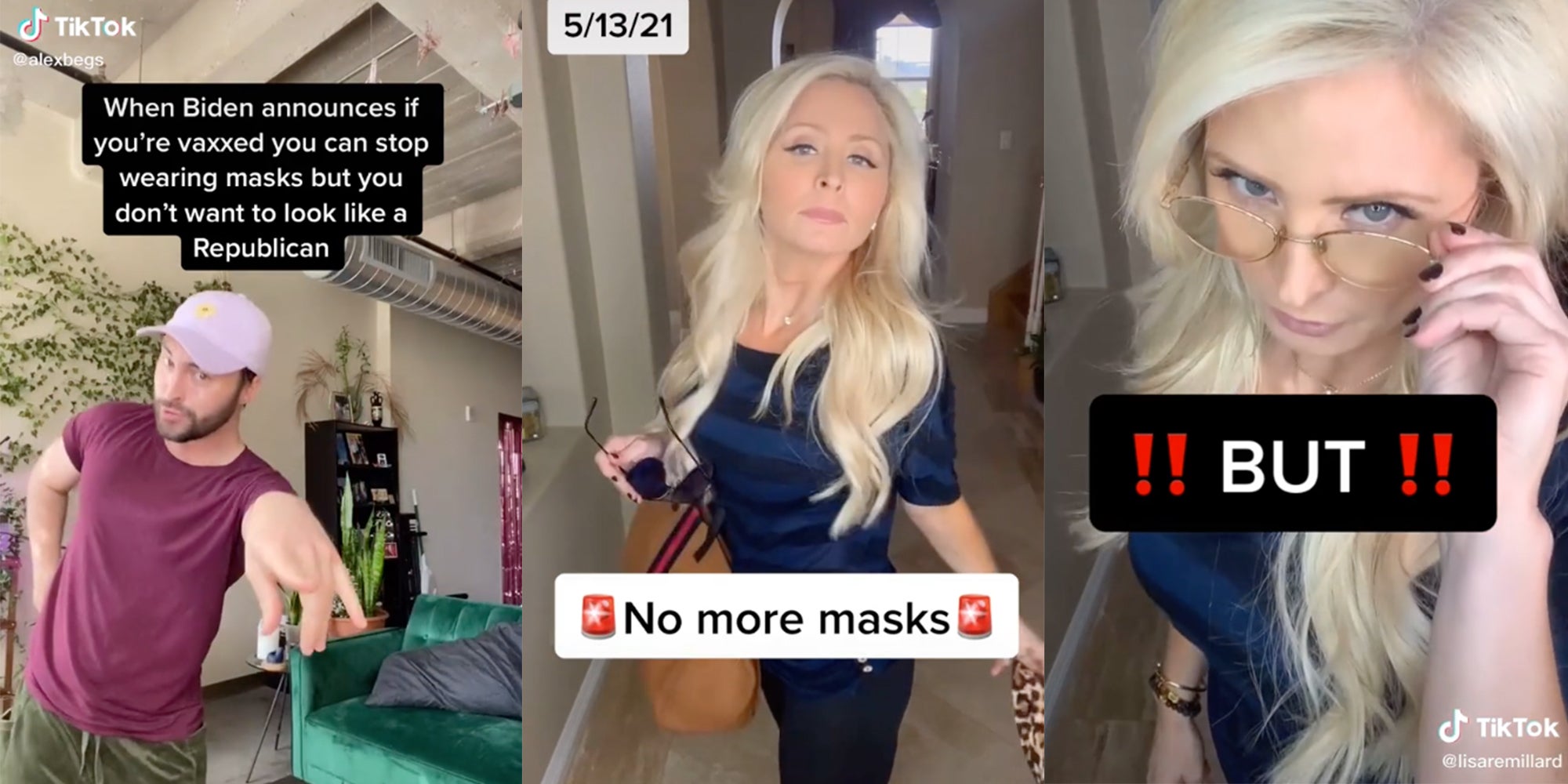 In light of the Centers for Disease Control's new guidelines, many users on TikTok are discussing the optics of not wearing a mask indoors, even when it may be safe for fully vaccinated individuals. 
A new viral video shows one creator's worries about the politics of not wearing a mask as he reacts to the CDC's news.
"When Biden announces if you're vaxxed you can stop wearing masks but you don't want to look like a Republican," the video reads.
The TikTok was uploaded on Thursday by user Alexander Begnel, @alexbegs, and has over 587,100 views and 143,200 likes.
In the video, Begnel can be seen standing in front of the camera and then slowing backing up across the room to stand against the wall, quickly putting on his mask.
"Okay, don't worry girl, I got your back!" Begnel says as he moves away while still facing the camera. "From right here," Begnel says, much quieter than before, while putting his mask on across the room.
Users on TikTok filled the comments section of the video with lots of discussion on whether they will continue to wear a mask indoors, with many frightened that the CDC may be moving too quickly in lifting the indoor mask ban.
"I will not stop wearing mine (I'm fully vaxxed) lol I don't trust anyone," one user wrote. The comment received over 10,000 likes as many agreed wholeheartedly.
For others, the video sparked a discussion on public safety as many worried unvaccinated individuals may take off their masks inside.
While many users explained their decision to keep wearing masks once vaccinated, some described the underlying fatigue that comes with continuing to wear one.
"I agree with this so much but I'm starting to get really tired of the masks," one user wrote.
"Me too," Begnel replied. "I just hope anti-vaxxers don't lie saying they got the vaccine & take this as an opportunity to not wear a mask… which I'm sure they will."
In another video uploaded Thursday, television journalist Lisa Remillard broke down the new guidance from the CDC by acting out a scene as fully vaccinated Americans take off their masks.
The video has over 1.4 million views and 232,500 likes as Remillard jokes about Americans' reactions to the new guidance while offering updated information about when and where masks are still mandatory.
The video begins with Remillard wearing a mask facing the camera while cutting to her dressed as a CDC employee as she says, "It is time."
Remillard then dramatically takes off her sunglasses, and rips off her masks as the video reads, "No more masks. (There are some exceptions) Keep watching."
"Yes it is time," Remillard says, facing the camera directly. "If you're fully vaccinated against COVID-19 CDC says you no longer have to wear a mask indoors or outdoors and you no longer have to social distance."
---
From our friends at Nautilus
---
Remillard then discusses what she calls "the fine print" as masks are still required for everyone on airplanes, buses, trains, and public transportation.
The comments sections of Remillard's video was full of questions as many wondered whether all Americans will be responsible enough to keep wearing masks indoors if they are not yet vaccinated.
"How will we know who's responsible and who's Republican?" one user wondered.
---
This week's top technology stories
*First Published: May 14, 2021, 1:06 pm CDT
Michelle Brandabur is an intern at the Daily Dot and a student at Boston University. Her work has been featured in the Somerville Journal, Capital Public Radio, and WTBU Radio.