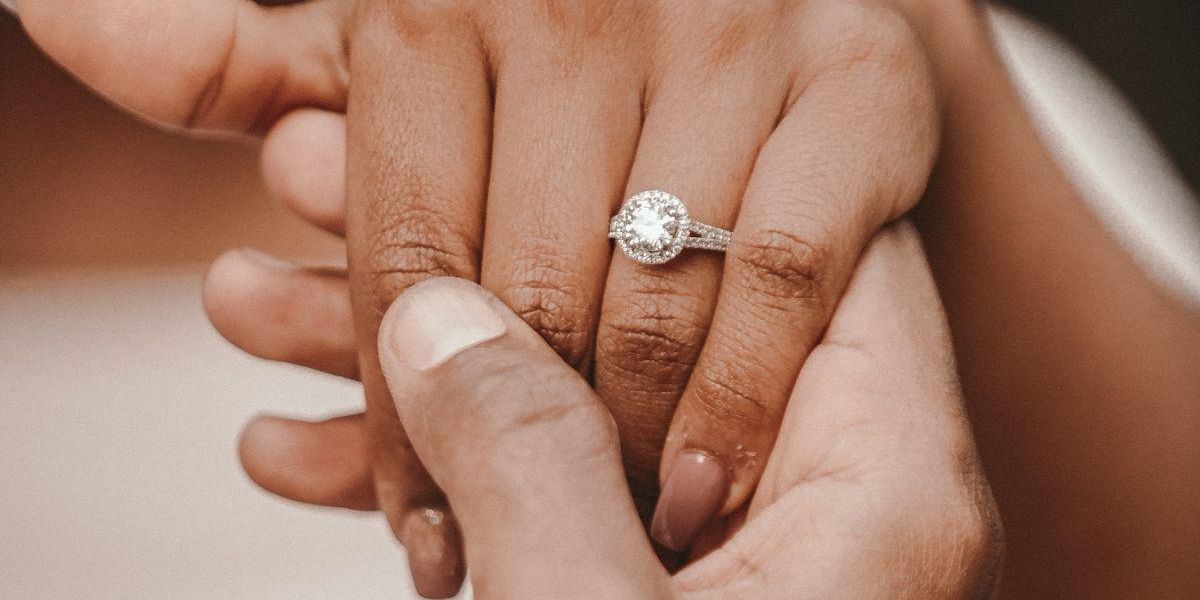 Every year, around 100 million carats of rough diamonds are mined to supply the world's multi-billion dollar diamond jewelry industry, leaving both human and environmental damage behind.
The ethical issues at the heart of diamond mining, from violence to human rights abuses to forced labor, are no secret. The destruction of land and water in the mining process is also well known. Though an official chain of practices for creating "conflict-free" diamonds known as the Kimberley Process is supposed to reduce some of these issues, ongoing problems remain.
Science has a solution.
Instead of digging up gemstones that have taken a billion or more years to form in the earth, scientists can now make diamonds in a lab in just six to ten weeks—without the bloodshed and devastation involved in mining traditional diamonds.
Are they the same, though? If anyone were going to be a purist about gems, you'd think the world's largest jewelry brand would. But Pandora, the Danish jeweler that boasts that title, is all in on lab-grown bling.
---
Pandora has announced that it will not be using mined diamonds in its jewelry anymore and will be launching an entire line of lab-grown diamond pieces. The upsides of lab-created gems are plentiful; not only do they avoid the exploitation of workers, violent conflict, and environmental degradation of diamond mining, but they're also significantly less expensive. According to Business Insider, a lab-created diamond can cost 30 to 40 percent less than a traditional diamond.
And according to Pandora, they do all that without sacrificing quality. Lab diamonds are still graded using the standard 4 Cs—cut, color, clarity and carat—as mined diamonds, and Pandora emphasizes that they have all the same "optical, chemical, thermal and physical characteristics" as well.
"They are as much a symbol of innovation and progress as they are of enduring beauty and stand as a testament to our ongoing and ambitious sustainability agenda," said Pandora CEO Alexander Lacik said in a statement. "Diamonds are not only forever, but for everyone."
Of course, the marketing of diamonds has always been a bit of a ruse. The DeBeers family held a near-monopoly on the diamond trade for more than 100 years, and their control of supply created an illusion of scarcity and value that doesn't reflect reality. A highly successful "Diamonds are forever" marketing campaign to make people associate diamonds with lifelong commitment added emotional value to the stone, which led us to where we are today.
In other words, the thousands of dollars that people will drop on a diamond engagement ring is almost completely due to a purposeful plan to make people feel that they need to do just that. That plan may have been brilliant or diabolical, depending on how you look at it, but there's no question that it worked.
Pandora's shift to lab-grown diamonds won't change the association between diamonds and commitment, but it may at least help people recognize that diamonds themselves are not as precious and rare as we've been led to believe. It's also a bid to younger consumers, who want their purchases to be more affordable and sustainably sourced.
The new lab-grown collection, Pandora Brilliance, launched today in the U.K., with pieces starting at US$350. It has also achieved CarbonNeutral® product certification in accordance with The CarbonNeutral Protocol. And when the collection becomes available globally next year, the diamonds are expected to be made using 100% renewable energy.
It's great to see big companies stepping up their game when it comes to ethical practices and environmental sustainability. The planet needs it, consumers are asking for it, science is making it possible, and smart companies are moving the needle in their respective industries. Well done, Pandora, for being a leader on the jewelry front.
From Your Site Articles
Related Articles Around the Web
window.REBELMOUSE_LOWEST_TASKS_QUEUE.push(function(){
var script = document.createElement('script'); script.src = "https://cdn.cookielaw.org/scripttemplates/otSDKStub.js"; script.charset = "UTF-8"; script.setAttribute("data-domain-script","1118f59d-8351-4eb7-bea6-6a23d2f57cf9"); document.getElementsByTagName('head')[0].appendChild(script);
});
window.REBELMOUSE_LOWEST_TASKS_QUEUE.push(function(){
var tags = [ 'https://pymx5.com/scripts/ready.js', 'https://pymx5.com/scripts/ims.js', 'https://pymx5.com/scripts/load_tags.js' ]
function l() { if (tags.length) { var tag = tags.pop(); var script = document.createElement('script'); script.setAttribute('src', tag); script.onload = l; document.body.appendChild(script); } else { window.ia = window.ia || function () { (window.ia.q = window.ia.q || []).push(arguments); } ; ia('track', 'PAGE_VIEW');
docReady(function() { ims.startServices(); } ); } }
l();
});
window.REBELMOUSE_LOWEST_TASKS_QUEUE.push(function(){
window.REBELMOUSE_STDLIB.loadExternalScript("https://ats.rlcdn.com/ats.js", function() {
ats.start( { "placementID": 103, "storageType": "localStorage", "detectionType": "scrape", "cssSelectors": [ "input[type=text]", "input[type=email]" ], "logging": "error" });
});
});
window.REBELMOUSE_LOWEST_TASKS_QUEUE.push(function(){
!function(f,b,e,v,n,t,s) {if(f.fbq)return;n=f.fbq=function(){n.callMethod? n.callMethod.apply(n,arguments):n.queue.push(arguments)}; if(!f._fbq)f._fbq=n;n.push=n;n.loaded=!0;n.version='2.0'; n.queue=[];t=b.createElement(e);t.async=!0; t.src=v;s=b.getElementsByTagName(e)[0]; s.parentNode.insertBefore(t,s)}(window, document,'script', 'https://connect.facebook.net/en_US/fbevents.js'); fbq('init', '1676218835946757'); fbq('track', 'PageView');
});
window.REBELMOUSE_LOWEST_TASKS_QUEUE.push(function(){
function triggerComscorePageView() { console.log('triggerComscorePageView'); window.COMSCORE && COMSCORE.beacon({c1: "2", c2: "18736521"}); fetch("https://www.upworthy.com/res/3rdparty/comscore_pageview"); }
if (typeof rblms !== 'undefined') { rblms.require(['core/event_dispatcher'], function(eventDispatcher) { eventDispatcher.on('viewRegistry:initViews', triggerComscorePageView); }); }
document.addEventListener('click', event => { if (event.target && event.target.classList.contains('show-more')) { triggerComscorePageView() } });
urlChangeHandler(triggerComscorePageView);
});
window.REBELMOUSE_LOWEST_TASKS_QUEUE.push(function(){
(function() { try{var a={l1:document.location.host.replace(/^www./,""),l2:document.title||"Untitled",l3:"__page__",l4:"-",sa:"",sn:""},b=[],c;for(c in a)b.push(c+"="+encodeURIComponent(a[c]));b=b.join("&");(new Image).src="https://d26n2uyu5tcx3y.cloudfront.net?a=5ac31c1640c74c36900b97047f570f19";var d=document.createElement("script");d.type="text/javascript";d.async=!0;var e=document.getElementsByTagName("script")[0];e.parentNode.insertBefore(d,e);d.src="https://z.moatads.com/upworthy105Vonz37/moatcontent.js#"+b}catch(f){try{var g= "//pixel.moatads.com/pixel.gif?e=24&d=data%3Adata%3Adata%3Adata&i=MOATCONTENTABSNIPPET1&ac=1&k="+encodeURIComponent(f)+"&j="+encodeURIComponent(document.referrer)+"&cs="+(new Date).getTime();(new Image).src=g}catch(h){}}; })();
});
window.REBELMOUSE_LOWEST_TASKS_QUEUE.push(function(){
(function(w,d) { w.kwa || (w.kwa = function()
{ (w.kwa.q = w.kwa.q || []).push(arguments); } ); se = d.createElement('script'), fs = d.scripts[0]; se.src="https://cdn.keywee.co/dist/analytics.min.js"; fs.parentNode.insertBefore(se,fs) }(window, document));
kwa('initialize',603);
});
window.REBELMOUSE_LOWEST_TASKS_QUEUE.push(function(){
(function(h,o,t,j,a,r){ h.hj=h.hj||function(){(h.hj.q=h.hj.q||[]).push(arguments)}; h._hjSettings={hjid:1648575,hjsv:6}; a=o.getElementsByTagName('head')[0]; r=o.createElement('script');r.async=1; r.src=t+h._hjSettings.hjid+j+h._hjSettings.hjsv; a.appendChild(r); })(window,document,'https://static.hotjar.com/c/hotjar-','.js?sv=');
});
window.REBELMOUSE_LOWEST_TASKS_QUEUE.push(function(){
let asd=false
});
window.REBELMOUSE_LOWEST_TASKS_QUEUE.push(function(){
function fbvideoID(frame) { var myRegexp = /2F(d+)%/g; var match = myRegexp.exec(frame); return match[1]; } var fbIframe = document.querySelector('iframe[src^="https://www.facebook.com/plugins/video.php?"]'); if (fbIframe) {fvVidID = fbvideoID(fbIframe.getAttribute('src')); if (fvVidID) { fbIframe.insertAdjacentHTML("beforebegin", '
'); // fbIframe.parentNode.removeChild(fbIframe); } } var videoId = "promoted-video"; var oldFacebookVideo = document.getElementById(videoId); if (!oldFacebookVideo) { return }; var facebookVideoPost = oldFacebookVideo.closest(".widget"); if (!facebookVideoPost) { return };
var facebookVideo = facebookVideoPost.querySelector("#" + videoId); facebookVideo.classList.add("fb-video"); var firstPost = document.querySelector(".widget.post-partial");
function onScriptLoad() { FB.init({ appId: window.REBELMOUSE_BOOTSTRAP_DATA.fbId, version: window.REBELMOUSE_BOOTSTRAP_DATA.fbAppVersion, status: true, cookie: true, }); FB.XFBML.parse(); if(fbIframe){ fbIframe.parentNode.removeChild(fbIframe); } }
function loadFacebookScript() { var existingScript = document.querySelector('script[src="https://connect.facebook.net/en_US/sdk.js"'); if (!existingScript) { var script = document.createElement("script"); script.src = "https://connect.facebook.net/en_US/sdk.js"; document.head.appendChild(script); script.addEventListener("load", onScriptLoad); } }
function intersectorCallback(video_player) { var booted = false; var totalSeconds = 0; var interval = null;
function impressionCounter() { totalSeconds++; console.log("I've been watching for " + totalSeconds + " seconds"); } return function intersector(entries) { var entry = entries[0]; if (entry.isIntersecting) { if (!booted) { booted = true; video_player.mute(); video_player.play(); } interval = setInterval(impressionCounter, 1000); } else { if (interval) { console.log("I've stopped watching at " + totalSeconds + " seconds"); clearInterval(interval); interval = null; } } }; }
function trackVideo(video_player) { var observer = new IntersectionObserver(intersectorCallback(video_player), {}); observer.observe(facebookVideo); }
function onFacebookElementLoaded(msg) { if (msg.type === "video" && msg.id === videoId) { trackVideo(msg.instance); } }
function onFacebookReady() { FB.Event.subscribe("xfbml.ready", onFacebookElementLoaded); if (window.oldFacebookWaiter) window.oldFacebookWaiter(); }
if ("FB" in window) { onFacebookReady(); } else { window.oldFacebookWaiter = window.fbAsyncInit; window.fbAsyncInit = onFacebookReady; loadFacebookScript(); }
});



Source link