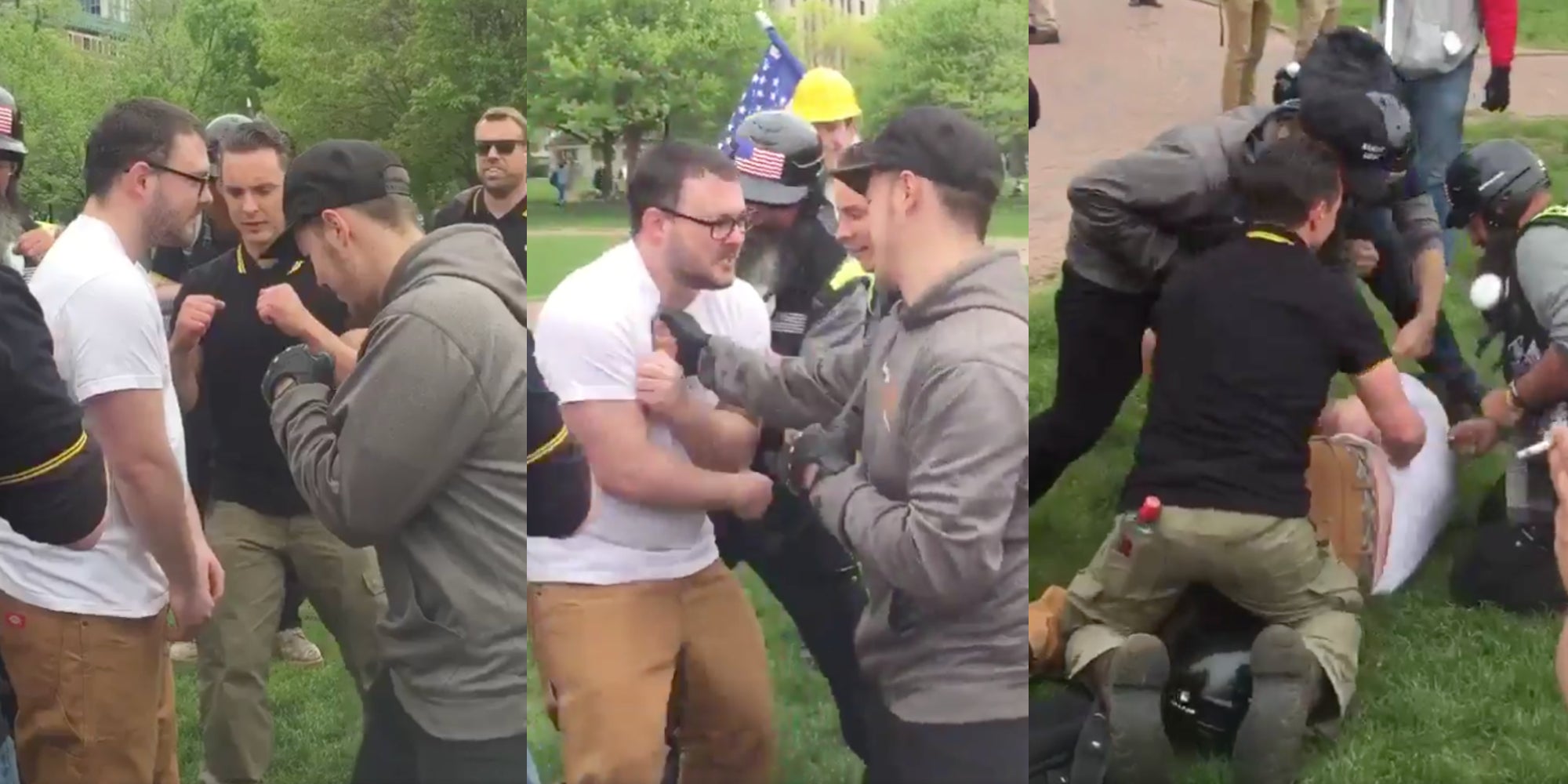 The Proud Boys' cringe initiation ritual is going viral once again after the far-right group attended this weekend's "Million MAGA March" in Washington D.C.
The group joined numerous other supporters of President Donald Trump in the nation's capital on Saturday to protest the outcome of the 2020 election.
Members of the Proud Boys, as well as white nationalists and prominent conspiracy theorists, used the opportunity to spread the false claim that Trump's historic loss was due to widespread voter fraud.
The group also found itself involved in numerous physical altercations with counter-protesters throughout the evening. The incident resulted in a 2017 video, which shows the Proud Boys' awkward initiation ritual, resurfacing and going viral online.
"Proud Boys initiation ritual," Rex Chapman tweeted. "Try not to laugh…"
The ritual begins with the initiate publicly declaring themselves a Proud Boy. Next, the prospective member must withstand a beating—if you can call it that—from other Proud Boys until they successfully name five kinds of breakfast cereal.
Unsurprisingly, Twitter users, including famed rapper and actor Ice-T, couldn't help but laugh at the spectacle.
Gavin McInnes, the group's founder, explained the reasoning behind the ritual in a 2016 article.
"You must get the crap beaten out of you by at least five guys until you can name five breakfast cereals," McInnes wrote. "If you hammer out, 'Chex, Cheerios, Rice Krispies, Corn Flakes, and Special K' in a matter of seconds, you're free to go. If you get flummoxed by the punches and cannot think straight, well, sorry, you're going to get pounded."
The ritual, which has gone viral multiple times over the past few years, has been widely mocked ever since.
"This is a Proud Boys initiation ritual," @JimmyMcHughNWO said. "The X-Rated version is now available on Pornhub."
"At least we know they won't reproduce," @djrothkopf said.
The march in D.C. ultimately led to one man getting stabbed in the back, while at least 20 others were arrested on charges ranging from weapons possession to assault.
---
This week's top technology stories
*First Published: Nov 15, 2020, 3:21 pm
Mikael Thalen is a tech and security reporter based in Seattle, covering social media, data breaches, hackers, and more.