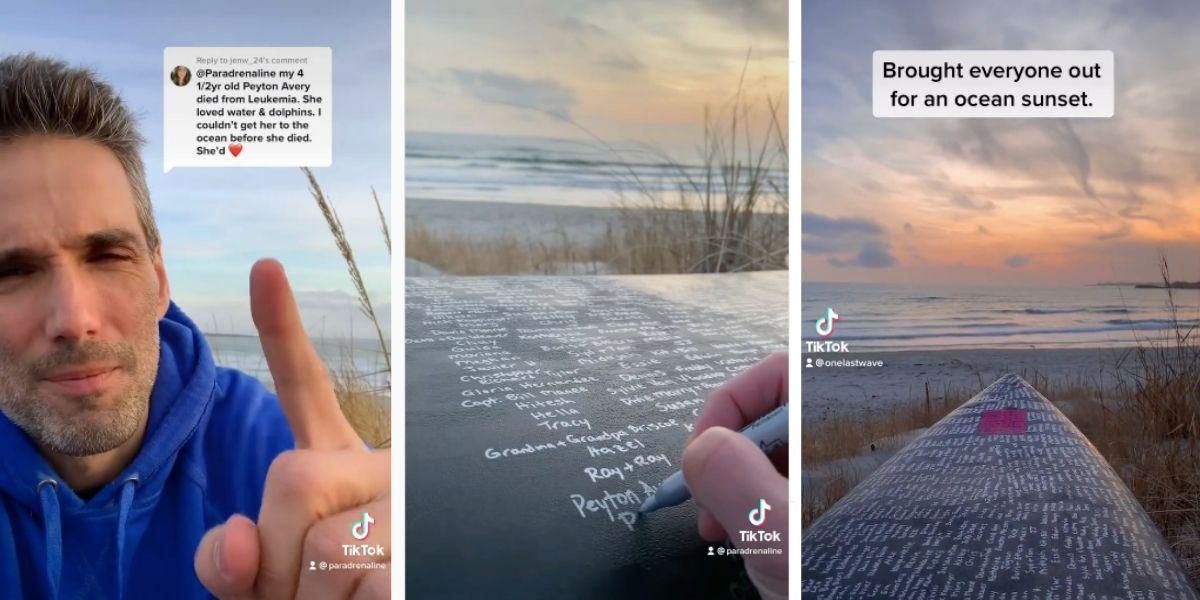 Dan Fischer understands grief. He also has some idea of how to cope with it—and how to help others through it as well.
Fischer has experienced tremendous loss in the past few years, losing both his father and his best friend. As a surfer, he's a believer in what he calls "the transformative power of the ocean." Originally from Montreal, Canada, Fischer has found healing riding the waves off Newport, Rhode Island, where he's lived for the past seven years.
Now he wants to share that healing power of the waves with others.
---
"After one of those faithful sessions, where I had written my dad's name on my board," he tells Upworthy, "I decided to throw out an open invitation on TikTok to others who were struggling with loss." On January 4, he shared a TikTok video inviting people to share the name of a loved one who has passed and said he would write their name on his board and take them out into the ocean.
"It felt right and I wanted to help," he says. "I knew how healing surfing had been for me, and I wanted the opportunity to share that with others in hopes of inserting some positivity into their lives."
@paradrenaline

Comment a loved one who you'd like me to include. #love #memories #dreams #surfing #oceanlover #saltlife
People started sharing the names and stories of lost loved ones in the comments, and Fischer started writing down names. A dozen soon turned to 100, which turned to 500, which turned to more than 1,000.
In just over a week, the one TikTok blossomed into a full-fledged movement Fischer has dubbed the One Last Wave Project.
"Something we always say out there is, 'one last wave,'" Fischer says. "There's always one last wave to catch and I wanted to give that to others. There have been so many stories shared about loved ones who always wanted to learn to surf, or how the ocean was their happy place and unfortunately, their families weren't able to get them there in time. I committed to ensuring that they got out there for that one last wave."
Sunset with your loved onespic.twitter.com/JWosk1pzi7

— One Last Wave Project (@One Last Wave Project)
1642122161
Fischer gets emotional sharing what the project means to him.
"I've spent many nights sitting out there alone at sunset, connecting with the beauty of nature to heal," he says. "Now, I have thousands of loved ones joining me…it's truly hard to explain just how truly moving that is for me. I just hope to help in some small way."
Right now, the project is just a one-man show, with Fischer spending hours a day connecting with people in the comments and writing down names. He knows he's going to need help collecting names and stories as the list grows, and he's already looking into getting more longboards to accommodate more names.
"It is important to me that every single person's story is told," he says. "I would love to see it expanded where surfers from around the world can join in the movement and take loved ones out into the ocean from wherever they are."
Fischer says people keep asking if it's too late to get their loved one's name on his board, and he wants people to know it's never too late. He's in this for the long haul.
Answering some of your questions about the project! Itu2019s never too late for One Last Wave pic.twitter.com/0dJsC786gc

— One Last Wave Project (@One Last Wave Project)
1642373411
One Last Wave Project isn't Fischer's first project impacting people's lives in creative ways. He works as an MBA admissions consultant, but he also founded Step Up for the Cure, a charity fundraiser for cancer research. He credits his mother's influence for his impulse to use whatever he has to give back to others in a meaningful way.
"When I founded Step Up for the Cure, I was trying to create a symbolic struggle—we ran marathon distances up stairs for 24 hours straight—to align those involved with those facing such harsh adversity," he says. "One Last Wave has a bit of a different vision. While surfing, trying to harness the sheer power of the ocean for a few fleeting moments in order to ride the open face of a wave is extremely challenging; however, this movement is more about the peace and healing that results when you do, letting go, immersing yourself in the sea.
"Surfing is one of my great passions," he continues. "It has changed my life, and I'm grateful for the opportunity to be sharing that love with others in a way that provides hope and healing."
Thatu2019s a great motto! Iu2019d be honored to include her in the project and take her out there

— One Last Wave Project (@One Last Wave Project)
1642372986
Paula I would be honored to take Oliver out with me and show him the joy of surfing he was hoping to find. Sending my love and I hope this helps in some way

— One Last Wave Project (@One Last Wave Project)
1642372920
Fischer says he never imagined his project would resonate so deeply with so many people, but he's grateful that it has.
"I am deeply affected by every single story shared," he said. "Heartbreaking doesn't even begin to describe it, but when I connect with these people, we are bonded, and the board feels very much like a beacon of hope that their loved ones are set free to enjoy and shine once again. It's a way for them to be forever memorialized in a place they loved.
"I can't tell you how many times I've cried reading the stories, writing the names, and feeling them etched on the board as I paddle through the waves," he says.
Many of the commenters are parents sharing the names of children they've lost. Some of them loved the ocean, and some of them loved it but never got to see it. One commenter recently asked for her own name to be put on the board, as she's in hospice and the ocean has always been her peaceful place.
The simple act of reaching out, connecting with others, making an offering of what you have and bringing some measure of comfort to people who are in mourning is such a beautiful thing.
Fischer is working on getting the One Last Wave website up so that he can direct people to one central place if they want to add a loved one or find out how to help, but in the meantime, you can find him on these social media pages:
Instagram: @OneLastWaveProject