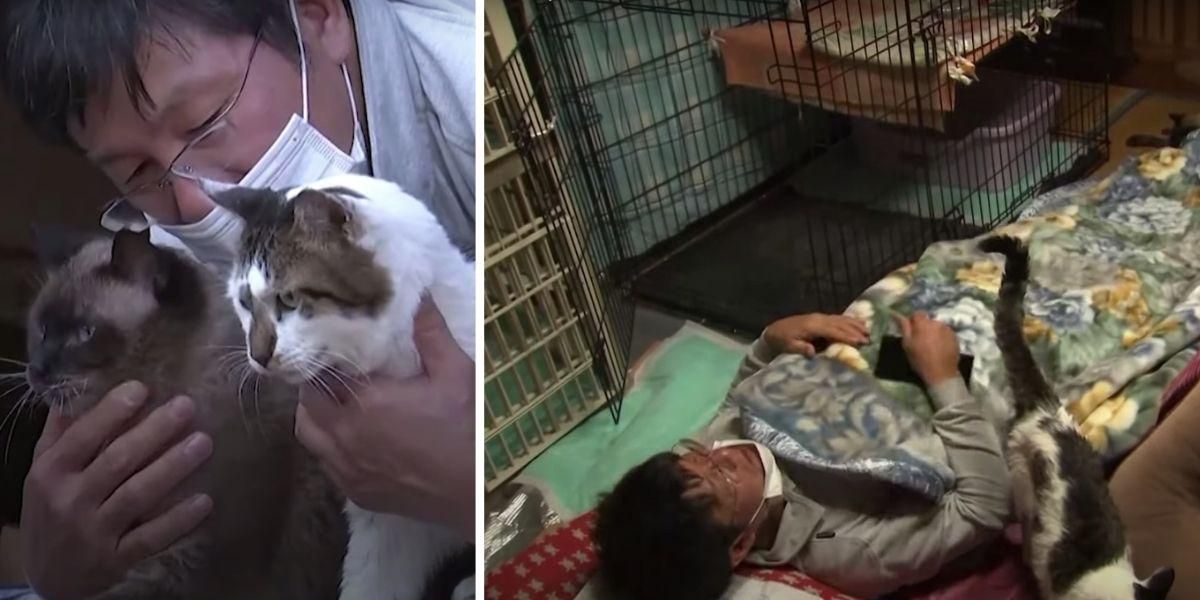 When an earthquake and subsequent tsunami caused a nuclear disaster in Fukushima, Japan, in 2011 most people who lived in the area fled. Some left without their pets, who then had to fend for themselves in a radioactive nuclear zone.
Sakae Kato stayed behind to rescue the cats abandoned by his neighbors and has spent the last decade taking care of them. He has converted his home, which is in a contaminated quarantine area, to a shelter for 41 cats, whom he refers to as "kids." He has buried 23 other cats in his garden over the past 10 years.
The government has asked the 57-year-old to evacuate the area many times, but he says he figured he was going to die anyway. "And if I had to die, I decided that I would like to die with these guys," he said.
---
Kato's dedication to animal welfare extends beyond the cats he's rescued. He also rescued a dog named Pochi, and he has gotten in trouble with the Japanese government for releasing wild boars from traps they set. He feeds the boars as well
Kato estimates that he spends around $7,000 a month on food, fuel, supplies, and veterinary care, which he funds from his own savings and profits from his construction company.
It's getting increasingly difficult to take care of the animals, though, and he anticipates it getting harder. One issue is that his home is falling apart, with rotting floorboards and damage to the roof and walls from another recent earthquake.
"It might last another two or three years. The walls have started to lean," Kato told Reuters.
He doesn't have running water, so he collects water in bottles for himself and the cats from a nearby stream. He uses a paraffin stove to heat the shed where he feeds the cats, and he drives to nearby public toilets.
Technically, he's not allowed to sleep in his home, though he is legally allowed to visit. He hasn't let that stop him from staying and caring for his cats, though.

The pet whisperer of Fukushima

www.youtube.com

Though Kato's family is disapproving of his chosen path, he has every intention of staying and fulfilling what he sees as his life's purpose.
"I want to be around when the last cat dies," he says, "then I want to die after that, no matter if it takes a day or an hour. I want to take care of the last cat here before I die."
Few people would make the sacrifices Kato has made to save animals, especially in a nuclear zone. As the area continues to be decontaminated, more of the 160,000 residents that fled the meltdown may eventually return. But for now, Kato appears to be content in the company of his cat kids and boar babies.
Here's to those special souls who have a heart for animal welfare, and here's to Kato for his perseverance and dedication in caring for these abandoned pets and giving them a loving home.
From Your Site Articles
Related Articles Around the Web
window.REBELMOUSE_TASKS_QUEUE.push(function(){
function menuClick(e) { e.preventDefault();var x=document.getElementsByClassName('navbar-wrapper')[0]; document.getElementsByClassName('menu-wrapper')[0].classList.toggle("openz");
if (x.style.display === "block") {x.style.display = "none";} else {x.style.display = "block";}
var homeContainer = document.getElementsByClassName('content-page-wrapper'); if (homeContainer[0] != undefined) { homeContainer[0].classList.add('background-opacity'); }
var adPlaceholder = document.getElementsByClassName('ad-placeholder'); if (adPlaceholder[0] != undefined) { adPlaceholder[0].classList.add('background-opacity'); }
var followUs = document.getElementsByClassName('follow-us-wrapper'); if (followUs[0] != undefined) { followUs[0].classList.add('background-opacity'); }
// document.querySelector('.topbar-wrapper .image-element').classList.add('background-opacity');
var opac = document.querySelector('.content-page-wrapper.background-opacity'); opac.addEventListener("click", menuCloseClick);
var scrollPosY = window.pageYOffset | document.body.scrollTop;
setTimeout(function() { var topbarPanel = document.querySelector('.js-hidden-panel.active'); if (topbarPanel != null) { document.getElementsByClassName('navbar-wrapper')[0].style.marginTop = '121px'; } else if (scrollPosY <= topMarginForAd) { document.getElementsByClassName('navbar-wrapper')[0].style.marginTop = '-'+(topMarginForAd - scrollPosY-6) + 'px'; } else { document.getElementsByClassName('navbar-wrapper')[0].style.marginTop = '14px'; } }, 100); } function menuCloseClick() { document.getElementsByClassName('navbar-wrapper')[0].style.display = 'none'; document.getElementsByTagName('body')[0].style.overflow = 'unset'; var homeContainer = document.getElementsByClassName('content-page-wrapper'); if (homeContainer[0] != undefined) { homeContainer[0].classList.remove('background-opacity'); } var adPlaceholder = document.getElementsByClassName('ad-placeholder'); if (adPlaceholder[0] != undefined) { adPlaceholder[0].classList.remove('background-opacity'); } var followUs = document.getElementsByClassName('follow-us-wrapper'); if (followUs[0] != undefined) { followUs[0].classList.remove('background-opacity'); } document.querySelector('.topbar-wrapper .image-element').classList.remove('background-opacity'); } function addMenuClickListener() { var menuArrow = document.getElementsByClassName('menu-wrapper'); menuArrow[0].addEventListener('click', menuClick); } addMenuClickListener(); }); window.REBELMOUSE_TASKS_QUEUE.push(function(){ function ChangeListener(selector, callback) { const initializedNodes = new Set([]); document.querySelectorAll(selector).forEach(node => { callback(node); initializedNodes.add(node); }); const mutationObserver = new MutationObserver(() => { const nodes = document.querySelectorAll(selector); nodes.forEach(node => { if (!initializedNodes.has(node)) { callback(node); initializedNodes.add(node); } }); }); mutationObserver.observe(document.body, { childList: true, subtree: true }); }
ChangeListener('.posts-custom',function(E){if(E.querySelector('.body-description')){}else if(E.querySelector('.body')){E.querySelector('.body').classList.add('body-description')}})
});
window.REBELMOUSE_TASKS_QUEUE.push(function(){
function ChangeListener(selector, callback) { const initializedNodes = new Set([]); document.querySelectorAll(selector).forEach(node => { callback(node); initializedNodes.add(node); }); const mutationObserver = new MutationObserver(() => { const nodes = document.querySelectorAll(selector); nodes.forEach(node => { if (!initializedNodes.has(node)) { callback(node); initializedNodes.add(node); } }); }); mutationObserver.observe(document.body, { childList: true, subtree: true }); }
ChangeListener('.widget__section',function(E){if(E.innerHTML=='Sponsored Video' || E.innerHTML=='Sponsored'){E.remove()}});
});
window.REBELMOUSE_TASKS_QUEUE.push(function(){
function fbvideoID(frame) { var myRegexp = /2F(d+)%/g; var match = myRegexp.exec(frame); return match[1]; } var fbIframe = document.querySelector('iframe[src^="https://www.facebook.com/plugins/video.php?"]'); if (fbIframe) {fvVidID = fbvideoID(fbIframe.getAttribute('src')); if (fvVidID) { fbIframe.insertAdjacentHTML("beforebegin", '
'); // fbIframe.parentNode.removeChild(fbIframe); } } var videoId = "promoted-video"; var oldFacebookVideo = document.getElementById(videoId); if (!oldFacebookVideo) { return }; var facebookVideoPost = oldFacebookVideo.closest(".widget"); if (!facebookVideoPost) { return };
var facebookVideo = facebookVideoPost.querySelector("#" + videoId); facebookVideo.classList.add("fb-video"); var firstPost = document.querySelector(".widget.post-partial");
function onScriptLoad() { FB.init({ appId: window.REBELMOUSE_BOOTSTRAP_DATA.fbId, version: window.REBELMOUSE_BOOTSTRAP_DATA.fbAppVersion, status: true, cookie: true, }); FB.XFBML.parse(); if(fbIframe){ fbIframe.parentNode.removeChild(fbIframe); } }
function loadFacebookScript() { var existingScript = document.querySelector('script[src="https://connect.facebook.net/en_US/sdk.js"'); if (!existingScript) { var script = document.createElement("script"); script.src = "https://connect.facebook.net/en_US/sdk.js"; document.head.appendChild(script); script.addEventListener("load", onScriptLoad); } }
function intersectorCallback(video_player) { var booted = false; var totalSeconds = 0; var interval = null;
function impressionCounter() { totalSeconds++; console.log("I've been watching for " + totalSeconds + " seconds"); } return function intersector(entries) { var entry = entries[0]; if (entry.isIntersecting) { if (!booted) { booted = true; video_player.mute(); video_player.play(); } interval = setInterval(impressionCounter, 1000); } else { if (interval) { console.log("I've stopped watching at " + totalSeconds + " seconds"); clearInterval(interval); interval = null; } } }; }
function trackVideo(video_player) { var observer = new IntersectionObserver(intersectorCallback(video_player), {}); observer.observe(facebookVideo); }
function onFacebookElementLoaded(msg) { if (msg.type === "video" && msg.id === videoId) { trackVideo(msg.instance); } }
function onFacebookReady() { FB.Event.subscribe("xfbml.ready", onFacebookElementLoaded); if (window.oldFacebookWaiter) window.oldFacebookWaiter(); }
if ("FB" in window) { onFacebookReady(); } else { window.oldFacebookWaiter = window.fbAsyncInit; window.fbAsyncInit = onFacebookReady; loadFacebookScript(); }
});
window.REBELMOUSE_TASKS_QUEUE.push(function(){
REBELMOUSE_STDLIB.createElementChangeListener(".mb-2", function(item){ checkSponsoredPost(); })
});
window.REBELMOUSE_LOWEST_TASKS_QUEUE.push(function(){
var tags = [ 'https://pymx5.com/scripts/ready.js', 'https://pymx5.com/scripts/ims.js', 'https://pymx5.com/scripts/load_tags.js' ]
function l() { if (tags.length) { var tag = tags.pop(); var script = document.createElement('script'); script.setAttribute('src', tag); script.onload = l; document.body.appendChild(script); } else { window.ia = window.ia || function () { (window.ia.q = window.ia.q || []).push(arguments); } ; ia('track', 'PAGE_VIEW');
docReady(function() { ims.startServices(); } ); } }
l();
});
window.REBELMOUSE_LOWEST_TASKS_QUEUE.push(function(){
window.REBELMOUSE_STDLIB.loadExternalScript("https://ats.rlcdn.com/ats.js", function() {
ats.start( { "placementID": 103, "storageType": "localStorage", "detectionType": "scrape", "cssSelectors": [ "input[type=text]", "input[type=email]" ], "logging": "error" });
});
});
window.REBELMOUSE_LOWEST_TASKS_QUEUE.push(function(){
window.REBELMOUSE_STDLIB.loadExternalScript("https://www.googletagmanager.com/gtag/js.js?id=UA-30098361-1", function() {
window.dataLayer = window.dataLayer || []; /*function gtag(){dataLayer.push(arguments);} gtag('js', new Date());
gtag('config', 'UA-30098361-1', {'optimize_id':'GTM-P5TSK62'});*/
});
});
window.REBELMOUSE_LOWEST_TASKS_QUEUE.push(function(){
!function(f,b,e,v,n,t,s) {if(f.fbq)return;n=f.fbq=function(){n.callMethod? n.callMethod.apply(n,arguments):n.queue.push(arguments)}; if(!f._fbq)f._fbq=n;n.push=n;n.loaded=!0;n.version='2.0'; n.queue=[];t=b.createElement(e);t.async=!0; t.src=v;s=b.getElementsByTagName(e)[0]; s.parentNode.insertBefore(t,s)}(window, document,'script', 'https://connect.facebook.net/en_US/fbevents.js'); fbq('init', '1676218835946757'); fbq('track', 'PageView');
});
window.REBELMOUSE_LOWEST_TASKS_QUEUE.push(function(){
function triggerComscorePageView() { console.log('triggerComscorePageView'); window.COMSCORE && COMSCORE.beacon({c1: "2", c2: "18736521"}); fetch("https://www.upworthy.com/res/3rdparty/comscore_pageview"); }
if (typeof rblms !== 'undefined') { rblms.require(['core/event_dispatcher'], function(eventDispatcher) { eventDispatcher.on('viewRegistry:initViews', triggerComscorePageView); }); }
document.addEventListener('click', event => { if (event.target && event.target.classList.contains('show-more')) { triggerComscorePageView() } });
urlChangeHandler(triggerComscorePageView);
});
window.REBELMOUSE_LOWEST_TASKS_QUEUE.push(function(){
(function() { try{var a={l1:document.location.host.replace(/^www./,""),l2:document.title||"Untitled",l3:"__page__",l4:"-",sa:"",sn:""},b=[],c;for(c in a)b.push(c+"="+encodeURIComponent(a[c]));b=b.join("&");(new Image).src="https://d26n2uyu5tcx3y.cloudfront.net?a=5ac31c1640c74c36900b97047f570f19";var d=document.createElement("script");d.type="text/javascript";d.async=!0;var e=document.getElementsByTagName("script")[0];e.parentNode.insertBefore(d,e);d.src="https://z.moatads.com/upworthy105Vonz37/moatcontent.js#"+b}catch(f){try{var g= "//pixel.moatads.com/pixel.gif?e=24&d=data%3Adata%3Adata%3Adata&i=MOATCONTENTABSNIPPET1&ac=1&k="+encodeURIComponent(f)+"&j="+encodeURIComponent(document.referrer)+"&cs="+(new Date).getTime();(new Image).src=g}catch(h){}}; })();
});
window.REBELMOUSE_LOWEST_TASKS_QUEUE.push(function(){
(function(w,d) { w.kwa || (w.kwa = function()
{ (w.kwa.q = w.kwa.q || []).push(arguments); } ); se = d.createElement('script'), fs = d.scripts[0]; se.src="https://cdn.keywee.co/dist/analytics.min.js"; fs.parentNode.insertBefore(se,fs) }(window, document));
kwa('initialize',603);
});
window.REBELMOUSE_LOWEST_TASKS_QUEUE.push(function(){
(function(h,o,t,j,a,r){ h.hj=h.hj||function(){(h.hj.q=h.hj.q||[]).push(arguments)}; h._hjSettings={hjid:1648575,hjsv:6}; a=o.getElementsByTagName('head')[0]; r=o.createElement('script');r.async=1; r.src=t+h._hjSettings.hjid+j+h._hjSettings.hjsv; a.appendChild(r); })(window,document,'https://static.hotjar.com/c/hotjar-','.js?sv=');
});
window.REBELMOUSE_LOWEST_TASKS_QUEUE.push(function(){
window.REBELMOUSE_STDLIB.loadExternalScript("https://embed.actionbutton.co/widget/widget.min.js", function() {
});
});
window.REBELMOUSE_LOWEST_TASKS_QUEUE.push(function(){
let asd=false
});



Source link