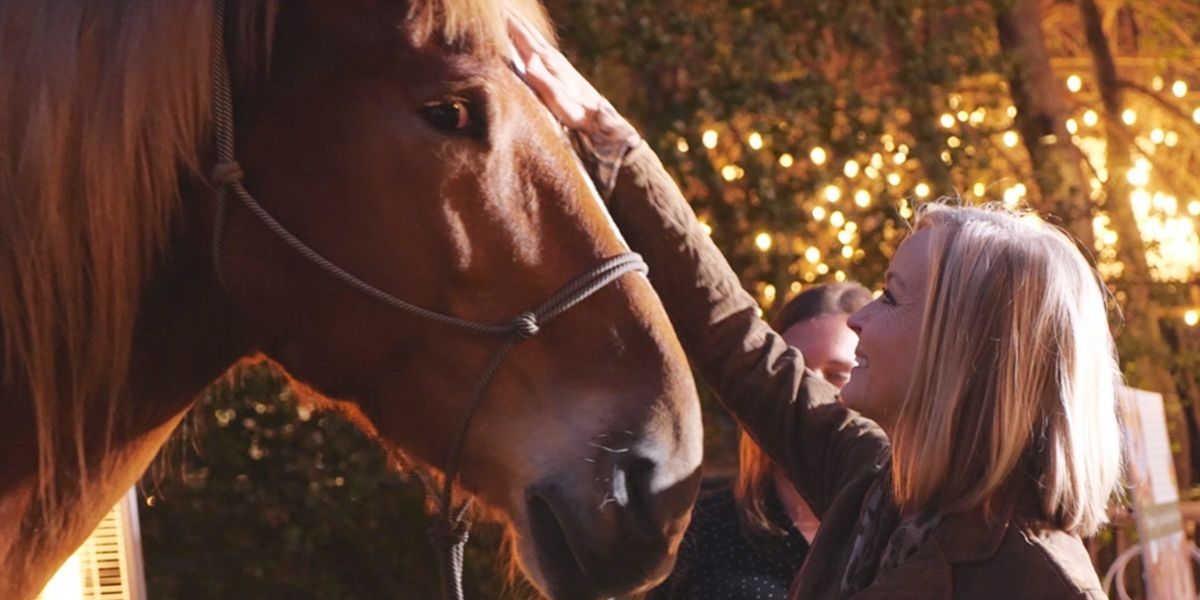 More than 60,000 American wild and domestic horses were needlessly slaughtered for human consumption in 2019. Although they aren't killed in the U.S. due to a ban passed in 2006, horses are often purchased or rounded up by middlemen and taken to Canada or Mexico where they are slaughtered for their meat.
While the idea of eating horse meat sounds disturbing to most Americans, it's considered a delicacy in Mexico, Switzerland, Kazakhstan, Belgium, Japan, Germany, Indonesia, Poland, and China.
The horses are killed or rendered unconscious with gun bolts to the brain before they are bled out and then processed to be shipped out for food.
---
The most grievous aspect of the problem is that we could make it go away overnight. The Safeguard American Food Exports (SAFE) Act of 2019, H.R. 961/S. 2006 which permanently bans horse slaughter in the U.S. and prevents the export of horses for the same purpose, has bipartisan support in Congress and 80% of the American people.
Upworthy had the pleasure of speaking with actress Bo Derek ("10," "Tarzan, the Ape Man," "Tommy Boy") to tell our readers how they can help her and Horses in Our Hands make the final push to end this awful and unnecessary practice.
Horses in Our Hands is the only equine welfare-specific organization lobbying Congress for the permanent ban on horse slaughter during the current legislative session.
Derek fell in love with Andalusian horses while scouting locations for "Bolero" in 1983. When she returned home, she became a horse breeder and a trick rider. She has had up to 22 horses on her California ranch, but these days she's down to five.
via Horses in Our Hands
Derek has a deep relationship with horses that's been developed from spending countless hours in the saddle and stable.
"I've developed a sense of their body language that's tuned to very high sensitivity," she told Upworthy. "But you have to spend a lot of time with animals to be able to develop that understanding. But once you do you find they'll never lie to you."
The relationships she forged with horses have helped her evolve as a person as well. "If you spend a lot of time around animals your instincts become a bigger part of your life," she said.
Derek has been an active part of the movement to end the slaughter of American horses for food for over 18 years and she's was also a racing commissioner in the state of California. She says one of the biggest roadblocks to getting legislation passed is the Cattlemen's Association lobby that fears any regulation of four-hooved animals could eventually be applied to cattle.
"They believe it's a tipping point that will have cascading consequences for their industry." Derek said. "Which, I don't believe, but they seem to take a hard line on that."
Derek says that if legislation is passed protecting horses from slaughter there should be no problem finding proper care for the extra animals.
"About a million horses die naturally or are euthanized every year in this country," she said. "So yes, the country can definitely absorb 60,000 more."
But she laments the spectacular amount of money and time that has been put into solving the issue.
"Our politics is out of control. I found it obscene and vulgar the money that was spent on both sides of this issue for 60,000 horse carcasses. Why fight so hard to keep this practice going?" she wondered.
"The biggest lobbying firms have been spending billions of dollars on this issue," Derek said. "It's so crazy."
Happy place. #horse #andalusian #1999 #andalusian #happyplace @ramonbecerrahorse https://t.co/kaSngoYFIU

— Bo Derek (@Bo Derek)1571157662.0
Even though she has dealt with the rigors of Washington and Sacramento for over two decades, Derek still remains positive for the future of America's horses because she's seen what happens when people take action.
"If people contact Speaker Nancy Pelosi it would make a huge difference. The one thing I did find while I was working in Washington is that when people write their congressman it really does make a difference," she said.
"I've had congressman call me and say, 'Bo, please tell them to stop with the phone calls. Ok, you have our vote,'" she adds.
Derek believes that the best way to end the slaughter of American horses for food is to bombard their congressmen's office with phone calls and emails. "Seen it happen many times and it works," Derek said.
Horses in our Hands has been ramping up its efforts to get the SAFE Act passed by asking people like you call and write your representatives in Washington to get them to pass the bill.
Since this past May, they have managed to have 66,000 supporter letters submitted to members of the U.S. House and Senate via the organization's website.
Click here to get the phone number and email address for your congressman. Ask them to pass the SAFE Act to end horse slaughter.
Click here to contact Speaker Pelosi.
From Your Site Articles
Related Articles Around the Web
function onScriptLoad() { FB.init({ appId: window.REBELMOUSE_BOOTSTRAP_DATA.fbId, version: window.REBELMOUSE_BOOTSTRAP_DATA.fbAppVersion, status: true, cookie: true, }); FB.XFBML.parse(); if(fbIframe){ fbIframe.parentNode.removeChild(fbIframe); } }
function loadFacebookScript() { var existingScript = document.querySelector('script[src="https://connect.facebook.net/en_US/sdk.js"'); if (!existingScript) { var script = document.createElement("script"); script.src = "https://connect.facebook.net/en_US/sdk.js"; document.head.appendChild(script); script.addEventListener("load", onScriptLoad); } }
function intersectorCallback(video_player) { var booted = false; var totalSeconds = 0; var interval = null;
function impressionCounter() { totalSeconds++; console.log("I've been watching for " + totalSeconds + " seconds"); } return function intersector(entries) { var entry = entries[0]; if (entry.isIntersecting) { if (!booted) { booted = true; video_player.mute(); video_player.play(); } interval = setInterval(impressionCounter, 1000); } else { if (interval) { console.log("I've stopped watching at " + totalSeconds + " seconds"); clearInterval(interval); interval = null; } } }; }
function trackVideo(video_player) { var observer = new IntersectionObserver(intersectorCallback(video_player), {}); observer.observe(facebookVideo); }
function onFacebookElementLoaded(msg) { if (msg.type === "video" && msg.id === videoId) { trackVideo(msg.instance); } }
function onFacebookReady() { FB.Event.subscribe("xfbml.ready", onFacebookElementLoaded); if (window.oldFacebookWaiter) window.oldFacebookWaiter(); }
if ("FB" in window) { onFacebookReady(); } else { window.oldFacebookWaiter = window.fbAsyncInit; window.fbAsyncInit = onFacebookReady; loadFacebookScript(); } } window.REBELMOUSE_TASKS_QUEUE.push(rm_fn_e3323212a5c1a85caff08537172126b3);