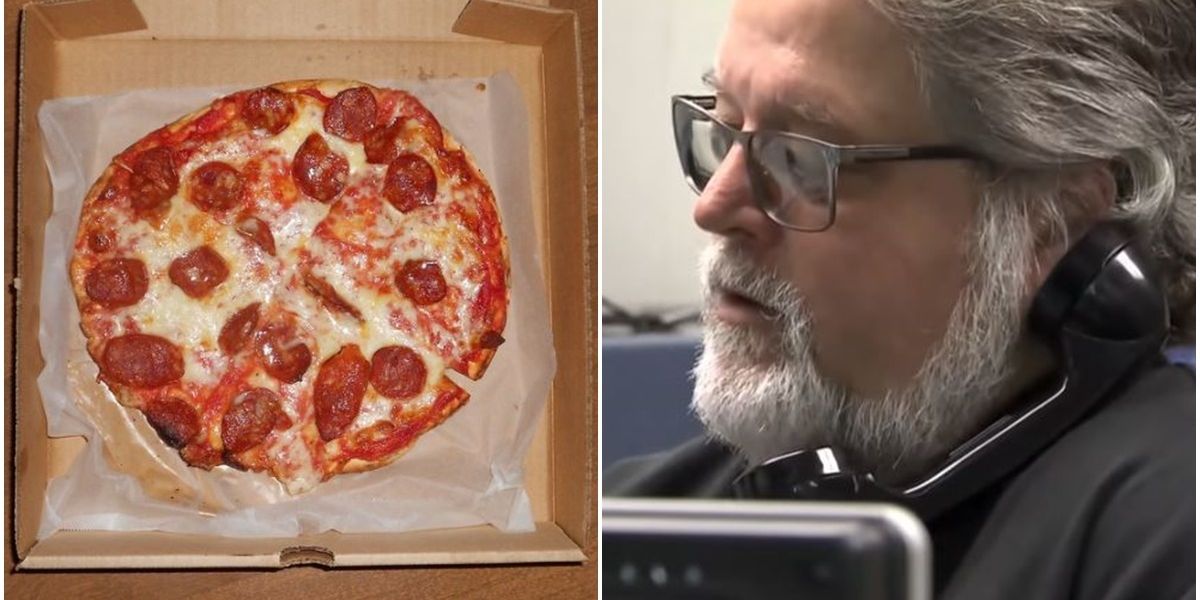 An Oregon, Ohio police dispatcher and the daughter of a domestic abuse victim are being lauded for their response to a violent situation. Dispatcher Tim Teneyck was manning the phone lines when a curious call came in that he first assumed was a prank.
"I would like to order a pizza," the 911 caller said, giving a residential address.
"You called 911 to order a pizza?" a bemused Teneyck asked. "This is the wrong number to call for a pizza."
"No, no, no, no, you're not understanding," the woman insisted.
---
"I'm getting you now," Teneyck quickly replied. "We'll get 'em going."
"Is the other guy still there?" Teneyck asked
"I need a large pizza," the woman said.
"How about medical, do you need medical?" Teneyck replied. "No," the woman replied.
"With pepperoni," the woman continued.
"We'll get 'em going," Teneyck stated before asking if the woman can stay on the phone.
"No," the woman replied before the call ends.

Why This Woman Called 911 to Order Pizza

www.youtube.com

Teneyck realized she needed emergency assistance because of her persistence. "She stuck right to it," he told Inside Edition. "I knew there was something else going on."
The dispatcher told police to go to the house with their sirens off saying "there's domestic violence going on." When police arrived, they saw the call was from a young woman whose mother was assaulted by her boyfriend, 56-year-old Simon Lopez.
According to the young woman, Lopez came home drunk saying he was going to "beat her ass" before punching her and throwing her into a wall.
"I was thinking to myself 'I need to call 911 but how do I get him to stay in the house so he will be taken out in handcuffs' and I just thought, 'Pizza!'" the woman told Inside Edition.
Simon Lopez, 56, was arrested by police and charged with misdemeanor domestic violence. Lopez also had a warrant out for failure to appear.
"I thank him from the bottom of my heart," the woman said of Teneyck.
via Inside Edition / YouTube
The next day, Oregon Police Chief Mike Navarre praised Teneyck as well.
"He utilized his training and his experience to recognize that a woman was in distress," Navarre told NBC News. "We have no way of knowing what would have happened if she didn't get through."
After the incident, the dispatcher and police chief learned that some support groups teach people to report domestic violence surreptitiously to 911 by pretending to order Chinese food or pizza.
When the operator says "you have the wrong number" the person reporting the violence is supposed to say, "no."
Navarre is using the call to train other dispatchers on how to realize if someone is in trouble and can't express it in words.
"A good dispatcher is going to recognize that this is a person who wants to talk and needs help. That is exactly what happened here," he said. "Some dispatchers might hang up on this person, but it's worth a try to give it your best shot. That's what she did, and it worked out extremely well."
To get support, resources, and hope for anyone affected by domestic violence in the U.S. call 1.800.799-SAFE (7233).
From Your Site Articles
Related Articles Around the Web
window.REBELMOUSE_TASKS_QUEUE.push(function(){function fbvideoID(frame) { var myRegexp = /2F(d+)%/g; var match = myRegexp.exec(frame); return match[1]; } var fbIframe = document.querySelector('iframe[src^="https://www.facebook.com/plugins/video.php?"]'); if (fbIframe) {fvVidID = fbvideoID(fbIframe.getAttribute('src')); if (fvVidID) { fbIframe.insertAdjacentHTML("beforebegin", '
'); // fbIframe.parentNode.removeChild(fbIframe); } } var videoId = "promoted-video"; var oldFacebookVideo = document.getElementById(videoId); if (!oldFacebookVideo) { return }; var facebookVideoPost = oldFacebookVideo.closest(".widget"); if (!facebookVideoPost) { return };
var facebookVideo = facebookVideoPost.querySelector("#" + videoId); facebookVideo.classList.add("fb-video"); var firstPost = document.querySelector(".widget.post-partial");
function onScriptLoad() { FB.init({ appId: window.REBELMOUSE_BOOTSTRAP_DATA.fbId, version: window.REBELMOUSE_BOOTSTRAP_DATA.fbAppVersion, status: true, cookie: true, }); FB.XFBML.parse(); if(fbIframe){ fbIframe.parentNode.removeChild(fbIframe); } }
function loadFacebookScript() { var existingScript = document.querySelector('script[src="https://connect.facebook.net/en_US/sdk.js"'); if (!existingScript) { var script = document.createElement("script"); script.src = "https://connect.facebook.net/en_US/sdk.js"; document.head.appendChild(script); script.addEventListener("load", onScriptLoad); } }
function intersectorCallback(video_player) { var booted = false; var totalSeconds = 0; var interval = null;
function impressionCounter() { totalSeconds++; console.log("I've been watching for " + totalSeconds + " seconds"); } return function intersector(entries) { var entry = entries[0]; if (entry.isIntersecting) { if (!booted) { booted = true; video_player.mute(); video_player.play(); } interval = setInterval(impressionCounter, 1000); } else { if (interval) { console.log("I've stopped watching at " + totalSeconds + " seconds"); clearInterval(interval); interval = null; } } }; }
function trackVideo(video_player) { var observer = new IntersectionObserver(intersectorCallback(video_player), {}); observer.observe(facebookVideo); }
function onFacebookElementLoaded(msg) { if (msg.type === "video" && msg.id === videoId) { trackVideo(msg.instance); } }
function onFacebookReady() { FB.Event.subscribe("xfbml.ready", onFacebookElementLoaded); if (window.oldFacebookWaiter) window.oldFacebookWaiter(); }
if ("FB" in window) { onFacebookReady(); } else { window.oldFacebookWaiter = window.fbAsyncInit; window.fbAsyncInit = onFacebookReady; loadFacebookScript(); }});
window.REBELMOUSE_TASKS_QUEUE.push(function(){ REBELMOUSE_STDLIB.createElementChangeListener(".mb-2", function(item){ checkSponsoredPost(); })});
window.REBELMOUSE_LOWEST_TASKS_QUEUE.push(function(){var tags = [ 'https://pymx5.com/scripts/ready.js', 'https://pymx5.com/scripts/ims.js', 'https://pymx5.com/scripts/load_tags.js' ]
function l() { if (tags.length) { var tag = tags.pop(); var script = document.createElement('script'); script.setAttribute('src', tag); script.onload = l; document.body.appendChild(script); } else { window.ia = window.ia || function () { (window.ia.q = window.ia.q || []).push(arguments); } ; ia('track', 'PAGE_VIEW');
docReady(function() { ims.startServices(); } ); } }
l();});
window.REBELMOUSE_LOWEST_TASKS_QUEUE.push(function(){window.REBELMOUSE_STDLIB.loadExternalScript("https://ats.rlcdn.com/ats.js", function() {ats.start( { "placementID": 103, "storageType": "localStorage", "detectionType": "scrape", "cssSelectors": [ "input[type=text]", "input[type=email]" ], "logging": "error" });});});
window.REBELMOUSE_LOWEST_TASKS_QUEUE.push(function(){window.REBELMOUSE_STDLIB.loadExternalScript("https://www.googletagmanager.com/gtag/js.js?id=UA-30098361-1", function() {window.dataLayer = window.dataLayer || []; /*function gtag(){dataLayer.push(arguments);} gtag('js', new Date());
gtag('config', 'UA-30098361-1', {'optimize_id':'GTM-P5TSK62'});*/});});
window.REBELMOUSE_LOWEST_TASKS_QUEUE.push(function(){ function menuClick(e) { e.preventDefault(); document.getElementsByClassName('navbar-wrapper')[0].style.display = 'block'; document.getElementsByTagName('body')[0].style.overflow = 'hidden';
var homeContainer = document.getElementsByClassName('content-page-wrapper'); if (homeContainer[0] != undefined) { homeContainer[0].classList.add('background-opacity'); }
var adPlaceholder = document.getElementsByClassName('ad-placeholder'); if (adPlaceholder[0] != undefined) { adPlaceholder[0].classList.add('background-opacity'); }
var followUs = document.getElementsByClassName('follow-us-wrapper'); if (followUs[0] != undefined) { followUs[0].classList.add('background-opacity'); }
document.querySelector('.topbar-wrapper .image-element').classList.add('background-opacity');
var opac = document.querySelector('.content-page-wrapper.background-opacity'); opac.addEventListener("click", menuCloseClick);
addMenuCloseClickListener();
var scrollPosY = window.pageYOffset | document.body.scrollTop;
setTimeout(function() { var topbarPanel = document.querySelector('.js-hidden-panel.active'); if (topbarPanel != null) { document.getElementsByClassName('navbar-wrapper')[0].style.marginTop = '121px'; } else if (scrollPosY <= topMarginForAd) { document.getElementsByClassName('navbar-wrapper')[0].style.marginTop = '-'+(topMarginForAd - scrollPosY-6) + 'px'; } else { document.getElementsByClassName('navbar-wrapper')[0].style.marginTop = '14px'; } }, 100); } function menuCloseClick() { document.getElementsByClassName('navbar-wrapper')[0].style.display = 'none'; document.getElementsByTagName('body')[0].style.overflow = 'unset'; var homeContainer = document.getElementsByClassName('content-page-wrapper'); if (homeContainer[0] != undefined) { homeContainer[0].classList.remove('background-opacity'); } var adPlaceholder = document.getElementsByClassName('ad-placeholder'); if (adPlaceholder[0] != undefined) { adPlaceholder[0].classList.remove('background-opacity'); } var followUs = document.getElementsByClassName('follow-us-wrapper'); if (followUs[0] != undefined) { followUs[0].classList.remove('background-opacity'); } document.querySelector('.topbar-wrapper .image-element').classList.remove('background-opacity'); } function addMenuClickListener() { var menuArrow = document.getElementsByClassName('menu-wrapper'); var exploreText = document.getElementsByClassName('text-element'); menuArrow[0].addEventListener('click', menuClick); exploreText[0].addEventListener('click', menuClick); } addMenuClickListener(); function addMenuCloseClickListener() { var menuCloseIcon = document.getElementsByClassName('menu-close-icon'); if(menuCloseIcon[0] != undefined) { menuCloseIcon[0].addEventListener('click', menuCloseClick); } } addMenuCloseClickListener();}); window.REBELMOUSE_LOWEST_TASKS_QUEUE.push(function(){ !function(f,b,e,v,n,t,s) {if(f.fbq)return;n=f.fbq=function(){n.callMethod? n.callMethod.apply(n,arguments):n.queue.push(arguments)}; if(!f._fbq)f._fbq=n;n.push=n;n.loaded=!0;n.version='2.0'; n.queue=[];t=b.createElement(e);t.async=!0; t.src=v;s=b.getElementsByTagName(e)[0]; s.parentNode.insertBefore(t,s)}(window, document,'script', 'https://connect.facebook.net/en_US/fbevents.js'); fbq('init', '1676218835946757'); fbq('track', 'PageView');}); window.REBELMOUSE_LOWEST_TASKS_QUEUE.push(function(){ function triggerComscorePageView() { console.log('triggerComscorePageView'); window.COMSCORE && COMSCORE.beacon({c1: "2", c2: "18736521"}); fetch("https://www.upworthy.com/res/3rdparty/comscore_pageview"); } if (typeof rblms !== 'undefined') { rblms.require(['core/event_dispatcher'], function(eventDispatcher) { eventDispatcher.on('viewRegistry:initViews', triggerComscorePageView); }); } document.addEventListener('click', event => { if (event.target && event.target.classList.contains('show-more')) { triggerComscorePageView() } });
urlChangeHandler(triggerComscorePageView);});
window.REBELMOUSE_LOWEST_TASKS_QUEUE.push(function(){(function() { try{var a={l1:document.location.host.replace(/^www./,""),l2:document.title||"Untitled",l3:"__page__",l4:"-",sa:"",sn:""},b=[],c;for(c in a)b.push(c+"="+encodeURIComponent(a[c]));b=b.join("&");(new Image).src="https://d26n2uyu5tcx3y.cloudfront.net?a=5ac31c1640c74c36900b97047f570f19";var d=document.createElement("script");d.type="text/javascript";d.async=!0;var e=document.getElementsByTagName("script")[0];e.parentNode.insertBefore(d,e);d.src="https://z.moatads.com/upworthy105Vonz37/moatcontent.js#"+b}catch(f){try{var g= "//pixel.moatads.com/pixel.gif?e=24&d=data%3Adata%3Adata%3Adata&i=MOATCONTENTABSNIPPET1&ac=1&k="+encodeURIComponent(f)+"&j="+encodeURIComponent(document.referrer)+"&cs="+(new Date).getTime();(new Image).src=g}catch(h){}}; })();});
window.REBELMOUSE_LOWEST_TASKS_QUEUE.push(function(){(function(w,d) { w.kwa || (w.kwa = function()
{ (w.kwa.q = w.kwa.q || []).push(arguments); } ); se = d.createElement('script'), fs = d.scripts[0]; se.src="https://cdn.keywee.co/dist/analytics.min.js"; fs.parentNode.insertBefore(se,fs) }(window, document));
kwa('initialize',603);});
window.REBELMOUSE_LOWEST_TASKS_QUEUE.push(function(){(function(h,o,t,j,a,r){ h.hj=h.hj||function(){(h.hj.q=h.hj.q||[]).push(arguments)}; h._hjSettings={hjid:1648575,hjsv:6}; a=o.getElementsByTagName('head')[0]; r=o.createElement('script');r.async=1; r.src=t+h._hjSettings.hjid+j+h._hjSettings.hjsv; a.appendChild(r); })(window,document,'https://static.hotjar.com/c/hotjar-','.js?sv=');});
window.REBELMOUSE_LOWEST_TASKS_QUEUE.push(function(){window.REBELMOUSE_STDLIB.loadExternalScript("https://embed.actionbutton.co/widget/widget.min.js", function() {window.ActionButton.whenButtonLoaded('action_button_container').then(window.ActionButton.loadButton('action_button_container','SPK-QkdERQ=='));});});
window.REBELMOUSE_LOWEST_TASKS_QUEUE.push(function(){let asd=false});



Source link