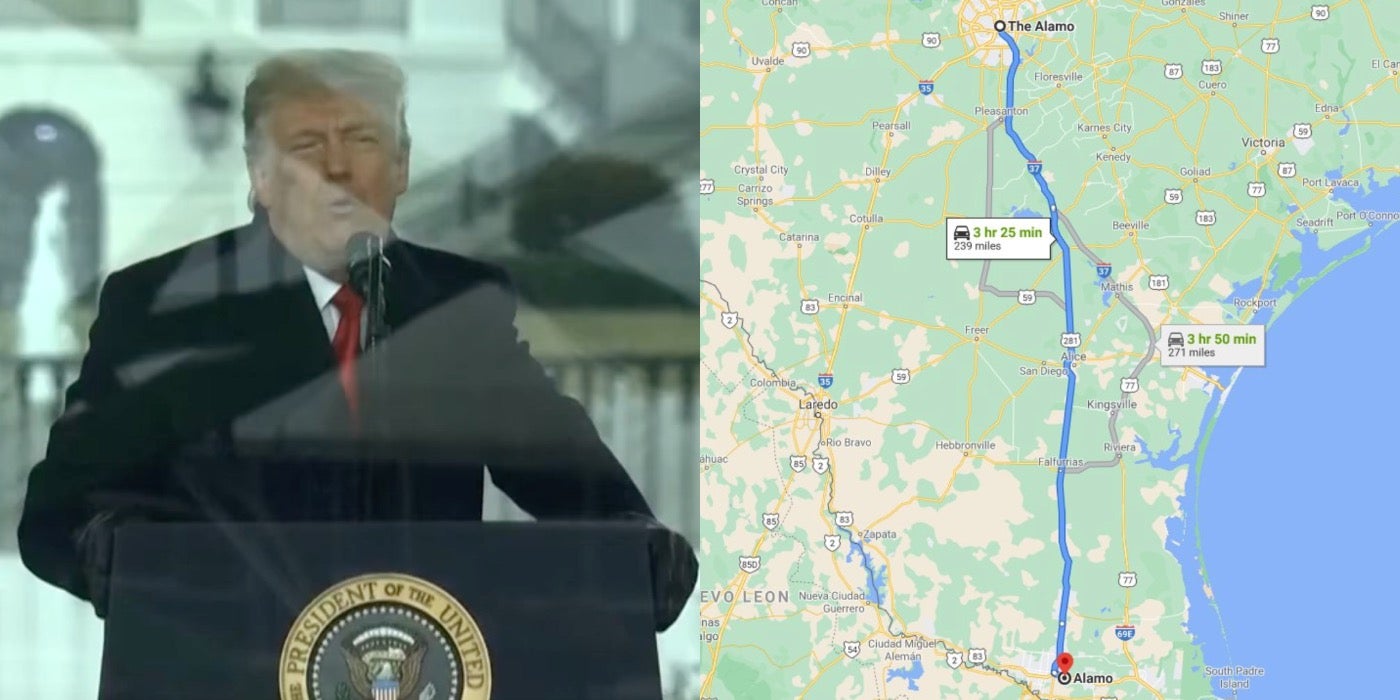 Coming off the recent Capitol insurrection, President Donald Trump is set to end his tenure by visiting Alamo, Texas, a small town in the Rio Grande Valley. It will reportedly mark Trump's second time visiting the Rio Grande Valley during his presidency.
Per an NBC 12 report, the Alamo trip will "mark the completion of 400 miles of border wall and his administration's efforts to reform what the White House described as the nation's broken immigration system."
People are responding to the news of his trip with memes poking fun at his team's sometimes-botched events, using the Alamo rental car brand and maps. Just in November, the Trump team was obliterated online after seemingly booking the wrong "Four Seasons" and ending up holding a press conference at a landscaping business instead of the iconic hotel.
"It might be at this Alamo - Alamo Plaza Motel. Nicer beds than the ones at The Four Seasons Landscaping in Philadelphia, PA," one Twitter user joked.
People have also been mistaking the town near the border for the historical site in San Antonio, and others have been trying to correct the record. "PSA: Alamo TX ≠ The Alamo. One is in the Rio Grande Valley, home to dignified communities resisting white supremacy for generations, the other is where a bunch of guys died defending their belief they had the "right" to enslave Black people and steal land," one said.
Journalist Christina Binkley also speculated on why the Trump team was making a point to say the president was going to visit Alamo rather than McAllen or the Rio Grande Valley. "Alamo, TX is a tiny town of 19,000 residents that is really a suburb of McAllen. It is no where near the Alamo fort. The only reason I can think of to say you're going there, as opposed to saying McAllen or any of its other suburbs, is the symbolism of the name," Binkley said.
The NBC report further noted that the "administration prioritized areas where the wall could be built more quickly, and crews have blasted hills and bulldozed sensitive habitats in national wildlife refuges and on American Indian land to do it."
According to Bloomberg, Trump is planning to have a defiant final week in office.
---
Today's top stories
*First Published: Jan 10, 2021, 3:26 pm