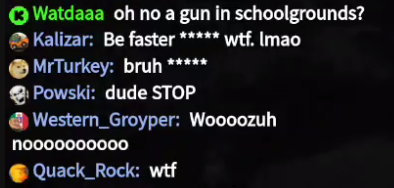 On Wednesday, live streamers who have associated with white nationalist Nick Fuentes filmed and took pictures of one of them holding guns at Columbine High School. Jared Noble, aka Woozuh, seemed to think it would make great content to livestream from the location of the school shooting that ushered in the era of such slayings becoming an unwelcome fixture of American life.
His fans and even Fuentes himself disagree. They think it was a foolish stunt. The police officer who showed up at the end of the stream thought it wasn't merely dumb, it was dangerous.
Noble was accompanied by Aidan Duncan, known online as SmileyDaFed or simply Smiley. Duncan says he now regrets participating in the stunt, which he said was Noble's idea. On Thursday, Duncan described their actions as "inexcusable" and said he's planning to distance himself from Noble.
Noble did not immediately respond to a request for comment sent on Thursday via Twitter direct message to an account identified as his.
The livestream posted on Odysee shows them arriving at Columbine High School in the dark.
As they entered the grounds, Noble suggested that they could say they were filming a documentary if anyone asked why they were there.
The two walked around the school looking for a place for a photo op. On the way, they discussed why they believe the Columbine shooting happened, but others, such as Sandy Hook, didn't. They also talked about the events that unfolded during the Columbine shooting. At one point, Noble called a girl who died a "martyr" because he said she told the killers she believed in God right before they shot her.
They eventually settled on a location in front of the Hope Columbine Memorial Library for Noble to pose in front of with a rifle both described as a prop. Families of the victims of the massacre helped build the library, which sits on a hill where some of the slayings occurred.
As Noble posed, he played the song "Pumped Up Kicks" by Foster The People, which is about a school shooting.
On Thursday, Duncan told the Daily Dot that the weapon was a "prop replica."
Duncan seemed nervous about being there throughout much of the video. At one point he said, "Oh man, I think this is super illegal."
Noble insisted they weren't doing anything illegal.
The people commenting on the livestream disagreed.
"Such a bad idea to be walking around a school, let alone ******* COLUMBINE with a gun, fake or otherwise," wrote one.
Another said, "Not smart."
Some of his followers were impressed. More seemed to think their actions were foolish and risky.
Noble disregarded his critics. Several minutes in, he said they would only continue filming if someone paid him $10, which one of his followers ultimately did.
When they returned to the car near the end of the roughly 20-minute video, he cursed when he realized that he'd left his pistol in the car. The weapon is also reportedly fake.
He then posed for another photo in front of the Columbine High School sign, again playing "Pumped Up Kicks."
Shortly thereafter, an officer arrived. He was thoroughly unimpressed, particularly when he saw the gun. Noble assured the officer it was fake.
"Listen to me, think about what you're doing, this day and age, everything going on, you do this here, you could've gotten shot man. Jesus Christ man," the officer scolded them.
"Drop your stuff. Are you shitting me?" he added as the livestream ended.
When police arrived, one of Noble's followers commented on the livestream, "I ******* told you."
Rumors are flying online that Noble was arrested. Anthime Gionet, aka Baked Alaska, posted "FREE WOOZUH" on Telegram on Thursday. Fuentes also indicated that Noble was arrested.
"I don't know what those guys were thinking. What a stupid decision," Fuentes said of their actions.
Online commenters agree.
"Hey bro, what if we brought a fake machine gun to Columbine?! And what if we did so at night??" one tweeted mockingly.
In a Twitter direct message on Thursday, Duncan told the Daily Dot that neither man had been arrested. He said people are jumping to that conclusion because of the way the livestream ended with the phone dropping into the grass and going dark.
"I think people are just assuming that because the footage stopped around the time the police started to talking to us," he said.
He also provided the Daily Dot with a draft of a written apology he said he was working on.
"What happened last night was inexcusable. Going along with it was a mistake," he wrote, adding that earlier in the day he told Noble it was "disrespectful" and he was "uncomfortable with the idea."
Duncan said he originally wanted to speak with Noble before posting the apology. "I've been trying to get a hold of Woozuh for hours," he said. "I wanted to at least explain why I have to say what I'm saying but he's not responding." He added that he was giving him "another 10 minutes" before he posts it.
Duncan claimed that he ultimately agreed to go because the two have known one another for a long time. He also suggested that he is rethinking such associations.
"I have not surrounded myself with the best influences and I need to get better at saying no to things I'm not comfortable with. I've decided Woozuh and I should distance from each other while I work on that."
"It was wrong and distasteful," Duncan concluded. "I apologize."
We crawl the web so you don't have to.
Sign up for the Daily Dot newsletter to get the best and worst of the internet in your inbox every day.