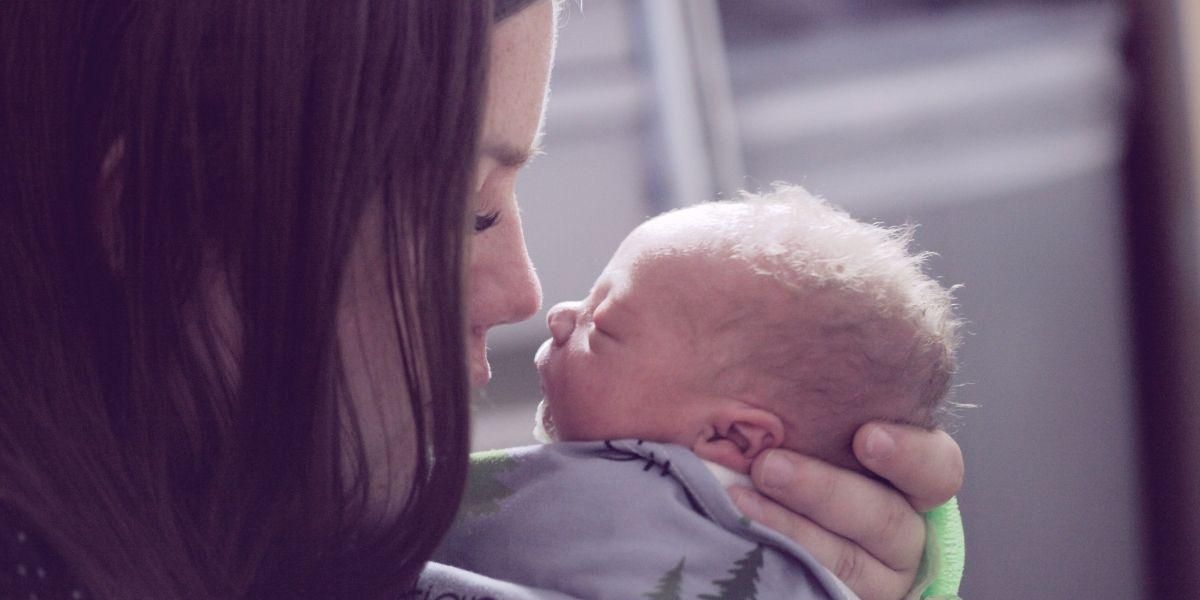 Motherhood is a journey unlike any other, and one that is nearly impossible to prepare for. No matter how many parenting books you read, how many people you talk to, how many articles you peruse before having kids, your children will emerge as completely unique creatures who impact your world in ways you could never have anticipated.
Those of us who have been parenting for a while have some wisdom to share from experience. Not that older moms know everything, of course, but hindsight can offer some perspective that's hard to find when you're in the thick of early motherhood.
Upworthy asked our readers who are moms what they wish they could tell their younger selves about motherhood, and the responses were both honest and wholesome. Here's what they said:
Lighten up. Don't sweat the small stuff.
One of the most common responses was to stop worrying about the little things so much, try to be present with your kids, and enjoy the time you have with them:
"Relax and enjoy them. If your house is a mess, so be it. Stay in the moment as they are temporary..more so than you think, sometimes. We lost our beautiful boy to cancer 15+yrs ago. I loved him more than life itself..
"- Janet

"Don't worry about the dishes, laundry and other chores. Read the kids another book. Go outside and make a mud pie. Throw the baseball around a little longer. Color another picture. Take more pictures and make sure you are in the pictures too! My babies are 19 and 17 and I would give anything to relive an ordinary Saturday from 15 years ago." – Emma H.
---
"Spend more time just listening, even when what they say is the same thing over and over again! Some of my funniest memories were conversations I had with my kiddos…sad to think I may have missed something because I was so distracted with other things." – Mysti R.
"Relax a little. You don't need to spend every moment terrified. I wish I had known they were going to become responsible, productive adults so I could have just enjoyed their childhood." – Amy S.
"I wish I had learned to pick my battles when my kids were younger. You want to wear that same super hero outfit 3 days in a row? Fine. As long as you wash and brush your teeth. *Now, as a grandma, this is the advice I give my daughter most often. Stop stressing about all the little things." – Debbie P.
"It's almost never, EVER as big of a deal as you think it is. The spills, the broken things, the bickering, the pickiness at dinner time…. it's going to be fine. Chill." – Becca L.
"Spend more time making good memories and let the little mistakes be ignored. The housework and laundry will still be there. If they ask you to do something, do it now, before they don't ask anymore because they have things to do with their friends. Love them, hug them and tell them you love them often!" – Diane S.
Take care of yourself, psychologically and physically.
There are a couple of angles here that are important for moms. One is to get help with your own childhood traumas because they'll definitely become apparent to you when you have kids of your own.
"Go to therapy and work on those childhood traumas before having kids." – Melissa P.
"Generational trauma is real! Take some classes! Work on yourself before you have kids." – Cherry S.
And two, don't ignore your own needs. It's okay to take time for basic self-care.
"Put the baby down, let her cry a bit, go to the bathroom, take a shower, change your clothes, eat something healthy and she'll still grow up to be normal." – Chetna F.
Don't let the "enjoy every moment" advice derail you.
One of the most common refrains moms of young kids hear from older moms is "Enjoy every second! It goes by so fast!" and many of the commenters in our post said just that. The problem is it's not really possible to enjoy every second of motherhood, and it doesn't feel like it goes by fast when you're in the thick of it. For moms who are deep in the adorable but messy, sleep-deprived, relentless baby and toddler stage, "enjoy every moment" is not always helpful advice, even if it's coming from a place of knowing how quickly it passes.
These comments provided a nice balanced approach to this advice, acknowledging that the days are long but the years are short:
"'Don't wish away their childhoods.' My mother-in-law said this to me. I remember always thinking it will be easier when they can sit up, walk, read on their own….and so on…because it was so 'busy' raising 3 kids who were so close in age. Now they are all grown up and have moved away to their own lives and it certainly is not 'busy' here anymore. Miss those days." – Karen R.
"Yes, enjoy the time, as it goes by so fast; however, be patient with yourself as you are only human. If you are doing what is best for your child, and are trying to parent in a loving, responsible manner, no one is able to do it perfectly. Be patient with yourself as well as your kiddos." – Judy N.
"Unpopular opinion, it's ok to not enjoy every moment. Some of the moments of motherhood are hard, like gut wrenching, soul sucking, exhaustingly hard. And it's ok to not enjoy those moments. Do enjoy the giggles, the smiles, the milestones, the growth, the hugs, the kisses, the sweet sound of their voices, but don't feel guilty for not enjoying every minute.
" – Nicole W.
Real talk—it's actually wicked hard sometimes.
Some moms wished they could tell themselves that it would be harder than they thought and that it's okay to talk about that. So often, moms feel like they can't talk about the hard parts because of course we love our children and what kind of mother complains about the precious gift of motherhood?
While we share the immense, intense joy that often accompanies motherhood, we also should be real about the less-than-magical experiences as well. The exhaustion alone—phew. And when you have a particularly challenging phase—or a particularly challenging child—motherhood is not all sunshine and roses.
"All the things that were 'hidden' or 'unspoken' about motherhood… how hard it would all be, that it is not automatic magic and joy, that conception doesn't just happen, how real postpartum depression is, and how misleading it is to pretend everything is perfect and you couldn't be happier (and how much shame we carry because it isn't)." – Rachel J.
"Exactly what my mother told me… You are going to be tired for the rest of your life
." – Francesca A.
"It's the most exhausting underappreciated, and beautiful thing you'll ever do in your life." – Kathleen G.
Take photos. Keep the goal in mind. Pace yourself. You're doing great.
There were so many great tidbits of wisdom—here are a few to tuck in your pocket:
"Take pictures with your kids, not of them. These are the photos they will cherish and pass down for generations." – Teresa C.
"Try to remember that the goal is to raise adults, not eternal children, so encourage their creativity, their independence, their empathy for others, their kindness." – Louise W.
"It is everything you wish for and nothing you expected. Enjoy sleeping in now cause later you're not gonna want to miss a beat. Motherhood is a marathon not a sprint. Be good to you.
" – Karytza M.
"I would say slow down and take it all in. Relax, things don't need to be perfect and everything will work out. Your baby WILL sleep, you won't lose your mind (much
) and it will be in the past sooner than you realize and you can't get it back so do your best to enjoy the beautiful moments. And you're doing GREAT!" – Tusha W.
You are doing great, mamas. Keep calm (or at least try to) and carry on.
From Your Site Articles
Related Articles Around the Web
window.REBELMOUSE_LOWEST_TASKS_QUEUE.push(function(){
var script = document.createElement('script'); script.src = "https://cdn.cookielaw.org/scripttemplates/otSDKStub.js"; script.charset = "UTF-8"; script.setAttribute("data-domain-script","1118f59d-8351-4eb7-bea6-6a23d2f57cf9"); document.getElementsByTagName('head')[0].appendChild(script);
});
window.REBELMOUSE_LOWEST_TASKS_QUEUE.push(function(){
var tags = [ 'https://pymx5.com/scripts/ready.js', 'https://pymx5.com/scripts/ims.js', 'https://pymx5.com/scripts/load_tags.js' ]
function l() { if (tags.length) { var tag = tags.pop(); var script = document.createElement('script'); script.setAttribute('src', tag); script.onload = l; document.body.appendChild(script); } else { window.ia = window.ia || function () { (window.ia.q = window.ia.q || []).push(arguments); } ; ia('track', 'PAGE_VIEW');
docReady(function() { ims.startServices(); } ); } }
l();
});
window.REBELMOUSE_LOWEST_TASKS_QUEUE.push(function(){
window.REBELMOUSE_STDLIB.loadExternalScript("https://ats.rlcdn.com/ats.js", function() {
ats.start( { "placementID": 103, "storageType": "localStorage", "detectionType": "scrape", "cssSelectors": [ "input[type=text]", "input[type=email]" ], "logging": "error" });
});
});
window.REBELMOUSE_LOWEST_TASKS_QUEUE.push(function(){
!function(f,b,e,v,n,t,s) {if(f.fbq)return;n=f.fbq=function(){n.callMethod? n.callMethod.apply(n,arguments):n.queue.push(arguments)}; if(!f._fbq)f._fbq=n;n.push=n;n.loaded=!0;n.version='2.0'; n.queue=[];t=b.createElement(e);t.async=!0; t.src=v;s=b.getElementsByTagName(e)[0]; s.parentNode.insertBefore(t,s)}(window, document,'script', 'https://connect.facebook.net/en_US/fbevents.js'); fbq('init', '1676218835946757'); fbq('track', 'PageView');
});
window.REBELMOUSE_LOWEST_TASKS_QUEUE.push(function(){
function triggerComscorePageView() { console.log('triggerComscorePageView'); window.COMSCORE && COMSCORE.beacon({c1: "2", c2: "18736521"}); fetch("https://www.upworthy.com/res/3rdparty/comscore_pageview"); }
if (typeof rblms !== 'undefined') { rblms.require(['core/event_dispatcher'], function(eventDispatcher) { eventDispatcher.on('viewRegistry:initViews', triggerComscorePageView); }); }
document.addEventListener('click', event => { if (event.target && event.target.classList.contains('show-more')) { triggerComscorePageView() } });
urlChangeHandler(triggerComscorePageView);
});
window.REBELMOUSE_LOWEST_TASKS_QUEUE.push(function(){
(function() { try{var a={l1:document.location.host.replace(/^www./,""),l2:document.title||"Untitled",l3:"__page__",l4:"-",sa:"",sn:""},b=[],c;for(c in a)b.push(c+"="+encodeURIComponent(a[c]));b=b.join("&");(new Image).src="https://d26n2uyu5tcx3y.cloudfront.net?a=5ac31c1640c74c36900b97047f570f19";var d=document.createElement("script");d.type="text/javascript";d.async=!0;var e=document.getElementsByTagName("script")[0];e.parentNode.insertBefore(d,e);d.src="https://z.moatads.com/upworthy105Vonz37/moatcontent.js#"+b}catch(f){try{var g= "//pixel.moatads.com/pixel.gif?e=24&d=data%3Adata%3Adata%3Adata&i=MOATCONTENTABSNIPPET1&ac=1&k="+encodeURIComponent(f)+"&j="+encodeURIComponent(document.referrer)+"&cs="+(new Date).getTime();(new Image).src=g}catch(h){}}; })();
});
window.REBELMOUSE_LOWEST_TASKS_QUEUE.push(function(){
(function(w,d) { w.kwa || (w.kwa = function()
{ (w.kwa.q = w.kwa.q || []).push(arguments); } ); se = d.createElement('script'), fs = d.scripts[0]; se.src="https://cdn.keywee.co/dist/analytics.min.js"; fs.parentNode.insertBefore(se,fs) }(window, document));
kwa('initialize',603);
});
window.REBELMOUSE_LOWEST_TASKS_QUEUE.push(function(){
(function(h,o,t,j,a,r){ h.hj=h.hj||function(){(h.hj.q=h.hj.q||[]).push(arguments)}; h._hjSettings={hjid:1648575,hjsv:6}; a=o.getElementsByTagName('head')[0]; r=o.createElement('script');r.async=1; r.src=t+h._hjSettings.hjid+j+h._hjSettings.hjsv; a.appendChild(r); })(window,document,'https://static.hotjar.com/c/hotjar-','.js?sv=');
});
window.REBELMOUSE_LOWEST_TASKS_QUEUE.push(function(){
let asd=false
});
window.REBELMOUSE_LOWEST_TASKS_QUEUE.push(function(){
function fbvideoID(frame) { var myRegexp = /2F(d+)%/g; var match = myRegexp.exec(frame); return match[1]; } var fbIframe = document.querySelector('iframe[src^="https://www.facebook.com/plugins/video.php?"]'); if (fbIframe) {fvVidID = fbvideoID(fbIframe.getAttribute('src')); if (fvVidID) { fbIframe.insertAdjacentHTML("beforebegin", '
'); // fbIframe.parentNode.removeChild(fbIframe); } } var videoId = "promoted-video"; var oldFacebookVideo = document.getElementById(videoId); if (!oldFacebookVideo) { return }; var facebookVideoPost = oldFacebookVideo.closest(".widget"); if (!facebookVideoPost) { return };
var facebookVideo = facebookVideoPost.querySelector("#" + videoId); facebookVideo.classList.add("fb-video"); var firstPost = document.querySelector(".widget.post-partial");
function onScriptLoad() { FB.init({ appId: window.REBELMOUSE_BOOTSTRAP_DATA.fbId, version: window.REBELMOUSE_BOOTSTRAP_DATA.fbAppVersion, status: true, cookie: true, }); FB.XFBML.parse(); if(fbIframe){ fbIframe.parentNode.removeChild(fbIframe); } }
function loadFacebookScript() { var existingScript = document.querySelector('script[src="https://connect.facebook.net/en_US/sdk.js"'); if (!existingScript) { var script = document.createElement("script"); script.src = "https://connect.facebook.net/en_US/sdk.js"; document.head.appendChild(script); script.addEventListener("load", onScriptLoad); } }
function intersectorCallback(video_player) { var booted = false; var totalSeconds = 0; var interval = null;
function impressionCounter() { totalSeconds++; console.log("I've been watching for " + totalSeconds + " seconds"); } return function intersector(entries) { var entry = entries[0]; if (entry.isIntersecting) { if (!booted) { booted = true; video_player.mute(); video_player.play(); } interval = setInterval(impressionCounter, 1000); } else { if (interval) { console.log("I've stopped watching at " + totalSeconds + " seconds"); clearInterval(interval); interval = null; } } }; }
function trackVideo(video_player) { var observer = new IntersectionObserver(intersectorCallback(video_player), {}); observer.observe(facebookVideo); }
function onFacebookElementLoaded(msg) { if (msg.type === "video" && msg.id === videoId) { trackVideo(msg.instance); } }
function onFacebookReady() { FB.Event.subscribe("xfbml.ready", onFacebookElementLoaded); if (window.oldFacebookWaiter) window.oldFacebookWaiter(); }
if ("FB" in window) { onFacebookReady(); } else { window.oldFacebookWaiter = window.fbAsyncInit; window.fbAsyncInit = onFacebookReady; loadFacebookScript(); }
});



Source link