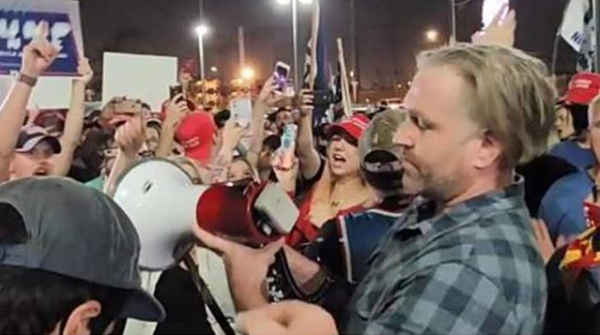 Mike Cernovich's recent Twitter history has some believing that he has or had coronavirus.
If so, he'd join a crop of conservatives that includes pundits, members of Congress, and the president. It would also cast Cernovich's attendance at a Nov. 4 "Stop the Steal" rally in a new light.
On Nov. 12, Cernovich tweeted about having what he assumed to be "a normal cold" and said that he wouldn't attend the Million MAGA March because he didn't want to risk infecting anyone.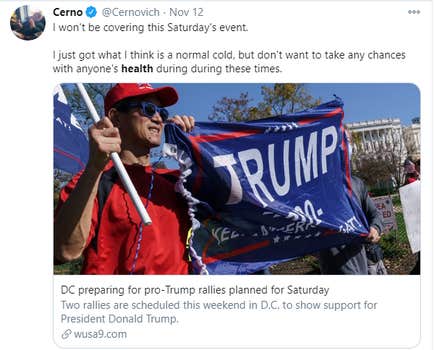 Three days later, the man who frequently spouts conspiracy theories tweeted about recovering from sickness.
"Whenever I come out of a cold or other sickness, I try to remind myself how AMAZING normal feels. 'This is how you feel every day, you just don't notice it until you get sick.' We are blessed," he tweeted.

He also posted about being sick on Instagram on Sunday, where he captioned a screenshot of the tweet about recovering from an illness with the text of one of the tweets: "Health – not appreciated until it's gone. Everything that makes life worth living is like this."
The posts are begging some questions, primarily: Did (or does) Mike Cernovich have coronavirus? And if so, when did he catch it?
Cernovich did not respond to the Daily Dot's questions sent via Twitter direct message this afternoon. He tweeted several times after the message was sent.
Also on Sunday when he tweeted about recovering from sickness, Cernovich seemed to offer health advice for people concerned about the virus. "When COVID hit I upped my No2 boosters, Vitamin D + Zinc, and N-A-C while public health officials told everyone to go riot," he tweeted
. (Public health officials did not tell people to riot, but did not disagree with protesting while wearing masks.)
While isn't certain whether Cernovich had COVID-19, based on his tweets, some of his followers believed he did. "Mike's got Covid?" tweeted one.
On Nov. 4, Cernovich appeared alongside hundreds, including Rep. Paul Gosar (R-Ariz.), at a "Stop the Steal" rally in Arizona's capital. He was spotted not wear a mask.
Cernovich tweeted about being sick eight days after the Arizona rally.
According to the Centers for Disease Control and Prevention, it can take up to 14 days after exposure to coronavirus for symptoms to develop. Symptoms mostly develop after 5-7 days.
The United States is in the midst of a massive surge of COVID-19. Nearly 2 million have contracted the virus since Nov. 1.
---
This week's top technology stories
*First Published: Nov 16, 2020, 4:00 pm
Claire Goforth is an award winning journalist covering politics and justice from her home base in Jacksonville, Florida. Her work has appeared in publications ranging from regional alt-weeklies to Al Jazeera.