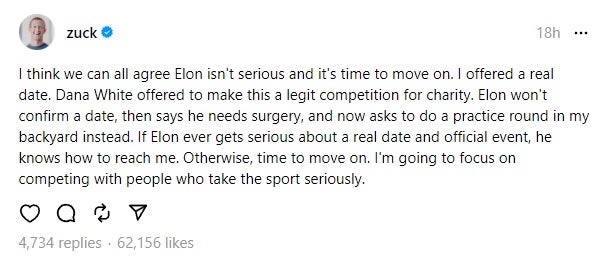 "I think we can all agree Elon isn't serious and it's time to move on," wrote Mark Zuckerberg on Threads this Sunday.
For the past few weeks, Zuckerberg and Elon Musk have been teasing the idea of a billionaire-on-billionaire cage fight. Thanks to his jiu-jitsu training, Zuckerberg seems like he might be a competent opponent. Meanwhile, there's a growing narrative that Musk is all talk and no action.
After repeatedly expressing his enthusiasm for a showdown, Musk cast doubt on their fight plans last week, revealing that he might need unexpected neck surgery. Detractors were unsympathetic, taking this as evidence that Musk was trying to back out.
In response, Mark Zuckerberg published a Threads post saying that Musk wasn't taking the cage fight idea seriously:
Unsurprisingly, Musk had a bone to pick with this idea. He spent the next few hours replying to tweets suggesting that Zuckerberg was just chicken, or claiming that Musk was actually happy to arrange a specific date for the cage fight. ("He can't eat at chic fil a because that would be cannibalism," Musk quipped.)
Musk also tweeted what he claimed was a text exchange between himself and Zuckerberg, where he agreed to fight in Zuckerberg's private UFC octagon.
"I don't want to keep hyping something that will never happen, so you should either decide you're going to do this and do it soon, or we should move on," reads Zuckerberg's apparent message. Musk replies that he will be ready to fight in Palo Alto on Monday, finishing the exchange with some trash talk.
With no further updates from either billionaire, it seems like we're now back at square one. Both are eager to look invested in the fight, but no date has actually been confirmed.
We crawl the web so you don't have to.
Sign up for the Daily Dot newsletter to get the best and worst of the internet in your inbox every day.
*First Published: Aug 14, 2023, 8:31 am CDT
Gavia Baker-Whitelaw is a staff writer at the Daily Dot, covering geek culture and fandom. Specializing in sci-fi movies and superheroes, she also appears as a film and TV critic on BBC radio. Elsewhere, she co-hosts the pop culture podcast Overinvested. Follow her on Twitter: @Hello_Tailor