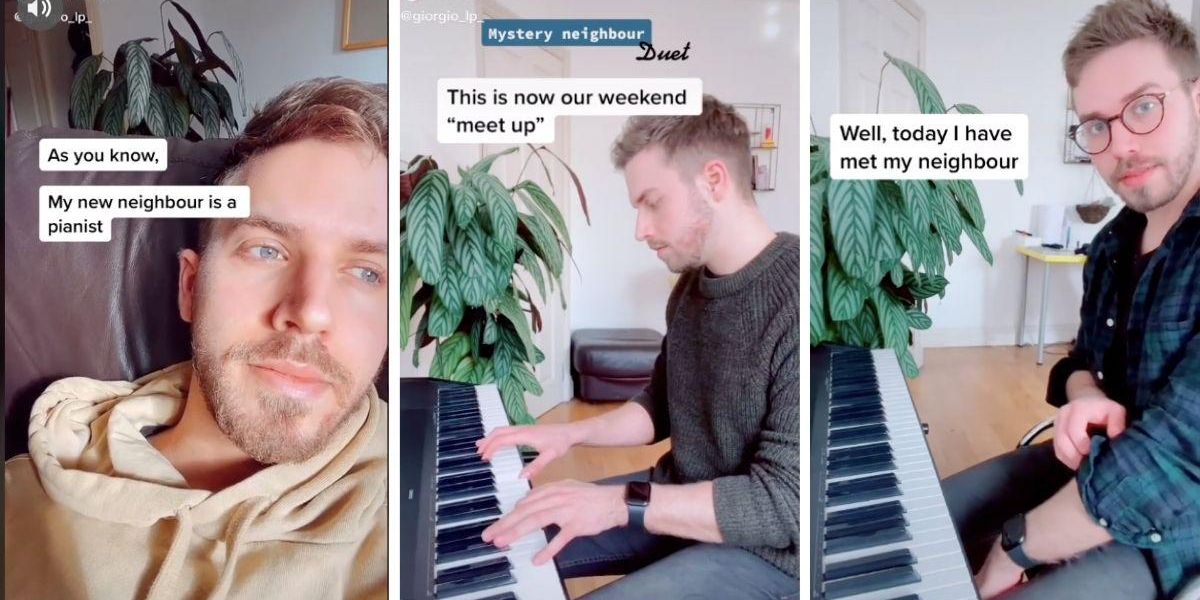 Sometimes the right two people come along at the right time in each other's lives, and a story for the ages is born. But it's rare that we get to see such stories captured in real-time.
This time we're lucky. In a silent saga befitting a Pixar short film—complete with soundtrack—a TikToker and his mystery neighbor have taken us all on a beautiful journey of music, love, longing, and loss.
Giorgio Lo Porto is an Italian living in London, and on February 6, he shared a video of his new neighbor playing piano. The music is muffled behind their shared wall, but clear enough to hear. Lo Porto wrote that he left a note for the mystery neighbor, telling them he loved their music and asking if they could play "My Heart Will Go On." And so they did.
Lo Porto left another note suggesting that they play something together, each in their own apartments. A call-and-response duet of sorts. He didn't know if they'd do it, or if they'd forget when the time came. He also said he himself hadn't played in months. But he started playing at 2pm, and as soon as he stopped, the neighbor began.
Their duets became a weekend "meet up," playing back and forth through their shared wall. Seems like a perfect meet-cute in a romantic comedy, doesn't it?
On Valentine's Day, they played a duet and Lo Porto wrote "It's Valentine's Day. We're in lockdown. This was our way of saying, I don't know who you are but I'm here. You're not alone."
Then it came time for them to meet.
"Well, today I have met my neighbor," Lo Porto wrote in a video shared on February 21. "It was better than expected."
"His name is Emil…"
"He is 78 years old, originally from Poland. This is his temporary accommodation while he waits for his house to be sold."
"He lost his wife in December due to COVID," Lo Porto shared. "And all he has left is the piano. And the reason why he plays at 2pm every weekend is because his wife loved it."
"He thanked me for keeping him motivated and less lonely. And I promised that I'll play with him until he moves out."
"He is camera shy," he added. "But I'll try again when he's ready."
Lo Porto shared that Emil is "a special soul" and that "he is fine now, healing." And his piano playing is just gorgeous.
Playing with Emil inspired Lo Porto to write his own song. "I woke up with 3 notes in my head," he wrote on February 27.
He added some string orchestration to it and called it "Dear Emil." It's the first song he's ever written.
"When I wrote this piece I started picturing Emil's life," he wrote. "A 78 y.o. widower who lost his wife due to this stupid virus. Spending days at home alone due to lockdown. Looking forward to play her favourite piano songs at 2pm every weekend, until a note appeared on his door. A letter showing he was heard and not alone. And a new friendship started. Two pianos between a wall, not knowing who was playing. But it didn't matter."
"You can be the light of somebody else's darkness. So keep shining."
On February 26, Lo Porto announced that Emil was moving out the following week, and shared their last weekend duet—the much requested "Moonlight Sonata."
He said Emil still didn't want to be on camera, but said he was much happier and thanked everyone who had been watching their duets. Lo Porto promised he would keep playing for him on the weekends.
It would be lovely if the story ended there, but it doesn't. (May need a tissue now if you haven't already grabbed one.)
Lo Porto shared on March 14th that he'd received word that Emil had passed away in his sleep: "And now he is reunited with his wife."
"Dear Emil," he wrote. "I knew very little about you, but you changed my life. You gave me back my passion, and we shared that with the world. You'll be in my heart. I'll keep playing, thinking of how powerful music can be. You said I was your light, but you've been mine too. Bye, Emil."
If you needed a good cry today, hope that helped. And if you needed a reminder that humans can be wonderful and life can connect us in beautiful and mysterious ways, now you've got one.
Lo Porto says he will have a full version of "Dear Emil" up on YouTube soon. You can listen to it on Spotify as well.
From Your Site Articles
Related Articles Around the Web
window.REBELMOUSE_LOWEST_TASKS_QUEUE.push(function(){
var script = document.createElement('script'); script.src = "https://cdn.cookielaw.org/scripttemplates/otSDKStub.js"; script.charset = "UTF-8"; script.setAttribute("data-domain-script","1118f59d-8351-4eb7-bea6-6a23d2f57cf9"); document.getElementsByTagName('head')[0].appendChild(script);
});
window.REBELMOUSE_LOWEST_TASKS_QUEUE.push(function(){
var tags = [ 'https://pymx5.com/scripts/ready.js', 'https://pymx5.com/scripts/ims.js', 'https://pymx5.com/scripts/load_tags.js' ]
function l() { if (tags.length) { var tag = tags.pop(); var script = document.createElement('script'); script.setAttribute('src', tag); script.onload = l; document.body.appendChild(script); } else { window.ia = window.ia || function () { (window.ia.q = window.ia.q || []).push(arguments); } ; ia('track', 'PAGE_VIEW');
docReady(function() { ims.startServices(); } ); } }
l();
});
window.REBELMOUSE_LOWEST_TASKS_QUEUE.push(function(){
window.REBELMOUSE_STDLIB.loadExternalScript("https://ats.rlcdn.com/ats.js", function() {
ats.start( { "placementID": 103, "storageType": "localStorage", "detectionType": "scrape", "cssSelectors": [ "input[type=text]", "input[type=email]" ], "logging": "error" });
});
});
window.REBELMOUSE_LOWEST_TASKS_QUEUE.push(function(){
!function(f,b,e,v,n,t,s) {if(f.fbq)return;n=f.fbq=function(){n.callMethod? n.callMethod.apply(n,arguments):n.queue.push(arguments)}; if(!f._fbq)f._fbq=n;n.push=n;n.loaded=!0;n.version='2.0'; n.queue=[];t=b.createElement(e);t.async=!0; t.src=v;s=b.getElementsByTagName(e)[0]; s.parentNode.insertBefore(t,s)}(window, document,'script', 'https://connect.facebook.net/en_US/fbevents.js'); fbq('init', '1676218835946757'); fbq('track', 'PageView');
});
window.REBELMOUSE_LOWEST_TASKS_QUEUE.push(function(){
function triggerComscorePageView() { console.log('triggerComscorePageView'); window.COMSCORE && COMSCORE.beacon({c1: "2", c2: "18736521"}); fetch("https://www.upworthy.com/res/3rdparty/comscore_pageview"); }
if (typeof rblms !== 'undefined') { rblms.require(['core/event_dispatcher'], function(eventDispatcher) { eventDispatcher.on('viewRegistry:initViews', triggerComscorePageView); }); }
document.addEventListener('click', event => { if (event.target && event.target.classList.contains('show-more')) { triggerComscorePageView() } });
urlChangeHandler(triggerComscorePageView);
});
window.REBELMOUSE_LOWEST_TASKS_QUEUE.push(function(){
(function() { try{var a={l1:document.location.host.replace(/^www./,""),l2:document.title||"Untitled",l3:"__page__",l4:"-",sa:"",sn:""},b=[],c;for(c in a)b.push(c+"="+encodeURIComponent(a[c]));b=b.join("&");(new Image).src="https://d26n2uyu5tcx3y.cloudfront.net?a=5ac31c1640c74c36900b97047f570f19";var d=document.createElement("script");d.type="text/javascript";d.async=!0;var e=document.getElementsByTagName("script")[0];e.parentNode.insertBefore(d,e);d.src="https://z.moatads.com/upworthy105Vonz37/moatcontent.js#"+b}catch(f){try{var g= "//pixel.moatads.com/pixel.gif?e=24&d=data%3Adata%3Adata%3Adata&i=MOATCONTENTABSNIPPET1&ac=1&k="+encodeURIComponent(f)+"&j="+encodeURIComponent(document.referrer)+"&cs="+(new Date).getTime();(new Image).src=g}catch(h){}}; })();
});
window.REBELMOUSE_LOWEST_TASKS_QUEUE.push(function(){
(function(w,d) { w.kwa || (w.kwa = function()
{ (w.kwa.q = w.kwa.q || []).push(arguments); } ); se = d.createElement('script'), fs = d.scripts[0]; se.src="https://cdn.keywee.co/dist/analytics.min.js"; fs.parentNode.insertBefore(se,fs) }(window, document));
kwa('initialize',603);
});
window.REBELMOUSE_LOWEST_TASKS_QUEUE.push(function(){
(function(h,o,t,j,a,r){ h.hj=h.hj||function(){(h.hj.q=h.hj.q||[]).push(arguments)}; h._hjSettings={hjid:1648575,hjsv:6}; a=o.getElementsByTagName('head')[0]; r=o.createElement('script');r.async=1; r.src=t+h._hjSettings.hjid+j+h._hjSettings.hjsv; a.appendChild(r); })(window,document,'https://static.hotjar.com/c/hotjar-','.js?sv=');
});
window.REBELMOUSE_LOWEST_TASKS_QUEUE.push(function(){
window.REBELMOUSE_STDLIB.loadExternalScript("https://embed.actionbutton.co/widget/widget.min.js", function() {
});
});
window.REBELMOUSE_LOWEST_TASKS_QUEUE.push(function(){
let asd=false
});
window.REBELMOUSE_LOWEST_TASKS_QUEUE.push(function(){
function fbvideoID(frame) { var myRegexp = /2F(d+)%/g; var match = myRegexp.exec(frame); return match[1]; } var fbIframe = document.querySelector('iframe[src^="https://www.facebook.com/plugins/video.php?"]'); if (fbIframe) {fvVidID = fbvideoID(fbIframe.getAttribute('src')); if (fvVidID) { fbIframe.insertAdjacentHTML("beforebegin", '
'); // fbIframe.parentNode.removeChild(fbIframe); } } var videoId = "promoted-video"; var oldFacebookVideo = document.getElementById(videoId); if (!oldFacebookVideo) { return }; var facebookVideoPost = oldFacebookVideo.closest(".widget"); if (!facebookVideoPost) { return };
var facebookVideo = facebookVideoPost.querySelector("#" + videoId); facebookVideo.classList.add("fb-video"); var firstPost = document.querySelector(".widget.post-partial");
function onScriptLoad() { FB.init({ appId: window.REBELMOUSE_BOOTSTRAP_DATA.fbId, version: window.REBELMOUSE_BOOTSTRAP_DATA.fbAppVersion, status: true, cookie: true, }); FB.XFBML.parse(); if(fbIframe){ fbIframe.parentNode.removeChild(fbIframe); } }
function loadFacebookScript() { var existingScript = document.querySelector('script[src="https://connect.facebook.net/en_US/sdk.js"'); if (!existingScript) { var script = document.createElement("script"); script.src = "https://connect.facebook.net/en_US/sdk.js"; document.head.appendChild(script); script.addEventListener("load", onScriptLoad); } }
function intersectorCallback(video_player) { var booted = false; var totalSeconds = 0; var interval = null;
function impressionCounter() { totalSeconds++; console.log("I've been watching for " + totalSeconds + " seconds"); } return function intersector(entries) { var entry = entries[0]; if (entry.isIntersecting) { if (!booted) { booted = true; video_player.mute(); video_player.play(); } interval = setInterval(impressionCounter, 1000); } else { if (interval) { console.log("I've stopped watching at " + totalSeconds + " seconds"); clearInterval(interval); interval = null; } } }; }
function trackVideo(video_player) { var observer = new IntersectionObserver(intersectorCallback(video_player), {}); observer.observe(facebookVideo); }
function onFacebookElementLoaded(msg) { if (msg.type === "video" && msg.id === videoId) { trackVideo(msg.instance); } }
function onFacebookReady() { FB.Event.subscribe("xfbml.ready", onFacebookElementLoaded); if (window.oldFacebookWaiter) window.oldFacebookWaiter(); }
if ("FB" in window) { onFacebookReady(); } else { window.oldFacebookWaiter = window.fbAsyncInit; window.fbAsyncInit = onFacebookReady; loadFacebookScript(); }
});



Source link