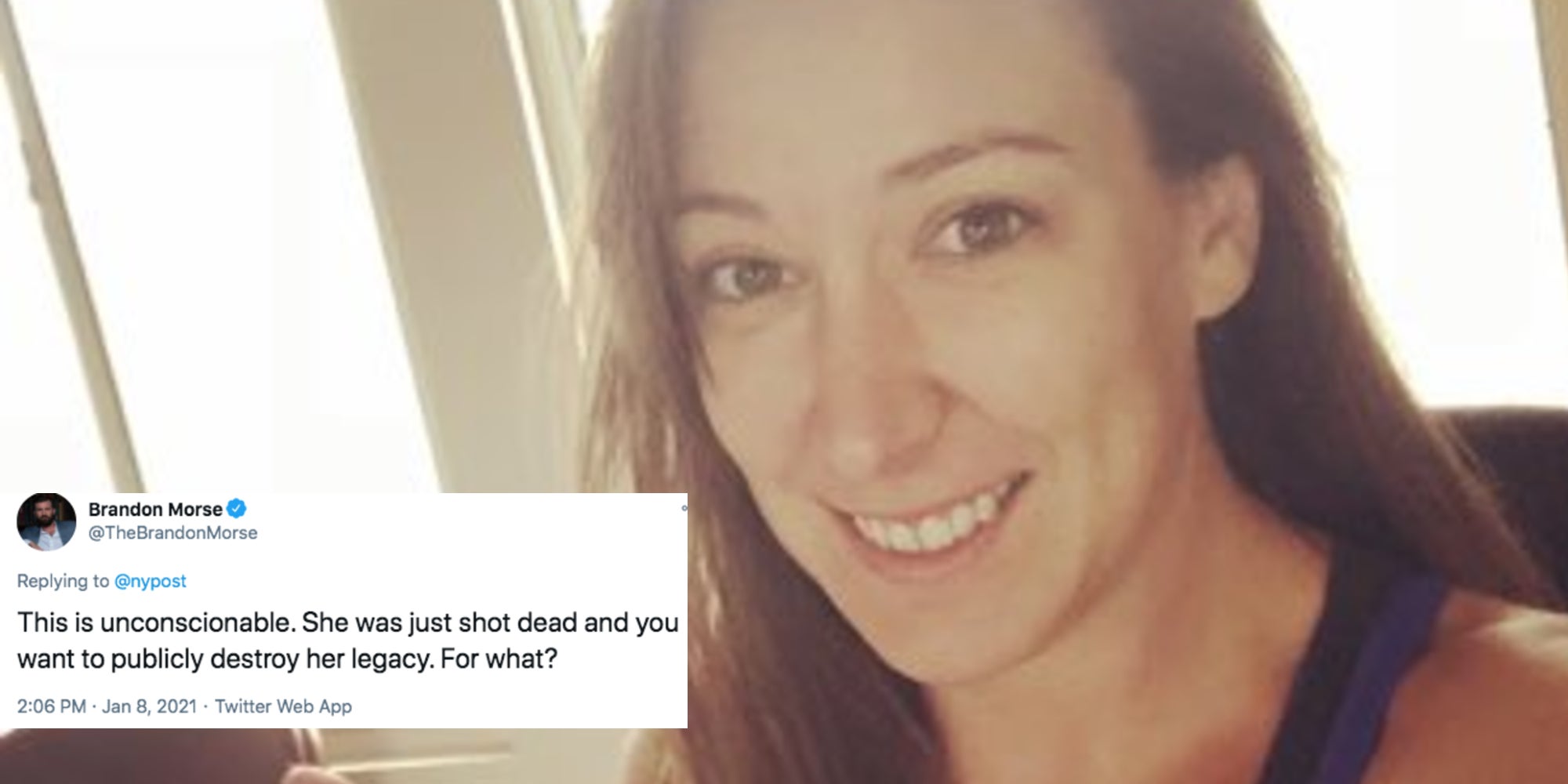 A man is getting slammed on Twitter for defending the reputation of a deceased Capitol rioter after he previously smeared George Floyd posthumously.
After one woman died while rioting at the Capitol, the New York Post published a story about her history with law enforcement. The woman, Ashli Babbitt, was accused of chasing and harassing her husband's ex-girlfriend in a fit of rage and jealousy. Babbitt was charged with rear-ending the ex-girlfriend after repeatedly ramming the back of her car.
Brandon Morse, a senior editor at Red State, defended Babbitt and called the Post's story "unconscionable."
" She was just shot dead and you want to publicly destroy her legacy. For what?" he questioned in a tweet to the Post
.
Soon after, other Twitter users found some of Morse's previous tweets in which he smeared Floyd's reputation.
"This u?" Twitter user @ayeelleyse asked.
In his previous tweets, Morse called Floyd "not admirable" and said, "he wasn't anyone we should be modeling ourselves after ... turning him into a martyred saint is wrong."
Morse doubled-down and defended his positions regarding Floyd and Babbitt. Morse said he doesn't consider the charges against Floyd and Babbitt comparable. "Is it me saying that a guy who held a pregnant woman at gunpoint so he could steal from her and got caught with enough fentanyl in his system to kill a horse shouldn't be modeled after? Yeah, that's me. You comparing him to a woman with a destruction of property charge, clown?" he responded.
Morse's tweet referred to some common misconceptions about Floyd's past. Though Floyd was once arrested for armed robbery, there is no evidence the woman involved was pregnant. Additionally, the assertion that Floyd was high while he was killed is an "exaggeration" of toxicology reports, according to a Snopes fact check.
In response to Morse's rebuttal, @ayeelleyse just came back with another hypocritical tweet in which Morse said liberals "become overtly violent with those who disagree with them."
Other Twitter users dredged up some of Morse's older tweets in which he called the shooting of Trayvon Martin a "warning."
Neither commented on the matter further, until Morse continued to get ratioed online and concluded, "Twitter is a stupid place."
---
Today's top stories
*First Published: Jan 9, 2021, 4:43 pm