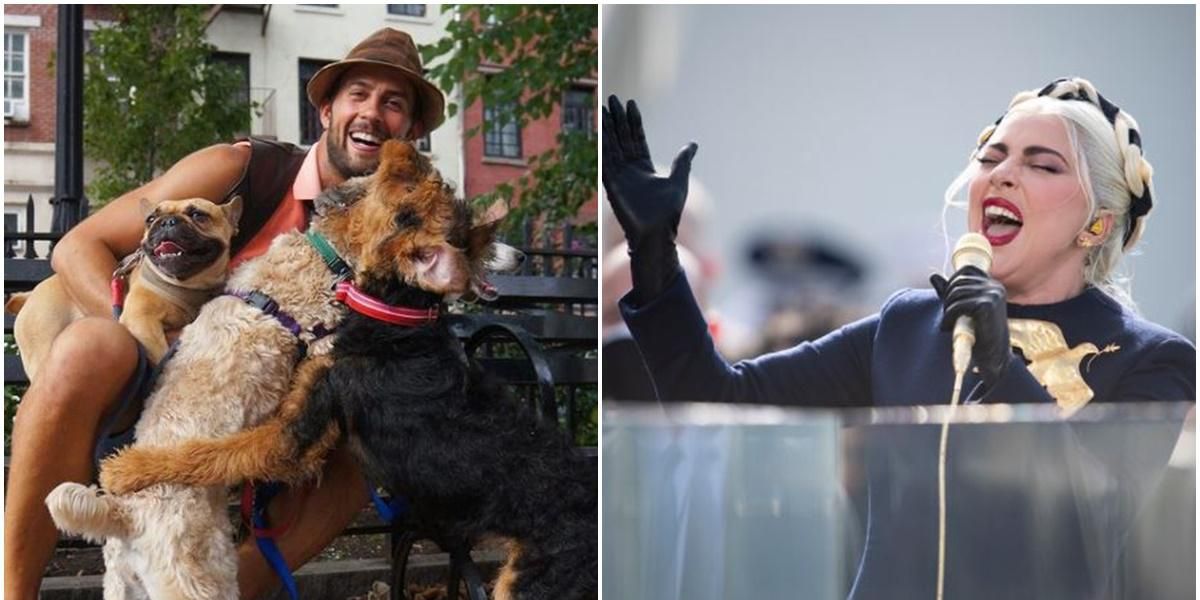 Ryan Fischer, 30, was shot last night in West Hollywood, California while walking three of Oscar- and Grammy-winner Lady Gaga's dogs. He was taken to the hospital in critical condition and according to The New York Post is, "thankfully recovering well."
After the shooting, the suspects stole two of Gaga's French Bulldogs Gustavo and Koji. A third bulldog belonging to the singer, Miss Asia, ran away from the scene and was later recovered by law enforcement.
Steve, a friend of the victim, told FOX 11 that Fisher was passionate about the dogs.
---
"I haven't heard from him yet. I heard that he was shot four times in the chest last night and I just tried to go to the hospital but they weren't accepting visitors," Steve said. "He would die a take a bullet for those dogs. He loves those dogs unconditionally. He's always with them 24/7."
Authorities have yet to disclose the number of times Fischer was shot.
Pray for Ryan Fischer ❤️❤️❤️ https://t.co/GElodrkW50

— luiza 〄 working for agatha harkness (@luiza 〄 working for agatha harkness)1614264323.0
When the news reached Lady Gaga she was in Rome getting ready to shoot an upcoming movie. She's so distraught over the shooting she has offered a $500,000 "No questions asked" reward for their return.
According to the LAPD, the suspects got out of a white Nissan Altima with tinted windows, and one of them opened fire on Fischer. The two suspects then grabbed the dogs, jumped back into the car, and fled the scene. It's unknown whether the suspects knew the dogs belong to the superstar.
Lady Gaga and her dogs are sure to make the headlines, but we mustn't lose sight of the victim. Fischer was originally from Cincinnati, Ohio, and according to social media feeds, spent a lot of time in New York City. He was gunned down near his current home in West Hollywood.
Photos and videos on his Instagram page show him to be a true dog lover. He talks to them as if they were his own children and he's clearly an experienced trainer.
A recent post by Fischer shows that he's not only interested in his favorite pups' development as pets but as spiritual beings as well. Here he is talking to the dogs about the importance of Ash Wednesday.
"No matter who you are – from human to hound – the tradition of setting aside time to contemplate your life and role in it is essential in the development of self," he writes in the caption.
Here's a super sweet video Fischer recently made for Lady Gaga's birthday featuring her dogs.
While the motive for the dognappers is unknown, it may have been financial. The LAPD told The Daily Mail that French Bulldogs can go for "as much as $10,000 if they have pedigree lineage."
Lady Gaga adopted Miss Asia in 2014. Koji was born in 2015 and Gustavo a year after that.
From Your Site Articles
Related Articles Around the Web
if (x.style.display === "block") {x.style.display = "none";} else {x.style.display = "block";}
var homeContainer = document.getElementsByClassName('content-page-wrapper'); if (homeContainer[0] != undefined) { homeContainer[0].classList.add('background-opacity'); }
var adPlaceholder = document.getElementsByClassName('ad-placeholder'); if (adPlaceholder[0] != undefined) { adPlaceholder[0].classList.add('background-opacity'); }
var followUs = document.getElementsByClassName('follow-us-wrapper'); if (followUs[0] != undefined) { followUs[0].classList.add('background-opacity'); }
// document.querySelector('.topbar-wrapper .image-element').classList.add('background-opacity');
var opac = document.querySelector('.content-page-wrapper.background-opacity'); opac.addEventListener("click", menuCloseClick);
var scrollPosY = window.pageYOffset | document.body.scrollTop;
setTimeout(function() { var topbarPanel = document.querySelector('.js-hidden-panel.active'); if (topbarPanel != null) { document.getElementsByClassName('navbar-wrapper')[0].style.marginTop = '121px'; } else if (scrollPosY <= topMarginForAd) { document.getElementsByClassName('navbar-wrapper')[0].style.marginTop = '-'+(topMarginForAd - scrollPosY-6) + 'px'; } else { document.getElementsByClassName('navbar-wrapper')[0].style.marginTop = '14px'; } }, 100); } function menuCloseClick() { document.getElementsByClassName('navbar-wrapper')[0].style.display = 'none'; document.getElementsByTagName('body')[0].style.overflow = 'unset'; var homeContainer = document.getElementsByClassName('content-page-wrapper'); if (homeContainer[0] != undefined) { homeContainer[0].classList.remove('background-opacity'); } var adPlaceholder = document.getElementsByClassName('ad-placeholder'); if (adPlaceholder[0] != undefined) { adPlaceholder[0].classList.remove('background-opacity'); } var followUs = document.getElementsByClassName('follow-us-wrapper'); if (followUs[0] != undefined) { followUs[0].classList.remove('background-opacity'); } document.querySelector('.topbar-wrapper .image-element').classList.remove('background-opacity'); } function addMenuClickListener() { var menuArrow = document.getElementsByClassName('menu-wrapper'); menuArrow[0].addEventListener('click', menuClick); } addMenuClickListener(); }); window.REBELMOUSE_TASKS_QUEUE.push(function(){ function ChangeListener(selector, callback) { const initializedNodes = new Set([]); document.querySelectorAll(selector).forEach(node => { callback(node); initializedNodes.add(node); }); const mutationObserver = new MutationObserver(() => { const nodes = document.querySelectorAll(selector); nodes.forEach(node => { if (!initializedNodes.has(node)) { callback(node); initializedNodes.add(node); } }); }); mutationObserver.observe(document.body, { childList: true, subtree: true }); }
ChangeListener('.posts-custom',function(E){if(E.querySelector('.body-description')){}else if(E.querySelector('.body')){E.querySelector('.body').classList.add('body-description')}})
});
window.REBELMOUSE_TASKS_QUEUE.push(function(){
function fbvideoID(frame) { var myRegexp = /2F(d+)%/g; var match = myRegexp.exec(frame); return match[1]; } var fbIframe = document.querySelector('iframe[src^="https://www.facebook.com/plugins/video.php?"]'); if (fbIframe) {fvVidID = fbvideoID(fbIframe.getAttribute('src')); if (fvVidID) { fbIframe.insertAdjacentHTML("beforebegin", '
'); // fbIframe.parentNode.removeChild(fbIframe); } } var videoId = "promoted-video"; var oldFacebookVideo = document.getElementById(videoId); if (!oldFacebookVideo) { return }; var facebookVideoPost = oldFacebookVideo.closest(".widget"); if (!facebookVideoPost) { return };
var facebookVideo = facebookVideoPost.querySelector("#" + videoId); facebookVideo.classList.add("fb-video"); var firstPost = document.querySelector(".widget.post-partial");
function onScriptLoad() { FB.init({ appId: window.REBELMOUSE_BOOTSTRAP_DATA.fbId, version: window.REBELMOUSE_BOOTSTRAP_DATA.fbAppVersion, status: true, cookie: true, }); FB.XFBML.parse(); if(fbIframe){ fbIframe.parentNode.removeChild(fbIframe); } }
function loadFacebookScript() { var existingScript = document.querySelector('script[src="https://connect.facebook.net/en_US/sdk.js"'); if (!existingScript) { var script = document.createElement("script"); script.src = "https://connect.facebook.net/en_US/sdk.js"; document.head.appendChild(script); script.addEventListener("load", onScriptLoad); } }
function intersectorCallback(video_player) { var booted = false; var totalSeconds = 0; var interval = null;
function impressionCounter() { totalSeconds++; console.log("I've been watching for " + totalSeconds + " seconds"); } return function intersector(entries) { var entry = entries[0]; if (entry.isIntersecting) { if (!booted) { booted = true; video_player.mute(); video_player.play(); } interval = setInterval(impressionCounter, 1000); } else { if (interval) { console.log("I've stopped watching at " + totalSeconds + " seconds"); clearInterval(interval); interval = null; } } }; }
function trackVideo(video_player) { var observer = new IntersectionObserver(intersectorCallback(video_player), {}); observer.observe(facebookVideo); }
function onFacebookElementLoaded(msg) { if (msg.type === "video" && msg.id === videoId) { trackVideo(msg.instance); } }
function onFacebookReady() { FB.Event.subscribe("xfbml.ready", onFacebookElementLoaded); if (window.oldFacebookWaiter) window.oldFacebookWaiter(); }
if ("FB" in window) { onFacebookReady(); } else { window.oldFacebookWaiter = window.fbAsyncInit; window.fbAsyncInit = onFacebookReady; loadFacebookScript(); }
});
window.REBELMOUSE_TASKS_QUEUE.push(function(){
REBELMOUSE_STDLIB.createElementChangeListener(".mb-2", function(item){ checkSponsoredPost(); })
});
window.REBELMOUSE_LOWEST_TASKS_QUEUE.push(function(){
var tags = [ 'https://pymx5.com/scripts/ready.js', 'https://pymx5.com/scripts/ims.js', 'https://pymx5.com/scripts/load_tags.js' ]
function l() { if (tags.length) { var tag = tags.pop(); var script = document.createElement('script'); script.setAttribute('src', tag); script.onload = l; document.body.appendChild(script); } else { window.ia = window.ia || function () { (window.ia.q = window.ia.q || []).push(arguments); } ; ia('track', 'PAGE_VIEW');
docReady(function() { ims.startServices(); } ); } }
l();
});
window.REBELMOUSE_LOWEST_TASKS_QUEUE.push(function(){
window.REBELMOUSE_STDLIB.loadExternalScript("https://ats.rlcdn.com/ats.js", function() {
ats.start( { "placementID": 103, "storageType": "localStorage", "detectionType": "scrape", "cssSelectors": [ "input[type=text]", "input[type=email]" ], "logging": "error" });
});
});
window.REBELMOUSE_LOWEST_TASKS_QUEUE.push(function(){
window.REBELMOUSE_STDLIB.loadExternalScript("https://www.googletagmanager.com/gtag/js.js?id=UA-30098361-1", function() {
window.dataLayer = window.dataLayer || []; /*function gtag(){dataLayer.push(arguments);} gtag('js', new Date());
gtag('config', 'UA-30098361-1', {'optimize_id':'GTM-P5TSK62'});*/
});
});
window.REBELMOUSE_LOWEST_TASKS_QUEUE.push(function(){
!function(f,b,e,v,n,t,s) {if(f.fbq)return;n=f.fbq=function(){n.callMethod? n.callMethod.apply(n,arguments):n.queue.push(arguments)}; if(!f._fbq)f._fbq=n;n.push=n;n.loaded=!0;n.version='2.0'; n.queue=[];t=b.createElement(e);t.async=!0; t.src=v;s=b.getElementsByTagName(e)[0]; s.parentNode.insertBefore(t,s)}(window, document,'script', 'https://connect.facebook.net/en_US/fbevents.js'); fbq('init', '1676218835946757'); fbq('track', 'PageView');
});
window.REBELMOUSE_LOWEST_TASKS_QUEUE.push(function(){
function triggerComscorePageView() { console.log('triggerComscorePageView'); window.COMSCORE && COMSCORE.beacon({c1: "2", c2: "18736521"}); fetch("https://www.upworthy.com/res/3rdparty/comscore_pageview"); }
if (typeof rblms !== 'undefined') { rblms.require(['core/event_dispatcher'], function(eventDispatcher) { eventDispatcher.on('viewRegistry:initViews', triggerComscorePageView); }); }
document.addEventListener('click', event => { if (event.target && event.target.classList.contains('show-more')) { triggerComscorePageView() } });
urlChangeHandler(triggerComscorePageView);
});
window.REBELMOUSE_LOWEST_TASKS_QUEUE.push(function(){
(function() { try{var a={l1:document.location.host.replace(/^www./,""),l2:document.title||"Untitled",l3:"__page__",l4:"-",sa:"",sn:""},b=[],c;for(c in a)b.push(c+"="+encodeURIComponent(a[c]));b=b.join("&");(new Image).src="https://d26n2uyu5tcx3y.cloudfront.net?a=5ac31c1640c74c36900b97047f570f19";var d=document.createElement("script");d.type="text/javascript";d.async=!0;var e=document.getElementsByTagName("script")[0];e.parentNode.insertBefore(d,e);d.src="https://z.moatads.com/upworthy105Vonz37/moatcontent.js#"+b}catch(f){try{var g= "//pixel.moatads.com/pixel.gif?e=24&d=data%3Adata%3Adata%3Adata&i=MOATCONTENTABSNIPPET1&ac=1&k="+encodeURIComponent(f)+"&j="+encodeURIComponent(document.referrer)+"&cs="+(new Date).getTime();(new Image).src=g}catch(h){}}; })();
});
window.REBELMOUSE_LOWEST_TASKS_QUEUE.push(function(){
(function(w,d) { w.kwa || (w.kwa = function()
{ (w.kwa.q = w.kwa.q || []).push(arguments); } ); se = d.createElement('script'), fs = d.scripts[0]; se.src="https://cdn.keywee.co/dist/analytics.min.js"; fs.parentNode.insertBefore(se,fs) }(window, document));
kwa('initialize',603);
});
window.REBELMOUSE_LOWEST_TASKS_QUEUE.push(function(){
(function(h,o,t,j,a,r){ h.hj=h.hj||function(){(h.hj.q=h.hj.q||[]).push(arguments)}; h._hjSettings={hjid:1648575,hjsv:6}; a=o.getElementsByTagName('head')[0]; r=o.createElement('script');r.async=1; r.src=t+h._hjSettings.hjid+j+h._hjSettings.hjsv; a.appendChild(r); })(window,document,'https://static.hotjar.com/c/hotjar-','.js?sv=');
});
window.REBELMOUSE_LOWEST_TASKS_QUEUE.push(function(){
window.REBELMOUSE_STDLIB.loadExternalScript("https://embed.actionbutton.co/widget/widget.min.js", function() {
});
});
window.REBELMOUSE_LOWEST_TASKS_QUEUE.push(function(){
let asd=false
});



Source link