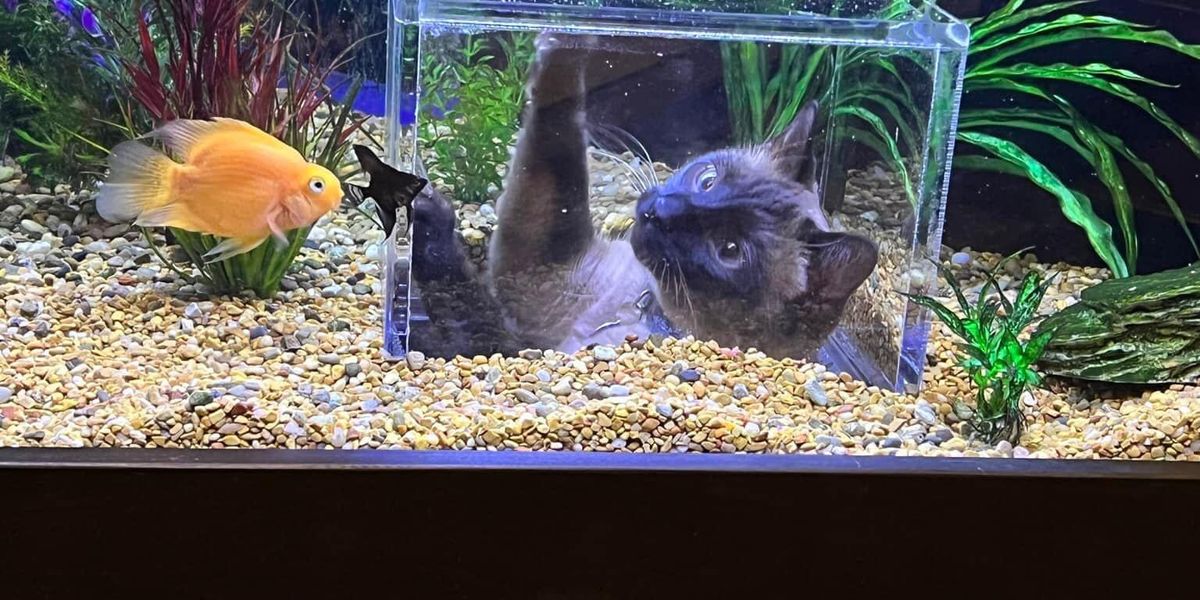 Some lucky cats really do hit the jackpot when it comes to their entertainment.
Pampered feline and social media star Jasper the Cat was given his own custom aquarium, giving him a 360-degree underwater view of the colorful fish as they swim by. If that's not prime "cat TV" programming, I don't know what is.
According to Daily Mail, Jasper's owner Melissa Krieger was inspired after her fish supplier was cleaning the tank. Hoping to make a "mini SeaWorld" for her beloved Siamese, Krieger spent a whopping $2,500 to fashion a 125-gallon tank with see-through cube shaped indentation at the bottom.
---
As any cat parent would agree, the money was well worth it.
"It's great to see him so happy because you've got to stimulate their brains. It's definitely been worth the money," Krieger told Daily Mail.
She added, "You spend that much on a TV and this is like a TV for cats. As soon as we feed the fish, he comes running. He's living the dream."
…which looks exactly like you expect them to.
Photo by
Kate Stone Matheson
on
Unsplash
As Galaxy will tell you, environmental enrichment is key for a cat's happiness. Part of that enrichment is visual stimulation. A major, yet often overlooked, aspect of the hunting process is stalking prey. All cats have this instinct, and not having an outlet can lead to major (not to mention messy) behavioral problems, like furniture scratching and not using the litter box.
Pretty soon, the viral video had others asking, "where can I purchase this tank?" Aquatics and Exotics, the company that made the innovative aquarium, might have an influx of custom orders on their hands.
As the mother of two cats myself, I can't help but look for corners in my tiny Los Angeles apartment that might be prime fish tank real estate.
Photo by
Saman Tsang
on
Unsplash
Luckily, you don't need to have a state-of-the-art aquarium to keep your cat stimulated. Experts recommend using something as simple as a bird feeder or window perch. There are even YouTube videos with hours upon hours of curated cat content.
Still, seeing the amount of effort that Jasper's family put in for the sake of his enjoyment is certainly inspiring.
Our pets provide us so much heartwarming bliss, simply by existing most of the time. Finding ways to pay back that kind of unconditional love is a gift unto itself.
From Your Site Articles
Related Articles Around the Web
window.REBELMOUSE_LOWEST_TASKS_QUEUE.push(function(){
function hideBodyForSponsoredPost(el, currentSection) { var sponsoredSections = ["walgreens", "capital one", "capital one csr", "clorox powerful bleach", "clorox clean transforms", "dignity health", "ford foundation", "stand together", "stand together against poverty", "featured"]; if (sponsoredSections.includes(currentSection.toLowerCase())) { el.style.display = 'none'; } }
function hideEmpty( parentId, childId) { var parentDivs = document.getElementsByClassName(parentId);
if(parentId != undefined && parentId != null) { for(var i=0; i { if (event.target && event.target.classList.contains('show-more')) { triggerComscorePageView() } });
urlChangeHandler(triggerComscorePageView);
});
window.REBELMOUSE_LOWEST_TASKS_QUEUE.push(function(){
(function() { try{var a={l1:document.location.host.replace(/^www\./,""),l2:document.title||"Untitled",l3:"__page__",l4:"-",sa:"",sn:""},b=[],c;for(c in a)b.push(c+"="+encodeURIComponent(a[c]));b=b.join("&");(new Image).src="https://d26n2uyu5tcx3y.cloudfront.net?a=5ac31c1640c74c36900b97047f570f19";var d=document.createElement("script");d.type="text/javascript";d.async=!0;var e=document.getElementsByTagName("script")[0];e.parentNode.insertBefore(d,e);d.src="https://z.moatads.com/upworthy105Vonz37/moatcontent.js#"+b}catch(f){try{var g= "//pixel.moatads.com/pixel.gif?e=24&d=data%3Adata%3Adata%3Adata&i=MOATCONTENTABSNIPPET1&ac=1&k="+encodeURIComponent(f)+"&j="+encodeURIComponent(document.referrer)+"&cs="+(new Date).getTime();(new Image).src=g}catch(h){}}; })();
});
window.REBELMOUSE_LOWEST_TASKS_QUEUE.push(function(){
(function(w,d) { w.kwa || (w.kwa = function()
{ (w.kwa.q = w.kwa.q || []).push(arguments); } ); se = d.createElement('script'), fs = d.scripts[0]; se.src="https://cdn.keywee.co/dist/analytics.min.js"; fs.parentNode.insertBefore(se,fs) }(window, document));
kwa('initialize',603);
});
window.REBELMOUSE_LOWEST_TASKS_QUEUE.push(function(){
var tags = [ 'https://pymx5.com/scripts/ready.js', 'https://pymx5.com/scripts/ims.js', 'https://pymx5.com/scripts/load_tags.js' ]
function l() { if (tags.length) { var tag = tags.pop(); var script = document.createElement('script'); script.setAttribute('src', tag); script.onload = l; document.body.appendChild(script); } else { window.ia = window.ia || function () { (window.ia.q = window.ia.q || []).push(arguments); } ; ia('track', 'PAGE_VIEW');
docReady(function() { ims.startServices(); } ); } }
l();
});
window.REBELMOUSE_LOWEST_TASKS_QUEUE.push(function(){
if(window.location.href.split('?')[0] === 'https://www.upworthy.com/editorial-staff-2656063143'){
freestar.config.disabledProducts = { video: true } };
});
window.REBELMOUSE_LOWEST_TASKS_QUEUE.push(function(){
let asd=false function ChangeListener(selector, callback) { var initializedNodes = new Set([]); function onEachNode(node) { if (!initializedNodes.has(node)) { callback(node); initializedNodes.add(node); } } function onDocumentMutation() { var nodes = document.querySelectorAll(selector); nodes.forEach(onEachNode); } var mutationObserver = new MutationObserver(onDocumentMutation); document.querySelectorAll(selector).forEach(onEachNode); mutationObserver.observe(document.body, { childList: true, subtree: true }); }
if(window.innerWidth > 768){
ChangeListener("[id^=upworthy_incontent_dynamic]", function (item) { item.remove()
}); }
});
window.REBELMOUSE_LOWEST_TASKS_QUEUE.push(function(){
function fbvideoID(frame) { var myRegexp = /2F(\d+)%/g; var match = myRegexp.exec(frame); return match[1]; } var fbIframe = document.querySelector('iframe[src^="https://www.facebook.com/plugins/video.php?"]'); if (fbIframe) {fvVidID = fbvideoID(fbIframe.getAttribute('src')); if (fvVidID) { fbIframe.insertAdjacentHTML("beforebegin", '
'); // fbIframe.parentNode.removeChild(fbIframe); } } var videoId = "promoted-video"; var oldFacebookVideo = document.getElementById(videoId); if (!oldFacebookVideo) { return }; var facebookVideoPost = oldFacebookVideo.closest(".widget"); if (!facebookVideoPost) { return };
var facebookVideo = facebookVideoPost.querySelector("#" + videoId); facebookVideo.classList.add("fb-video"); var firstPost = document.querySelector(".widget.post-partial");
function onScriptLoad() { FB.init({ appId: window.REBELMOUSE_BOOTSTRAP_DATA.fbId, version: window.REBELMOUSE_BOOTSTRAP_DATA.fbAppVersion, status: true, cookie: true, }); FB.XFBML.parse(); if(fbIframe){ fbIframe.parentNode.removeChild(fbIframe); } }
function loadFacebookScript() { var existingScript = document.querySelector('script[src="https://connect.facebook.net/en_US/sdk.js"'); if (!existingScript) { var script = document.createElement("script"); script.src = "https://connect.facebook.net/en_US/sdk.js"; document.head.appendChild(script); script.addEventListener("load", onScriptLoad); } }
function intersectorCallback(video_player) { var booted = false; var totalSeconds = 0; var interval = null;
function impressionCounter() { totalSeconds++; console.log("I've been watching for " + totalSeconds + " seconds"); } return function intersector(entries) { var entry = entries[0]; if (entry.isIntersecting) { if (!booted) { booted = true; video_player.mute(); video_player.play(); } interval = setInterval(impressionCounter, 1000); } else { if (interval) { console.log("I've stopped watching at " + totalSeconds + " seconds"); clearInterval(interval); interval = null; } } }; }
function trackVideo(video_player) { var observer = new IntersectionObserver(intersectorCallback(video_player), {}); observer.observe(facebookVideo); }
function onFacebookElementLoaded(msg) { if (msg.type === "video" && msg.id === videoId) { trackVideo(msg.instance); } }
function onFacebookReady() { FB.Event.subscribe("xfbml.ready", onFacebookElementLoaded); if (window.oldFacebookWaiter) window.oldFacebookWaiter(); }
if ("FB" in window) { onFacebookReady(); } else { window.oldFacebookWaiter = window.fbAsyncInit; window.fbAsyncInit = onFacebookReady; loadFacebookScript(); }
});



Source link