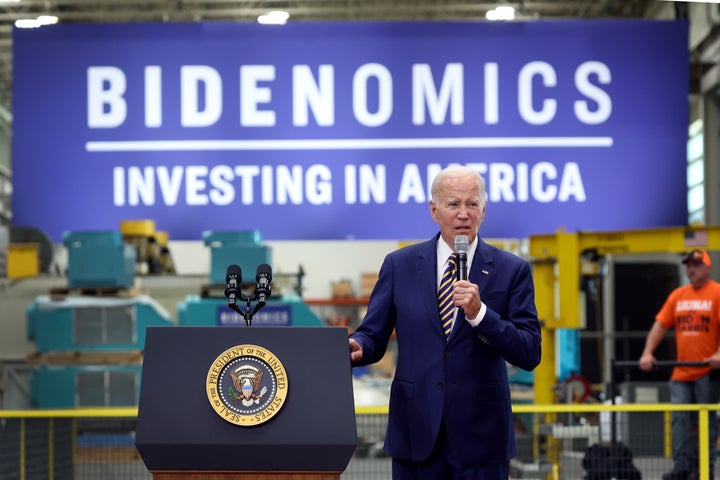 The Democratic senator from West Virginia shocked everyone in Washington last year when he, in a reversal, announced his support for the historic climate and health legislation, giving President Joe Biden a huge legislative victory that has unleashed a "manufacturing renaissance" and created thousands of jobs across the country.
But one year after Biden signed the measure into law, Manchin is carefully walking a tightrope over the IRA as he weighs a run for reelection next year ― or even possibly a campaign for president on a third-party ticket.
In a statement issued by his office on Wednesday, Manchin hailed the IRA as "one of the most historic pieces of legislation passed in decades for working and middle class families," citing, among others, provisions lowering the cost of prescription drugs and capping insulin costs at $35 for seniors.
But the bulk of the statement was focused on bashing the Biden administration over its implementation of the law's clean energy programs, including who gets to qualify for its electric vehicle tax credits. Manchin claims the administration is flaunting the intent of the law by pushing to include vehicles with more foreign-made battery parts, which he said would benefit nations like China.
"Going forward I will push back on those who seek to undermine this significant legislation for their respective political agenda, and that begins with my unrelenting fight against the Biden Administration's efforts to implement the IRA as a radical climate agenda instead of implementing the IRA that was passed into law," the senator vowed.
As Biden and other Democrats took the opportunity on the one-year anniversary of the law's signing on Wednesday to talk up clean energy and their progress in the effort to combat climate change, Manchin couldn't sound more different by saying the measure "re-established an all-of-the-above energy policy" and "empowered the growth of fossil fuels."
The IRA could help determine Manchin's political future in a coal producer like West Virginia, a ruby red state that voted for Donald Trump by an overwhelming margin in 2020. Republicans view it as one of their best pickup opportunities next year, and one that could swing control of the chamber back in their column.
Manchin hasn't announced his plans yet, but Republican groups are already mobilizing against him. On Wednesday, a nonprofit group aligned with Senate Minority Leader Mitch McConnell (Ky.) began airing a television ad in West Virginia highlighting Manchin's support for what it called "President Biden's liberal green energy scheme," featuring an image from the bill signing ceremony that Manchin attended at the White House last year.
"President Biden even gave him the pen," says the narrator in the ad.
West Virginia GOP Gov. Jim Justice, the favorite of establishment Republicans, announced his campaign for Senate earlier this year, but he'll first need to face Rep. Alex Mooney (R-W.Va.), who has the support of prominent conservative groups. A bitter primary fight between the two could help the incumbent senator if he decides to run for another term.
Manchin, a former governor who has profited extensively from the coal industry, has won more statewide races in West Virginia than just about anyone in recent history. He first came to Washington in 2012 after a landslide win with the help of a memorable TV spot that featured him shooting a rifle at Democrats' proposed "cap-and-trade" legislation, which would have placed regulations on coal-burning power plants.
During his 2018 campaign for reelection, he again played to the NRA crowd by shooting a lawsuit authored by his then-opponent, West Virginia Attorney General Patrick Morrisey, that sought to repeal the Affordable Care Act. Manchin won easily, albeit by a much smaller margin than in 2012.
If he decides to run for another term, Manchin would face arguably his biggest test yet. His poll numbers have taken a hit since announcing his support for the IRA, and several surveys have shown him trailing against Justice in a hypothetical matchup. His reelection prospects would likely worsen if Trump wins the GOP presidential nomination and is on the ballot again in West Virginia.
Lately, Manchin has been teasing the prospect of leaving the Democratic Party and becoming an independent.
"I've been thinking about that for quite some time," Manchin told a West Virginia radio program last week. "I haven't made any decisions whatsoever on any of my political direction."
In his statement on the IRA on Wednesday, Manchin called on "elected leaders in both parties and in the White House" to "put down their political swords, stop playing to the ideological extremes and focus on the very goal of this legislation — to help our hard working families and build a better, stronger and more secure nation for this generation and the next."