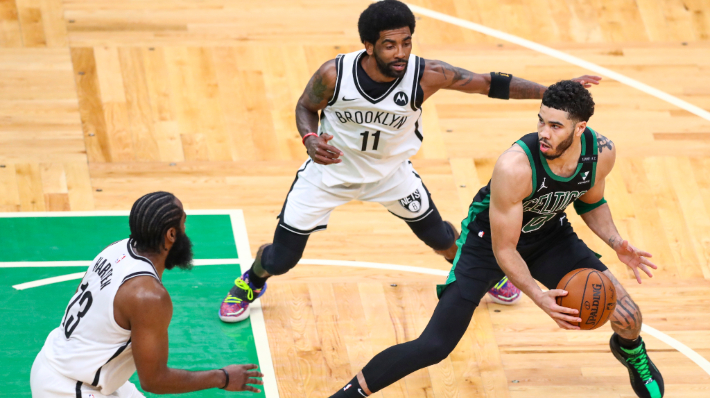 The Boston Celtics have taken a game off of the Brooklyn Nets. A perfect storm in Beantown came together to help the 7-seed in the Eastern Conference cut their series deficit to the 2-seed in half, as Boston picked up a 125-119 win on Friday night.
The man of the night, as is so often the case when good things happen to the Celtics, was Jayson Tatum. The All-Star forward set a playoff career-high with 50 points on 16-for-30 shooting with seven assists, six rebounds, two steals, and a block. He was magnificent, having an answer for seemingly anything and everything the Nets tried to throw at him and playing a major role in Boston overcoming an early 19-4 deficit.
Another thing that usually happens when Boston wins: Marcus Smart was able to score efficiently, dropping 23 on 8-for-11 shooting. Add in that Tristan Thompson (19 points, 13 rebounds) and Evan Fournier (15 points, five rebounds), and the Celtics were able to weather a not particularly good scoring night from Kemba Walker (six points on 3-for-14 shooting, although he had eight rebounds) and a mere 10 points off the bench.
It also helped that Brooklyn had an off night by its lofty standards. James Harden and Kevin Durant were unreal — the former scored 41 points on 11-for-18 shooting and a 7-for-12 clip from three with 10 assists and seven rebounds, while the latter scored 39 on 13-for-24 shooting with nine boards.
Outside of them, though, there wasn't a ton of offensive output. Kyrie Irving, in his return to Boston, score 16 points on 6-for-17 shooting, while the remaining six players combined to score a total of 23 points.
It is still a testament to how well the Celtics played that they were able to win. For their relatively off night, Brooklyn still hit 45.2 percent of their attempts from the field, 42.1 percent of their threes, and made 27 free throws, which would be good enough to win under most circumstances. Boston, however, was scorching from the field, making 50.6 percent of their field goals and 41 percent of their triples. Thompson, in particular, deserves a tip of a cap for his work on the offensive glass, as he hauled in nine offensive boards, which ties a playoff career-high.
Despite all of this, the Celtics still barely held off the Nets, a reminder of how good Brooklyn can be and how fine the margins are when dealing with a team this talented. But for a Boston squad that has been to hell and back this year when it comes to injuries and players missing time due to COVID-19 protocols, picking up a win and making it a series against one of the favorites to win the Eastern Conference is a nice boost. And who knows? If Tatum can have a few more games where he goes toe-to-toe with any combination of Durant, Harden, and Irving, perhaps Boston can elongate this series a little bit more.
Game 4 between the Celtics and Nets will take place on Sunday evening. Things are slated to tip off at 7 p.m. EST on TNT.