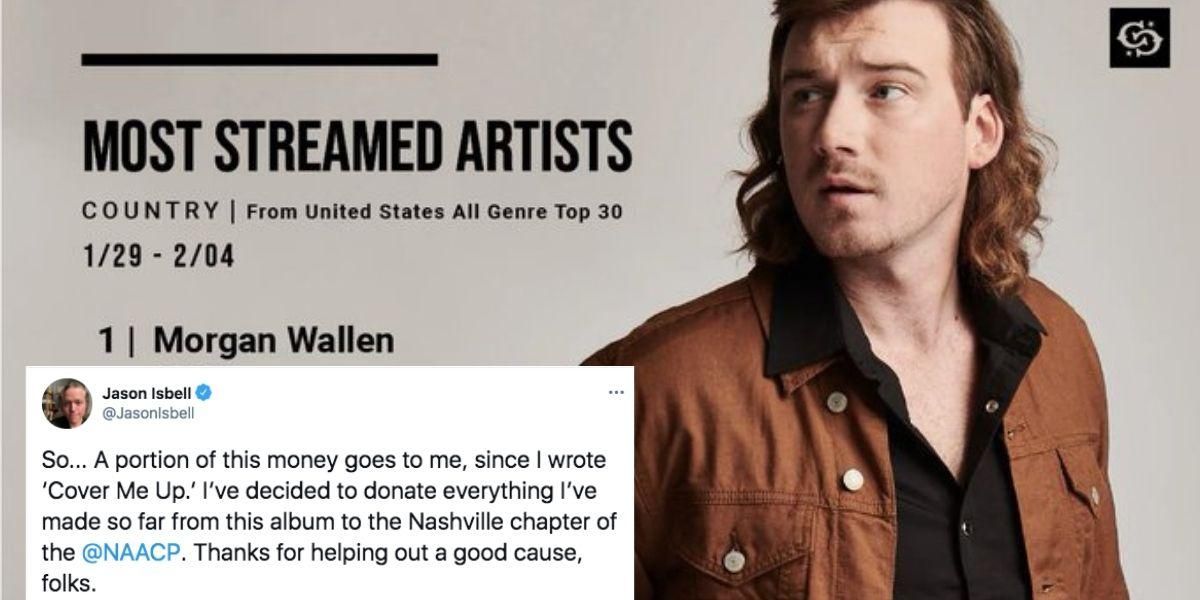 Country music star Morgan Wallen made headlines recently when he was caught on video shouting a racist slur. After a night out, Wallen was filmed by a neighbor walking up his driveway, appearing intoxicated and yelling to someone with him, "Take care of this "p****-ass mother******!" followed by "Take care of this p****-ass n*****!"
Wallen faced immediate backlash, with radio stations pulling his music, his record label suspending him, his agency dropping him, and the Academy of Country Music Awards revoking his eligibility for its awards ceremony. Wallen apologized, telling TMZ, "I'm embarrassed and sorry. I used an unacceptable and inappropriate racial slur that I wish I could take back. There are no excuses to use this type of language, ever. I want to sincerely apologize for using the word. I promise to do better."
However, despite the negative PR, sales of his album began to skyrocket, as a bunch of his fans who don't have a problem with racial slurs rushed to stick it to "cancel culture" and make their own racism heard. Billboard reported that Wallen's "Dangerous: The Double Album" sold 25,000 copies in the week ending February 4—an increase of 102%.
Despite recent controversy surrounding #MorganWallen, he was the highest streamed artist for the United States all… https://t.co/MRaeqYE6JM

— Country Central (@Country Central)1612922408.0
Jason Isbell, a fellow country musician who wrote one of the songs on Wallen's album, shared his own brilliant response to the incident and sales surge on Twitter:
---
"So…A portion of this money goes to me, since I wrote 'Cover Me Up.' I've decided to donate everything I've made so far from this album to the Nashville chapter of the @NAACP. Thanks for helping out a good cause, folks."
So… A portion of this money goes to me, since I wrote 'Cover Me Up.' I've decided to donate everything I've made… https://t.co/5ThFsKBTYK

— Jason Isbell (@Jason Isbell)1612986300.0
Now that's putting your money where your mouth is. Instead of profiting off of racism, Isbell is turning around and putting those profits into supporting anti-racist action.
"Even though he didn't write a lot, he said a lot in this tweet," Sheryl Guinn, President of the Nashville branch of the NAACP told News 4 Nashville. "It seems like what he's saying is I want to support equality. I do not want to support hate."
Guinn also said that the Wallen incident opens up a conversation that needs to be had.
"We have put a lot of focus on Morgan Wallen specifically," she said, "but he is a very small part of a much larger problem."
That larger problem is quite neatly showcased in responses to Wallen's 5-minute apology video he shared on Instagram, nine days after the incident. Despite Wallen's acknowledgment that there was no excuse for what he said, in comment after comment, fans defend his use of the n-word, saying that he didn't do anything wrong.
Wallen, to his credit, tells his followers not to defend him.
"Please don't," he says in the video. "I was wrong. It's on me to take ownership for this and I fully accept any penalties I'm facing. The time of my return is solely on me and the work I put in."
Wallen explains in the video that who he is in the video is not the man he wants to be, and described some of the steps he's taking to learn.
"I accepted some invitations from some amazing Black organizations, some executives and leaders, to engage in some very real and honest conversations," he says. He was nervous to accept the invitations, adding, "They had every right to step on my neck … to not show me any grace, but they did the exact opposite. They offered me grace and also paired that with an offer to learn and grow. … That kindness really inspired me to dig deeper on how to do something about this."
Part of digging deeper is listening with an ear to understand, and Wallen explained how he's engaging in that process.
"This week I heard first-hand some personal stories from Black people that honestly shook me, and I know what I'm going through this week doesn't compare to some of the trials I heard about from them. I came away … with a clearer understanding of the weight of my words."
One challenging element of this story is that how far behind it feels. It is 2021. We just saw months of protests over racial injustice. The use of the n-word by a non-Black person as a manifestation of racism is not something new. While many are praising Wallen for waking up to the fact that his words and actions matter, for many others it's further proof that so many white Americans have not been listening to the voices of Black Americans who have been talking about this forever.
Another element worth examining is the role of Wallen's substance use in the incident. In his video, Wallen shared that he had been on "hour 72 of 72 of a bender," almost as if that somewhat explained his actions. He's committing to sobriety, which is an excellent step in the right direction. But being drunk doesn't make people use racial slurs—it just reveals the racial slurs that are already queued up in someone's head. The fact that he appears to be speaking from the heart and not reading a pre-canned apology suggests sincerity in his desire to change, but as he himself says, the proof will be in the work he puts in.
Racism is too insidious, too ingrained, and too damaging to be given a pass if we ever hope to eliminate it. Accountability, especially for someone with a platform and an audience, is necessary, and we're seeing that play out here. People decry "cancel culture," but how much racism is okay, and what is the appropriate reaction to someone using white supremacist language?
It's not enough to just say, "Oops, sorry" for racist speech, and Wallen seems to understand this. Now let's hope he can convince his fans of the same thing.
From Your Site Articles
Related Articles Around the Web
window.REBELMOUSE_TASKS_QUEUE.push(function(){
function menuClick(e) { e.preventDefault();var x=document.getElementsByClassName('navbar-wrapper')[0]; document.getElementsByClassName('menu-wrapper')[0].classList.toggle("openz");
if (x.style.display === "block") {x.style.display = "none";} else {x.style.display = "block";}
var homeContainer = document.getElementsByClassName('content-page-wrapper'); if (homeContainer[0] != undefined) { homeContainer[0].classList.add('background-opacity'); }
var adPlaceholder = document.getElementsByClassName('ad-placeholder'); if (adPlaceholder[0] != undefined) { adPlaceholder[0].classList.add('background-opacity'); }
var followUs = document.getElementsByClassName('follow-us-wrapper'); if (followUs[0] != undefined) { followUs[0].classList.add('background-opacity'); }
// document.querySelector('.topbar-wrapper .image-element').classList.add('background-opacity');
var opac = document.querySelector('.content-page-wrapper.background-opacity'); opac.addEventListener("click", menuCloseClick);
var scrollPosY = window.pageYOffset | document.body.scrollTop;
setTimeout(function() { var topbarPanel = document.querySelector('.js-hidden-panel.active'); if (topbarPanel != null) { document.getElementsByClassName('navbar-wrapper')[0].style.marginTop = '121px'; } else if (scrollPosY <= topMarginForAd) { document.getElementsByClassName('navbar-wrapper')[0].style.marginTop = '-'+(topMarginForAd - scrollPosY-6) + 'px'; } else { document.getElementsByClassName('navbar-wrapper')[0].style.marginTop = '14px'; } }, 100); } function menuCloseClick() { document.getElementsByClassName('navbar-wrapper')[0].style.display = 'none'; document.getElementsByTagName('body')[0].style.overflow = 'unset'; var homeContainer = document.getElementsByClassName('content-page-wrapper'); if (homeContainer[0] != undefined) { homeContainer[0].classList.remove('background-opacity'); } var adPlaceholder = document.getElementsByClassName('ad-placeholder'); if (adPlaceholder[0] != undefined) { adPlaceholder[0].classList.remove('background-opacity'); } var followUs = document.getElementsByClassName('follow-us-wrapper'); if (followUs[0] != undefined) { followUs[0].classList.remove('background-opacity'); } document.querySelector('.topbar-wrapper .image-element').classList.remove('background-opacity'); } function addMenuClickListener() { var menuArrow = document.getElementsByClassName('menu-wrapper'); menuArrow[0].addEventListener('click', menuClick); } addMenuClickListener(); }); window.REBELMOUSE_TASKS_QUEUE.push(function(){ function ChangeListener(selector, callback) { const initializedNodes = new Set([]); document.querySelectorAll(selector).forEach(node => { callback(node); initializedNodes.add(node); }); const mutationObserver = new MutationObserver(() => { const nodes = document.querySelectorAll(selector); nodes.forEach(node => { if (!initializedNodes.has(node)) { callback(node); initializedNodes.add(node); } }); }); mutationObserver.observe(document.body, { childList: true, subtree: true }); }
ChangeListener('.posts-custom',function(E){if(E.querySelector('.body-description')){}else if(E.querySelector('.body')){E.querySelector('.body').classList.add('body-description')}})
});
window.REBELMOUSE_TASKS_QUEUE.push(function(){
function fbvideoID(frame) { var myRegexp = /2F(d+)%/g; var match = myRegexp.exec(frame); return match[1]; } var fbIframe = document.querySelector('iframe[src^="https://www.facebook.com/plugins/video.php?"]'); if (fbIframe) {fvVidID = fbvideoID(fbIframe.getAttribute('src')); if (fvVidID) { fbIframe.insertAdjacentHTML("beforebegin", '
'); // fbIframe.parentNode.removeChild(fbIframe); } } var videoId = "promoted-video"; var oldFacebookVideo = document.getElementById(videoId); if (!oldFacebookVideo) { return }; var facebookVideoPost = oldFacebookVideo.closest(".widget"); if (!facebookVideoPost) { return };
var facebookVideo = facebookVideoPost.querySelector("#" + videoId); facebookVideo.classList.add("fb-video"); var firstPost = document.querySelector(".widget.post-partial");
function onScriptLoad() { FB.init({ appId: window.REBELMOUSE_BOOTSTRAP_DATA.fbId, version: window.REBELMOUSE_BOOTSTRAP_DATA.fbAppVersion, status: true, cookie: true, }); FB.XFBML.parse(); if(fbIframe){ fbIframe.parentNode.removeChild(fbIframe); } }
function loadFacebookScript() { var existingScript = document.querySelector('script[src="https://connect.facebook.net/en_US/sdk.js"'); if (!existingScript) { var script = document.createElement("script"); script.src = "https://connect.facebook.net/en_US/sdk.js"; document.head.appendChild(script); script.addEventListener("load", onScriptLoad); } }
function intersectorCallback(video_player) { var booted = false; var totalSeconds = 0; var interval = null;
function impressionCounter() { totalSeconds++; console.log("I've been watching for " + totalSeconds + " seconds"); } return function intersector(entries) { var entry = entries[0]; if (entry.isIntersecting) { if (!booted) { booted = true; video_player.mute(); video_player.play(); } interval = setInterval(impressionCounter, 1000); } else { if (interval) { console.log("I've stopped watching at " + totalSeconds + " seconds"); clearInterval(interval); interval = null; } } }; }
function trackVideo(video_player) { var observer = new IntersectionObserver(intersectorCallback(video_player), {}); observer.observe(facebookVideo); }
function onFacebookElementLoaded(msg) { if (msg.type === "video" && msg.id === videoId) { trackVideo(msg.instance); } }
function onFacebookReady() { FB.Event.subscribe("xfbml.ready", onFacebookElementLoaded); if (window.oldFacebookWaiter) window.oldFacebookWaiter(); }
if ("FB" in window) { onFacebookReady(); } else { window.oldFacebookWaiter = window.fbAsyncInit; window.fbAsyncInit = onFacebookReady; loadFacebookScript(); }
});
window.REBELMOUSE_TASKS_QUEUE.push(function(){
REBELMOUSE_STDLIB.createElementChangeListener(".mb-2", function(item){ checkSponsoredPost(); })
});
window.REBELMOUSE_LOWEST_TASKS_QUEUE.push(function(){
var tags = [ 'https://pymx5.com/scripts/ready.js', 'https://pymx5.com/scripts/ims.js', 'https://pymx5.com/scripts/load_tags.js' ]
function l() { if (tags.length) { var tag = tags.pop(); var script = document.createElement('script'); script.setAttribute('src', tag); script.onload = l; document.body.appendChild(script); } else { window.ia = window.ia || function () { (window.ia.q = window.ia.q || []).push(arguments); } ; ia('track', 'PAGE_VIEW');
docReady(function() { ims.startServices(); } ); } }
l();
});
window.REBELMOUSE_LOWEST_TASKS_QUEUE.push(function(){
window.REBELMOUSE_STDLIB.loadExternalScript("https://ats.rlcdn.com/ats.js", function() {
ats.start( { "placementID": 103, "storageType": "localStorage", "detectionType": "scrape", "cssSelectors": [ "input[type=text]", "input[type=email]" ], "logging": "error" });
});
});
window.REBELMOUSE_LOWEST_TASKS_QUEUE.push(function(){
window.REBELMOUSE_STDLIB.loadExternalScript("https://www.googletagmanager.com/gtag/js.js?id=UA-30098361-1", function() {
window.dataLayer = window.dataLayer || []; /*function gtag(){dataLayer.push(arguments);} gtag('js', new Date());
gtag('config', 'UA-30098361-1', {'optimize_id':'GTM-P5TSK62'});*/
});
});
window.REBELMOUSE_LOWEST_TASKS_QUEUE.push(function(){
!function(f,b,e,v,n,t,s) {if(f.fbq)return;n=f.fbq=function(){n.callMethod? n.callMethod.apply(n,arguments):n.queue.push(arguments)}; if(!f._fbq)f._fbq=n;n.push=n;n.loaded=!0;n.version='2.0'; n.queue=[];t=b.createElement(e);t.async=!0; t.src=v;s=b.getElementsByTagName(e)[0]; s.parentNode.insertBefore(t,s)}(window, document,'script', 'https://connect.facebook.net/en_US/fbevents.js'); fbq('init', '1676218835946757'); fbq('track', 'PageView');
});
window.REBELMOUSE_LOWEST_TASKS_QUEUE.push(function(){
function triggerComscorePageView() { console.log('triggerComscorePageView'); window.COMSCORE && COMSCORE.beacon({c1: "2", c2: "18736521"}); fetch("https://www.upworthy.com/res/3rdparty/comscore_pageview"); }
if (typeof rblms !== 'undefined') { rblms.require(['core/event_dispatcher'], function(eventDispatcher) { eventDispatcher.on('viewRegistry:initViews', triggerComscorePageView); }); }
document.addEventListener('click', event => { if (event.target && event.target.classList.contains('show-more')) { triggerComscorePageView() } });
urlChangeHandler(triggerComscorePageView);
});
window.REBELMOUSE_LOWEST_TASKS_QUEUE.push(function(){
(function() { try{var a={l1:document.location.host.replace(/^www./,""),l2:document.title||"Untitled",l3:"__page__",l4:"-",sa:"",sn:""},b=[],c;for(c in a)b.push(c+"="+encodeURIComponent(a[c]));b=b.join("&");(new Image).src="https://d26n2uyu5tcx3y.cloudfront.net?a=5ac31c1640c74c36900b97047f570f19";var d=document.createElement("script");d.type="text/javascript";d.async=!0;var e=document.getElementsByTagName("script")[0];e.parentNode.insertBefore(d,e);d.src="https://z.moatads.com/upworthy105Vonz37/moatcontent.js#"+b}catch(f){try{var g= "//pixel.moatads.com/pixel.gif?e=24&d=data%3Adata%3Adata%3Adata&i=MOATCONTENTABSNIPPET1&ac=1&k="+encodeURIComponent(f)+"&j="+encodeURIComponent(document.referrer)+"&cs="+(new Date).getTime();(new Image).src=g}catch(h){}}; })();
});
window.REBELMOUSE_LOWEST_TASKS_QUEUE.push(function(){
(function(w,d) { w.kwa || (w.kwa = function()
{ (w.kwa.q = w.kwa.q || []).push(arguments); } ); se = d.createElement('script'), fs = d.scripts[0]; se.src="https://cdn.keywee.co/dist/analytics.min.js"; fs.parentNode.insertBefore(se,fs) }(window, document));
kwa('initialize',603);
});
window.REBELMOUSE_LOWEST_TASKS_QUEUE.push(function(){
(function(h,o,t,j,a,r){ h.hj=h.hj||function(){(h.hj.q=h.hj.q||[]).push(arguments)}; h._hjSettings={hjid:1648575,hjsv:6}; a=o.getElementsByTagName('head')[0]; r=o.createElement('script');r.async=1; r.src=t+h._hjSettings.hjid+j+h._hjSettings.hjsv; a.appendChild(r); })(window,document,'https://static.hotjar.com/c/hotjar-','.js?sv=');
});
window.REBELMOUSE_LOWEST_TASKS_QUEUE.push(function(){
let asd=false
});



Source link