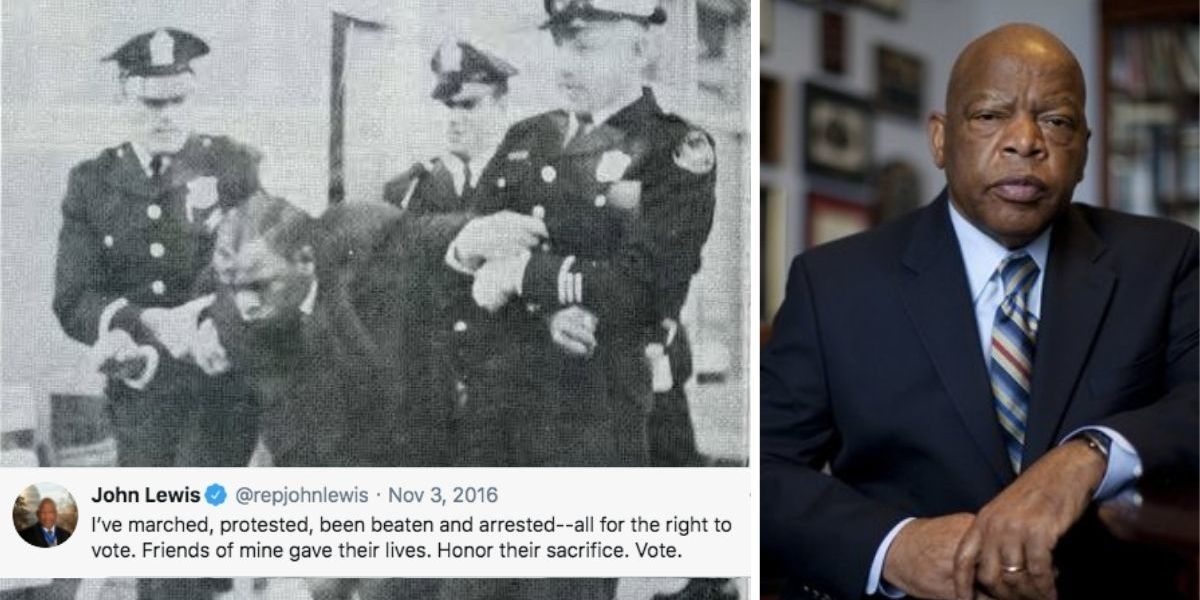 In one of the most unexpected turns of the 2020 election, Georgia has become a battleground state. It was speculated from pre-election polling to be a close race there, but of course we're all well aware that polls can be wrong. However, the previously reliably red state flipped blue overnight as votes in several Democrat-leaning counties were tallied, including Clayton county—home to the late senator and civil rights icon John Lewis.
Lewis was one of the "big six" leaders of the civil rights movement of the 1960s. In his 20s, he organized sit-ins, marched beside Martin Luther King, Jr., and was arrested at least 40 times in the battle for racial equality. State troopers and "deputized" white men beat him so badly they fractured his skull during the march from Selma to Montgomery on March 7, 1965.
That march was for voting rights, a cause close to Lewis's heart his entire career. His early activism was instrumental in getting the Voting Rights Act passed, and he spent the rest of his long and storied life defending the right for all Americans of all races to have their voices heard at the ballot box.
---
I've marched, protested, been beaten and arrested–all for the right to vote. Friends of mine gave their lives. Hon… https://t.co/sZ42gGXzdN

— John Lewis (@John Lewis)1478177909.0
Lewis, who passed away in July of this year, in the midst of the largest racial justice movement since the civil rights era, left an essay to be published after his death. In it, he reiterated the need for Americans to exercise and protect their right to vote:
"Ordinary people with extraordinary vision can redeem the soul of America by getting in what I call good trouble, necessary trouble. Voting and participating in the democratic process are key. The vote is the most powerful nonviolent change agent you have in a democratic society. You must use it because it is not guaranteed. You can lose it."
As we witness a sitting president attempt to delegitimize our election and actively seek, with claims of fraud and illegality, to toss out votes being counted in areas with heavy Black populations, we're watching that warning play out right in front of us.
So it's incredibly fitting that the votes pushing Georgia toward Joe Biden and away from Donald Trump are the votes from the county Lewis called home. He worked hard to enfranchise voters there. He paved the way for Stacey Abrams to do the same. He spent his life fighting for just this moment, where the voices of people whose votes have been suppressed in dozens of ways throughout U.S. history make themselves heard loud and clear.
People are taking to social media to give a well-deserved nod to Lewis.
GOOD MORNING TO GEORGIA AND GEORGIA ONLY. https://t.co/tXMLVfQHOd

— brittany packnett cunningham says #CountEveryVote (@brittany packnett cunningham says #CountEveryVote)1604668373.0
This moment in Georgia brought to you by a lifetime of voting rights advocacy by the late John Lewis and two years… https://t.co/k9lZbpqbw2

— Danica Roem (@Danica Roem)1604664553.0
If this cartoon doesn't get you, oof.
Wow. Powerful John Lewis cartoon. https://t.co/9vC5EIJdvf

— 💙 Koko 🥁 💙 (@💙 Koko 🥁 💙)1604679357.0
And let's not forget this bit of poetic justice.
Trump began his presidency smearing John Lewis and he ends it with black voters showing up in save the country numb… https://t.co/olo6DSvbqA

— 😱 Endless Zoom Meeting 😱 (@😱 Endless Zoom Meeting 😱)1604672100.0
The legacy left by the late John McCain and the late John Lewis, whom @realDonaldTrump persistently and shamlessly… https://t.co/H5MTB5AeVc

— Aaron Vallely (@Aaron Vallely)1604607377.0
The race in Georgia is close, and there are still outstanding ballots to be counted. It may or may not end up making the difference in the election, especially as Biden's lead in Pennsylvania continues to grow. But if Biden does end up winning Georgia, he will be the first Democratic presidential candidate to take the state since 1992. And it will be a victory directly due to the tireless efforts of Mr. John Lewis and the votes of those he helped bring to the polls.
From Your Site Articles
Related Articles Around the Web
function rm_fn_9000afc3d3fb8457c9fe38b660cb490c() {
!function(f,b,e,v,n,t,s) {if(f.fbq)return;n=f.fbq=function(){n.callMethod? n.callMethod.apply(n,arguments):n.queue.push(arguments)}; if(!f._fbq)f._fbq=n;n.push=n;n.loaded=!0;n.version='2.0'; n.queue=[];t=b.createElement(e);t.async=!0; t.src=v;s=b.getElementsByTagName(e)[0]; s.parentNode.insertBefore(t,s)}(window, document,'script', 'https://connect.facebook.net/en_US/fbevents.js'); fbq('init', '1676218835946757'); fbq('track', 'PageView'); } window.REBELMOUSE_LOW_TASKS_QUEUE.push(rm_fn_9000afc3d3fb8457c9fe38b660cb490c);
function rm_fn_e3323212a5c1a85caff08537172126b3() { function fbvideoID(frame) { var myRegexp = /2F(d+)%/g; var match = myRegexp.exec(frame); return match[1]; } var fbIframe = document.querySelector('iframe[src^="https://www.facebook.com/plugins/video.php?"]'); if (fbIframe) {fvVidID = fbvideoID(fbIframe.getAttribute('src')); if (fvVidID) { fbIframe.insertAdjacentHTML("beforebegin", '
'); // fbIframe.parentNode.removeChild(fbIframe); } } var videoId = "promoted-video"; var oldFacebookVideo = document.getElementById(videoId); if (!oldFacebookVideo) { return }; var facebookVideoPost = oldFacebookVideo.closest(".widget"); if (!facebookVideoPost) { return };
var facebookVideo = facebookVideoPost.querySelector("#" + videoId); facebookVideo.classList.add("fb-video"); var firstPost = document.querySelector(".widget.post-partial");
function onScriptLoad() { FB.init({ appId: window.REBELMOUSE_BOOTSTRAP_DATA.fbId, version: window.REBELMOUSE_BOOTSTRAP_DATA.fbAppVersion, status: true, cookie: true, }); FB.XFBML.parse(); if(fbIframe){ fbIframe.parentNode.removeChild(fbIframe); } }
function loadFacebookScript() { var existingScript = document.querySelector('script[src="https://connect.facebook.net/en_US/sdk.js"'); if (!existingScript) { var script = document.createElement("script"); script.src = "https://connect.facebook.net/en_US/sdk.js"; document.head.appendChild(script); script.addEventListener("load", onScriptLoad); } }
function intersectorCallback(video_player) { var booted = false; var totalSeconds = 0; var interval = null;
function impressionCounter() { totalSeconds++; console.log("I've been watching for " + totalSeconds + " seconds"); } return function intersector(entries) { var entry = entries[0]; if (entry.isIntersecting) { if (!booted) { booted = true; video_player.mute(); video_player.play(); } interval = setInterval(impressionCounter, 1000); } else { if (interval) { console.log("I've stopped watching at " + totalSeconds + " seconds"); clearInterval(interval); interval = null; } } }; }
function trackVideo(video_player) { var observer = new IntersectionObserver(intersectorCallback(video_player), {}); observer.observe(facebookVideo); }
function onFacebookElementLoaded(msg) { if (msg.type === "video" && msg.id === videoId) { trackVideo(msg.instance); } }
function onFacebookReady() { FB.Event.subscribe("xfbml.ready", onFacebookElementLoaded); if (window.oldFacebookWaiter) window.oldFacebookWaiter(); }
if ("FB" in window) { onFacebookReady(); } else { window.oldFacebookWaiter = window.fbAsyncInit; window.fbAsyncInit = onFacebookReady; loadFacebookScript(); } } window.REBELMOUSE_TASKS_QUEUE.push(rm_fn_e3323212a5c1a85caff08537172126b3);