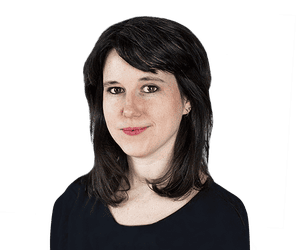 Netanyahu calls for protesters 'on right and left' to behave responsibly
The prime minister has broken his silence with a tweet:
He calls on "demonstrators in Jerusalem, on the right and the left, to behave responsibly and not to act violently".
This is likely in response to reports that far-right groups are moving towards the protest rallies. There are concerns about a clash.
Key events
Opposition Knesset members shout "shame" during judicial committee
Finance minister says judicial overhaul must go ahead
Israel's finance minister, Bezalel Smotrich, has warned Netanyahu that the judicial overhaul must go ahead.
He says it will "correct the judicial system" and claims it will "improve democracy".
The minister is part of an extremist settler party. He has previously claimed there is "no such thing" as a Palestinian people and called for a Palestinian town to be "wiped out".
Smotrich's comments on Monday will add pressure on Netanyahu to move forward with the overhaul.
Bethan McKernan
Bethan McKernan reports for the Guardian from Jerusalem:
It is impossible to even get close to the Knesset compound: the parks and roads surrounding it are packed with people singing, playing drums, and waving Israel's blue and white national flag.
This is perhaps the final push of a 12-week-old protest movement as Benjamin Netanyahu looks set to cave on bitterly contested judicial reforms – at least temporarily.
As with all the other demonstrations across the country in Israel's biggest ever protest movement, the crowd appears to be diverse – young, old, religious, secular, Ashkenazi and Mizrahi – groups of Israeli society that do not overlap often.
Palestinian citizens of Israel, who make up 20% of the population, are once again noticeably absent: that community, and the five million Palestinians who live under Israeli military rule in the occupied territories, have long questioned the country's democratic character.
But there is no denying the zeal and determination of the thousands of people on the streets of Jerusalem holding banners reading "fight for the soul of the nation" and chanting "no to dictatorship".
"We're not there yet but we're making great progress," said a man who gave his name as Moshe, 63, a retired air force pilot. With a small group of friends, he was handing out Israeli flags. "We have morale, we must keep going."
Tia Goldenberg at Associated Press offers this round-up of the latest situation, reporting that workers from a range of sectors in Israel have launched a nationwide strike which threatens to paralyse the economy as they join a surging protest movement against prime minister Benjamin Netanyahu's plan to overhaul the judiciary.
Departing flights from the country's main international airport were grounded, large mall chains and universities shut their doors, and Israel's largest trade union called for its 800,000 members – in health, transit, banking and other fields – to stop work. Diplomats walked off the job at foreign missions, local governments were expected to close the preschools they run and cut other services, and the main doctors union announced its members would also strike.
On Monday Israel's president, Isaac Herzog, called again for an immediate halt to the overhaul. "The entire nation is rapt with deep worry. Our security, economy, society – all are under threat," he said. "Wake up now!"
The opposition leader Yair Lapid said the crisis was driving Israel to the brink.
Images coming in from the scene of protests outside Israel's parliament show that some scuffles have taken place between security forces and protesters.
This aerial view shows the scale of the protest.
Here is a timeline of how Benjamin Netanyahu's judicial reform plans built up to today's crisis:
29 December – Benjamin Netanyahu is sworn in as head of a hard-right government.

4 January – Netanyahu's new government announces a plan to allow parliament to overturn some supreme court rulings and grant the government more say in nominations to the bench. Justice minister Yariv Levin says: "These reforms will strengthen the judicial system and restore public faith in it."

12 January – The president of Israel's supreme court, Esther Hayut, says the judicial reform plan would crush the justice system and undermine Israeli democracy.

14 January – Tens of thousands of Israelis demonstrate in cities against the judicial plans. Netanyahu dismisses the protests as a refusal by leftist opponents to accept the election results.

2 February – In an official legal advisory to the justice minister, attorney general Gali Baharav-Miara says the plans will harm the country's democratic checks and balances and risks giving government unbridled power.

5 February – President Isaac Herzog, whose position is largely ceremonial, says: "Stop the whole process for a moment, take a deep breath, allow for dialogue because there is a huge majority of the people who would like dialogue."

5 March – Dozens of Israeli air force reservists say they will not turn up for a training day in protest, joining a growing number of reservists staying away because of the plans.

15 March – President Herzog presents alternative changes to the judiciary, saying "most Israelis want a plan that will bring both justice and peace." Netanyahu rejects the idea.

19 March – US President Joe Biden says he supports "efforts underway to forge a compromise on proposed judicial reforms", the White House says after a call with Netanyahu.

20 March – Netanyahu announces steps he says will soften his judicial overhaul plan, but the opposition reject the claim and says it will still challenge key legislation in the supreme court.

24 March – The attorney general accuses Netanyahu of breaking the law by ignoring a conflict of interest over his ongoing trial for corruption and getting directly involved in the judicial overhaul plan.

25 March – Defence minister Yoav Gallant, a member of Netanyahu's Likud party, calls on the government to halt legislation on changes to the judiciary, saying the dispute poses a danger to national security.

26 March – Netanyahu sacks his defence minister, prompting hundreds of thousands to take to the streets in a wave of protests across the country.

27 March – Netanyahu was expected to call a halt to his judicial plans, but an announcement is delayed as he struggles to stop his nationalist-religious coalition from falling apart over a climbdown.
Foreign ministry union instructs embassy staff to strike
Reuters is reporting that the Israeli foreign ministry union is calling for embassy staff worldwide to strike.
We have asked the embassy in London if they are striking.
Netanyahu calls for protesters 'on right and left' to behave responsibly
The prime minister has broken his silence with a tweet:
He calls on "demonstrators in Jerusalem, on the right and the left, to behave responsibly and not to act violently".
This is likely in response to reports that far-right groups are moving towards the protest rallies. There are concerns about a clash.
The national security minister, Itamar Ben-Gvir, the far-right minister who wanted to neuter the judiciary, is considering quitting the ruling coalition, according to the Times of Israel news website.
Israeli media is generally suggesting that Netanyahu is likely to freeze the judicial overhaul legislation in an attempt to deal with the political crisis. That, however, could leave him exposed to far-right figures in his coalition like Ben- Gvir, who could threaten to topple his government.
Israel's justice minister has said he would respect any decision the prime minister, Benjamin Netanyahu, makes about the judicial overhaul.
"A situation in which everyone does as they wish is liable to bring about the instant fall of the government and collapse of the (ruling party) Likud," Yariv Levin said in a statement. "We must all strive to stabilise the government and coalition."
It is still unclear which way Netanyahu will go today – push ahead with the overhaul or, as demonstrators demand, halt the process.
Crowds are gathering in Jerusalem, near the supreme court and the Knesset, Israel's parliament.
Major seaports halt work due to strike
Reuters is reporting that the country's two major ports have halted operations due to the labour strike today, which was called to pressure the government.
Haifa port in the north and Ashdod port in the south have both stopped working, according to officials.