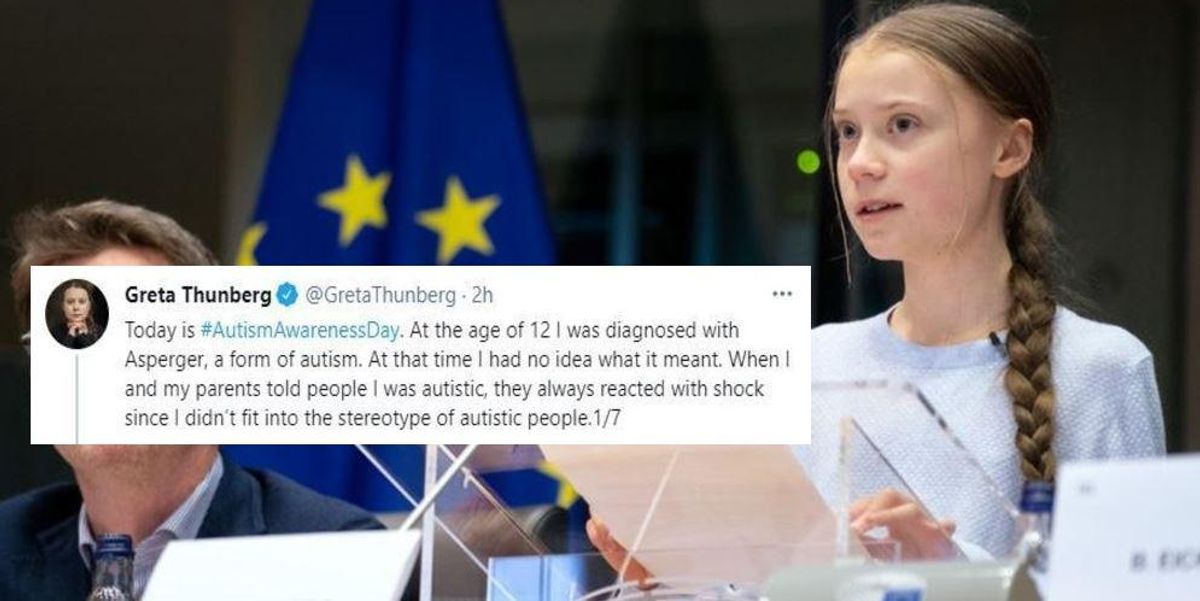 April 2 is World Autism Awareness Day where hundreds of thousands of landmarks, buildings, homes, and communities around the world come together to light up blue in recognition of people with autism and those who love and support them.
It also kicks off World Autism Month, featuring 30 days of Autism-friendly events and educational activities to increase the understanding and acceptance of people with autism and inspire a kinder, more inclusive world.
About one in 59 children has autism spectrum disorder, according to the Centers for Disease Control and Prevention.
Anyone who has experience with someone with autism knows the disorder is seriously misunderstood. So if there's one message we can share with the world this month, it's this: People with autism think differently.
Not better or worse, just differently.
---
People who think outside of the box are the greatest innovators and their spark of unique inspiration pushes the world forward. In fact, it's believed that some of the world's greatest minds such as Albert Einstein, Thomas Jefferson, Charles Darwin, and Michaelangelo may have been on the autism spectrum.
There's no clearer example in this day and age than the work of environmentalist Greta Thunberg. Thunberg credits having Asperger's, a profile on the autism spectrum, for her tireless devotion to stopping climate change.
People with Asperger's are known for their ability to hyper-focus on a subject of interest.
"That makes you different; that makes you think differently," Thunberg said. "Especially in such a big crisis like this one, we need to think outside the box, we need to think outside our current system, we need people who think outside the box and who aren't like everyone else."
She credits Asperger's for giving her the ability to speak truth to power like when she dramatically chastised the United Nations General Assembly for its lack of action on climate change.
"How dare you," she said. "You have stolen my dreams and my childhood with your empty words."
She's credited autism for giving her the power to ignore her critics. "I have Asperger's, I'm on the autism spectrum, so I don't really care about social codes that way," she said.
To commemorate Autism Awareness Day, Thunberg shared a series of tweets about what it's like being diagnosed with autism and how it's unfortunately misunderstood by many. She also shares why her diagnosis is something she accepts with a sense of pride.
Today, so many (especially girls) remain undiagnosed. The reasons for that are often lack of awareness, prejudices… https://t.co/KH6GXkOFSq

— Greta Thunberg (@Greta Thunberg)1617388447.0
Almost everywhere there are very limited resources to give autistic people the necessary support. Without these adj… https://t.co/lyyajmwila

— Greta Thunberg (@Greta Thunberg)1617388686.0
So let's all join in spreading awareness. It could literally save lives. Autism is not a disease. It's not somethin… https://t.co/fNNtAQc04H

— Greta Thunberg (@Greta Thunberg)1617388763.0
It simply means that you are a bit different from everyone else. And in a world where everyone strives to act, thin… https://t.co/MV14iqIMDz

— Greta Thunberg (@Greta Thunberg)1617388830.0
Thunberg's unapologetic embrace and openness about living with Asperger's is a wonderful example of promoting the positive aspects of being neurologically atypical. It also shows people on the autism spectrum and those who support them that being diagnosed doesn't necessarily limit their abilities.
People with autism think differently. Hopefully, World Autism Month can push people across the globe to openly embrace those who think differently, because they may be humanity's greatest hope for solving our biggest problems.