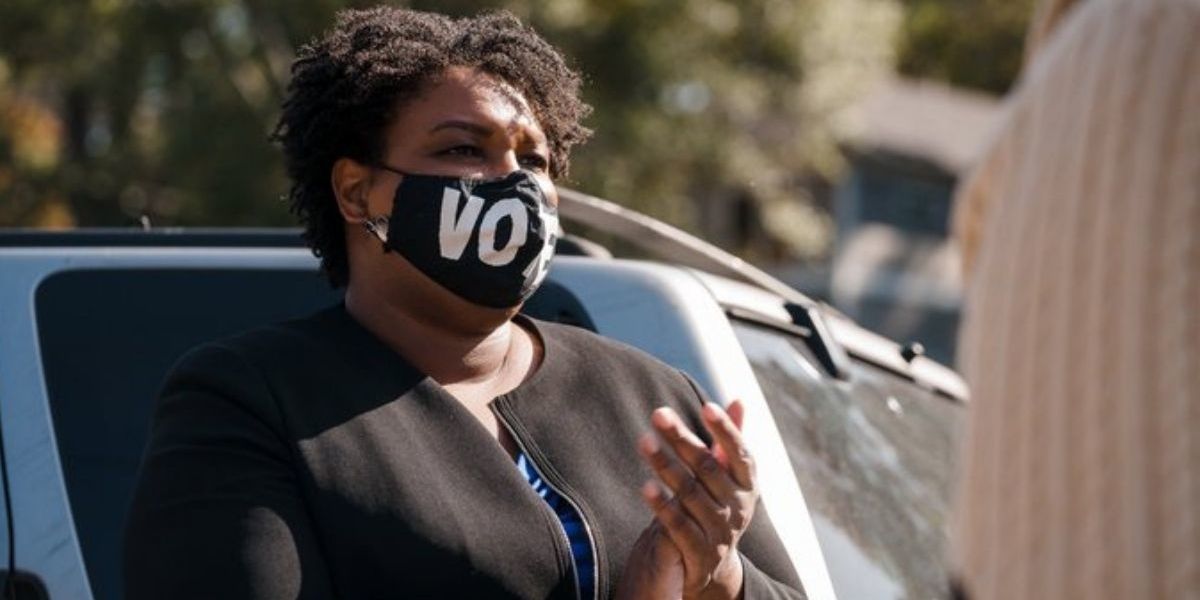 Four years ago, no one would have expected that Georgia would be a battleground state in the 2020 presidential election.
Well, not no one. Stacey Abrams not only saw it coming, she played a big role in making it happen.
The former member of the Georgia state legislature became the first Black American woman to run for governor of a state under a major party in 2018. She lost to Republican Brian Kemp by just 1.5% in a hotly contested election. Kemp, who was Georgia's Secretary of State at the time, has been accused of engaging in voter suppression, making it harder for minorities in the state exercise their right to vote. Abrams refused to officially concede the election, claiming that Kemp had a conflict of interest as the person in charge of his own election.
After the gubernatorial race came to close, Abrams took the issue of voter suppression on with gusto. She had already spent years advocating for voter rights as a lawyer and lawmaker and continued the effort by founding an organization called Fair Fight that focuses on funding and training people to protect the vote in 20 battleground states, with a special emphasis on her home state of Georgia.
---
One of the main strategies Abrams has engaged in is getting enough voters registered and motivated to turn out on election days any voter suppression tactics that might be employed would be unsuccessful due to sheer numbers.
"Our goal through Fair Fight and Fair Fight 2020 is to ensure that people know about the obstacles that are being placed in their way, but (are encouraged to) vote in even larger numbers to overwhelm the intention of the system," Abrams told USA TODAY.
"After 2018, Stacey Abrams founded Fair Fight, a PAC dedicated to promoting fair elections not just in Georgia, but… https://t.co/Juk0iSs02z

— philip lewis (@philip lewis)1604591351.0
According to USA Today, Democrats had seen potential in Georgia's changing demographics. The city of Atlanta, in particular, has drawn a more educated workforce from around the country, which also includes potentially younger Asian, Black and Latino voters. Other counties that were once Republican strongholds have also become more diverse, opening the door to Democrats, who tend to draw more non-white support than Republicans.
Abrams' focus on getting those voters registered and ready to show up at the polls has paid off. A reliably red state for decades, Georgia is now in play. But it's not just as simple as getting people to the polls. Abrams has a deep pool of historical knowledge and a keen understanding of the systems in place that make it harder for people to exercise their civic duty.
In an interview with Ezra Klein at Vox, Abrams explained that there is no Constitutional right to vote.
"The reality is that the right to vote does not exist as an affirmative opportunity," she said. "What does exist in the Constitution is the delegation of authority for the administration of elections to states, which sounds very benign until you realize that for most of American history, voter suppression has been almost entirely the construct of states.
What the Voting Rights Act did in 1965 was shatter the impermeable nature of states to say who could and could not vote. The Voting Rights Act said you could not use race — and, by 1975, that you could not use language — as a way to preclude access to the right to vote. It said that states could not take proactive steps to block the right to vote through poll taxes, literacy tests, closing of polling places — any action that would interfere with the right of people of color, or people who spoke English as a second language, to vote. In states that had a long and storied history of blocking the right to vote, no new voting laws could be countenanced without having the Department of Justice approve."
Wear a mask. Go to the polls. Cast your vote. Save our democracy. https://t.co/lClnYYPro6

📸: @kevloweryphoto https://t.co/SEvQfRj2xy

— Stacey Abrams (@Stacey Abrams)1604434509.0
The Voting Rights Act helped get the U.S. to a place where we elected our first Black president in 2008 and again in 2012. Then, in 2013, it was gutted by a Supreme Court case that essentially removed the rule that states had to get their voter rules approved by the federal government.
"That was essentially a get out of jail free card for states that wanted to discriminate; what was different this time is that it was no longer relegated to those states that participated in voter suppression through Jim Crow," said Abrams.
"You had a proliferation across the country of voter suppression techniques that had been prohibited clearly by the Voting Rights Act. That's why you saw the rapid shutdown of polling places. That's why you saw the expansion of restrictive voter ID laws. That's why in 2020, we are seeing so many cases that essentially challenge state laws designed to restrict who has access to the right to vote."
Thanks to Abrams' efforts—among others—to ensure that more Americans have their voices heard at the ballot box, Georgia may end up turning blue. In the very least, it's now a solid purple, which is a huge accomplishment for those who have worked so hard to enfranchise voters.
@VanJones68 @LUCHA_AZ @staceyabrams major props and love to @staceyabrams no matter the result in GA – what an acco… https://t.co/3wS6yRilO4

— / / WAYWARD (@/ / WAYWARD)1604608227.0
Thank you, Stacey Abrams, and all the other warriors fighting for voter protection, for carrying America to the finish line of this hard-fought race.
From Your Site Articles
Related Articles Around the Web
function rm_fn_9000afc3d3fb8457c9fe38b660cb490c() {
!function(f,b,e,v,n,t,s) {if(f.fbq)return;n=f.fbq=function(){n.callMethod? n.callMethod.apply(n,arguments):n.queue.push(arguments)}; if(!f._fbq)f._fbq=n;n.push=n;n.loaded=!0;n.version='2.0'; n.queue=[];t=b.createElement(e);t.async=!0; t.src=v;s=b.getElementsByTagName(e)[0]; s.parentNode.insertBefore(t,s)}(window, document,'script', 'https://connect.facebook.net/en_US/fbevents.js'); fbq('init', '1676218835946757'); fbq('track', 'PageView'); } window.REBELMOUSE_LOW_TASKS_QUEUE.push(rm_fn_9000afc3d3fb8457c9fe38b660cb490c);
function rm_fn_e3323212a5c1a85caff08537172126b3() { function fbvideoID(frame) { var myRegexp = /2F(d+)%/g; var match = myRegexp.exec(frame); return match[1]; } var fbIframe = document.querySelector('iframe[src^="https://www.facebook.com/plugins/video.php?"]'); if (fbIframe) {fvVidID = fbvideoID(fbIframe.getAttribute('src')); if (fvVidID) { fbIframe.insertAdjacentHTML("beforebegin", '
'); // fbIframe.parentNode.removeChild(fbIframe); } } var videoId = "promoted-video"; var oldFacebookVideo = document.getElementById(videoId); if (!oldFacebookVideo) { return }; var facebookVideoPost = oldFacebookVideo.closest(".widget"); if (!facebookVideoPost) { return };
var facebookVideo = facebookVideoPost.querySelector("#" + videoId); facebookVideo.classList.add("fb-video"); var firstPost = document.querySelector(".widget.post-partial");
function onScriptLoad() { FB.init({ appId: window.REBELMOUSE_BOOTSTRAP_DATA.fbId, version: window.REBELMOUSE_BOOTSTRAP_DATA.fbAppVersion, status: true, cookie: true, }); FB.XFBML.parse(); if(fbIframe){ fbIframe.parentNode.removeChild(fbIframe); } }
function loadFacebookScript() { var existingScript = document.querySelector('script[src="https://connect.facebook.net/en_US/sdk.js"'); if (!existingScript) { var script = document.createElement("script"); script.src = "https://connect.facebook.net/en_US/sdk.js"; document.head.appendChild(script); script.addEventListener("load", onScriptLoad); } }
function intersectorCallback(video_player) { var booted = false; var totalSeconds = 0; var interval = null;
function impressionCounter() { totalSeconds++; console.log("I've been watching for " + totalSeconds + " seconds"); } return function intersector(entries) { var entry = entries[0]; if (entry.isIntersecting) { if (!booted) { booted = true; video_player.mute(); video_player.play(); } interval = setInterval(impressionCounter, 1000); } else { if (interval) { console.log("I've stopped watching at " + totalSeconds + " seconds"); clearInterval(interval); interval = null; } } }; }
function trackVideo(video_player) { var observer = new IntersectionObserver(intersectorCallback(video_player), {}); observer.observe(facebookVideo); }
function onFacebookElementLoaded(msg) { if (msg.type === "video" && msg.id === videoId) { trackVideo(msg.instance); } }
function onFacebookReady() { FB.Event.subscribe("xfbml.ready", onFacebookElementLoaded); if (window.oldFacebookWaiter) window.oldFacebookWaiter(); }
if ("FB" in window) { onFacebookReady(); } else { window.oldFacebookWaiter = window.fbAsyncInit; window.fbAsyncInit = onFacebookReady; loadFacebookScript(); } } window.REBELMOUSE_TASKS_QUEUE.push(rm_fn_e3323212a5c1a85caff08537172126b3);