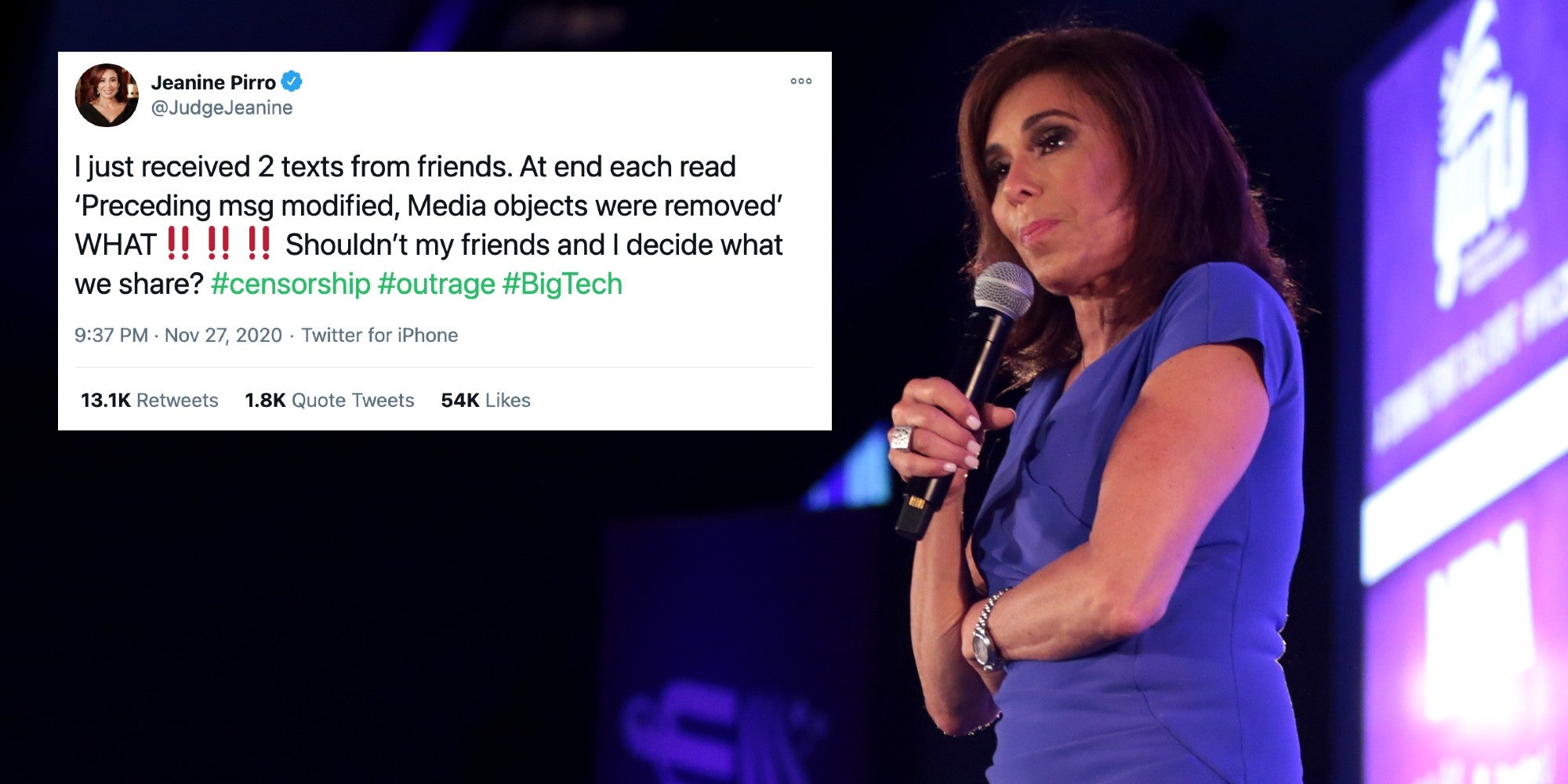 Fox News host Jeanine Pirro claimed that her text messages were being censored on Friday in a bizarre statement on Twitter.
Pirro alleged that multiple texts she received had apparently been modified in a clear case of big tech overreach.
"I just received 2 texts from friends," Pirro wrote. "At end each read 'Preceding msg modified, Media objects were remove.' WHAT. Shouldn't my friends and I decide what we share?"
But the message Pirro received is not abnormal nor evidence of censorship.
And while the message can be linked to several different issues, it appears to indicate that Pirro is using Verizon on an older model phone.
Countless users have similarly reported receiving the error message in technical support forums
across the internet.
The message can simply mean that Pirro received a text message that was over 160 characters. It can also suggest that she was sent a media object, such as an emoji, that is incompatible with her phone or a file that was too large.
Such messages are designed to let users know that all elements of a text message may not have been included. The issue would be easily fixed if Pirro opted to purchase a modern phone.
Numerous Twitter users were also aware of the common error message and mocked Pirro for claiming that the incident was evidence of something nefarious.
"That's what happens when someone sends me emojis I don't have on my phone," @krys10iam said. "Put the wine down, lady."
The Daily Dot reached out to Verizon to inquire about Pirro's tweet and the error message but did not receive a reply by press time.
Pirro is just the latest in a long line of prominent figures to make outlandish and inaccurate claims due to their limited understanding of technology.
Fox News analyst Gregg Jarrett suggested in October that issues with his home Wi-Fi could be linked to a conspiracy to stop him from criticizing then-Democratic presidential nominee Joe Biden.
---
This week's top technology stories
*First Published: Nov 29, 2020, 1:00 pm
Mikael Thalen is a tech and security reporter based in Seattle, covering social media, data breaches, hackers, and more.