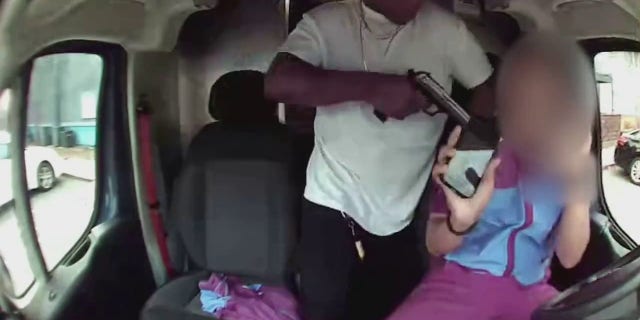 Two career criminals are back behind bars after robbing a delivery driver at gunpoint earlier this month.
On Wednesday, the Orange County Sheriff's Office released terrifying dashcam video of two men robbing an Amazon driver at gunpoint in broad daylight on Jan. 13. 
In the video, one man is seen holding a gun to the worker's neck before going into the back of the truck to steal packages. The other man is outside the truck for most of the video, but he pops inside the driver's side door when his partner goes into the back to take the packages.
The men were later identified as Arkimase Divinard, 22, and Joel Junior Aime, 23.
VIRGINIA THIEVES BREAK IN, STEAL 10 HANDGUNS FROM SHOOTING RANGE: SURVEILLANCE VIDEOS
The sheriff's office said the Amazon driver was not hurt during the crime.
Divinard and Aime, who both have long criminal histories, share 85 felony charges and 11 felony convictions between the two of them. 
According to Florida jail records, Divinard was most recently sentenced to three years in prison for carjacking without a firearm/deadly weapon. He was released in November 2022. His prior convictions include battery on a person above the age of 65 and robbery without a deadly weapon.
There were no records available in the Florida Department of Corrections database under the name Joel Junior Aime.
"We hope they will stay locked up for a long, long time," OCSO wrote on social media.
PHILADELPHIA SUSPECTS TRY TO ROB MARKET WITH SHOTGUN
According to Fox 35 Orlando, a witness flagged down deputies after watching the robbery near the Caden Apartments at 1953 Americana Blvd.
The outlet reported that the Amazon driver told deputies he noticed a Black male standing near the driver's side of the truck after completing a delivery. When the driver got inside the truck, a second Black male entered the van's cargo area and demanded the driver give up his belongings while pointing a gun at him.
The second man, who is seen mostly in the video, took the driver's cell phone and debit cards, and he searched the driver's pockets for more items. Ten packages were also stolen from the truck.
Both men fled the scene in a white van. After he was identified in the dashcam footage, Aime was later seen in a white Honda van and was arrested.
Divinard was identified by his tattoos. The delivery driver also provided deputies with a screenshot of the Find My iPhone app, which revealed the location of his stolen phone as Divinard's home address.
CLICK HERE TO GET THE FOX NEWS APP
Both men have been arrested and are charged with robbery with a firearm, according to the sheriff's office.