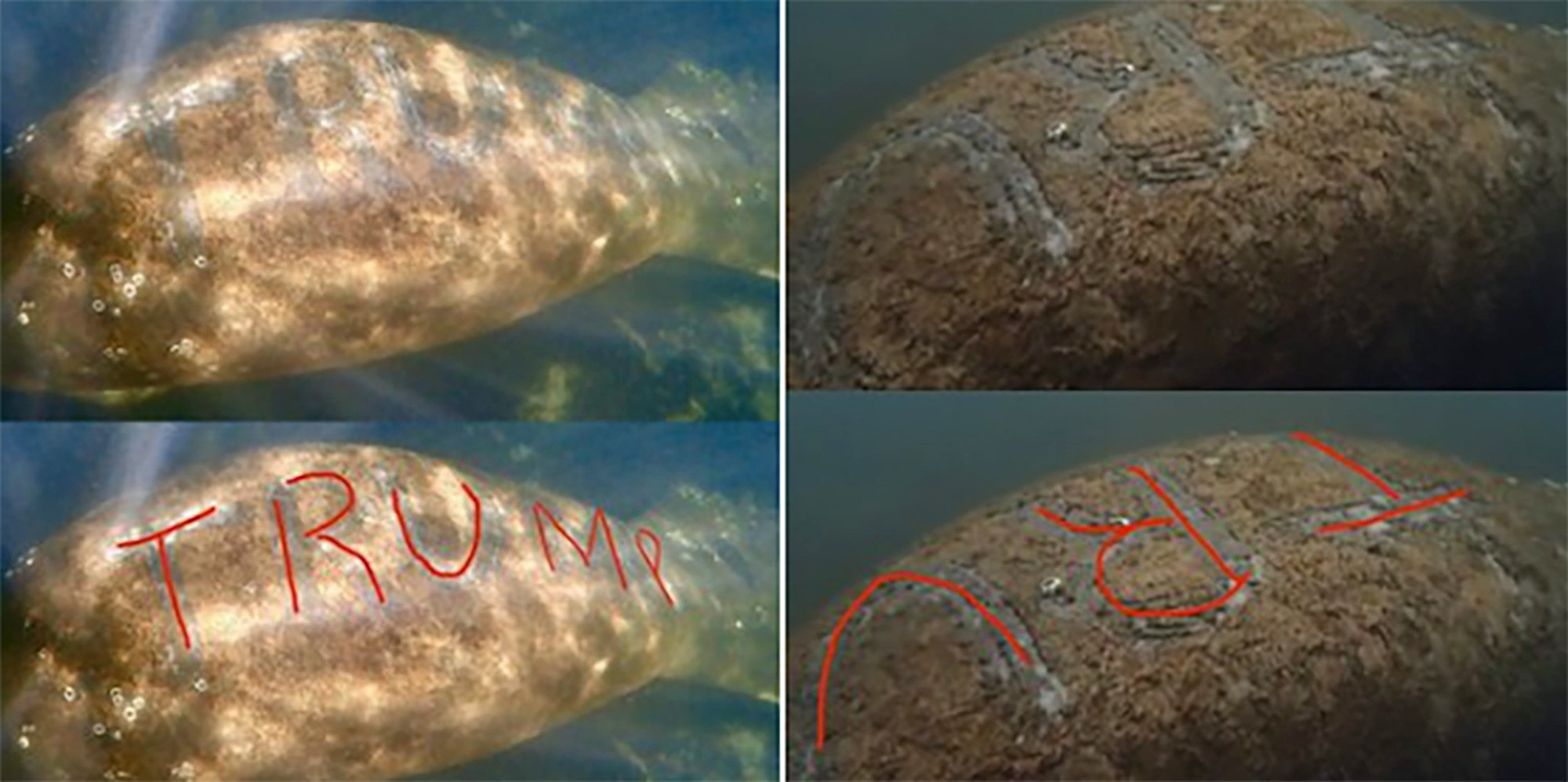 The United States Fish and Wildlife Service is seeking the person or people responsible for scraping, carving, or otherwise writing Trump into a manatee's back, after learning about the disturbing incident over the weekend.
The manatee was found in the headwaters of the Homosassa River on Florida's Gulf Coast north of Tampa.
According to a report in the Citrus County Chronicle, senior federal wildlife officer and current investigating officer Craig Cavanna said that added harassment of a manatee, protected by the Endangered Species Act, is a Class A federal criminal offense punishable by a $50,000 fine and/or up a year in federal prison.
While he stated that he "couldn't comment on a current, ongoing investigation," he did state that the incident was unusual for the county.
"It's been my experience that this is very out of character for this community," Cavanna told the publication. "Wildlife conservation is a core value in Citrus County. That's why it's called the Nature Coast."
Citrus County has made news in recent years for being demonstratively pro-Trump, however. On Nov. 5, 2019, the Guardian reported that the Citrus County commissioners blocked its library system from obtaining a digital subscription to the New York Times, labeling the newspaper as "fake news" and objecting to its treatment of Trump.
"I don't want the New York Times in this county," commissioner Scott Carnahan said at the time. "I don't agree with it, I don't like 'em, it's fake news and I'm voting no. They can take that money and do something else with it … I support Donald Trump."
Photos of the manatee were shared on Twitter by a number of concerned people, including Eric Feigl-Ding, who trumpeted "HELP FIND WHO MUTILATED A MANATEE" to lead his thread, with different angles of the manatee and guidelines to show where the letters were scraped into its back.
Later tweeting the Orlando Sentinel's coverage of the incident, he added, "I wish this manatee Trump thing wasn't real, but it is real. We must find who was responsible."
One respondent noted, "Scraped, not carved. As in, removed the dirt and algae off of its back."
As that person asserted, that action would be "still illegal, but let's be clear for the people panicking in the comments that the manatee appears to not have been physically harmed at all."
Still, as Yashar Ali observed, "Here is the video of the poor manatee that had 'TRUMP' carved into its body. Minding its own business and some monster(s) came along and did this."
The Miami Herald's coverage noted, "It was unclear how the word was applied, whether it had been scraped on the algae that often grows on the backs of the slow-moving sea cows, or drawn in some other way."
It also noted that the Center for Biological Diversity is offering a $5,000 reward for information toward conviction of those responsible.
"It's heartbreaking that this manatee was subjected to this vile, criminal act," Jaclyn Lopez, the Center's Florida director, told the Miami Herald. "It's clear that whoever harmed this defenseless, gentle giant is capable of doing grave violence and needs to be apprehended immediately."
*First Published: Jan 11, 2021, 5:14 pm