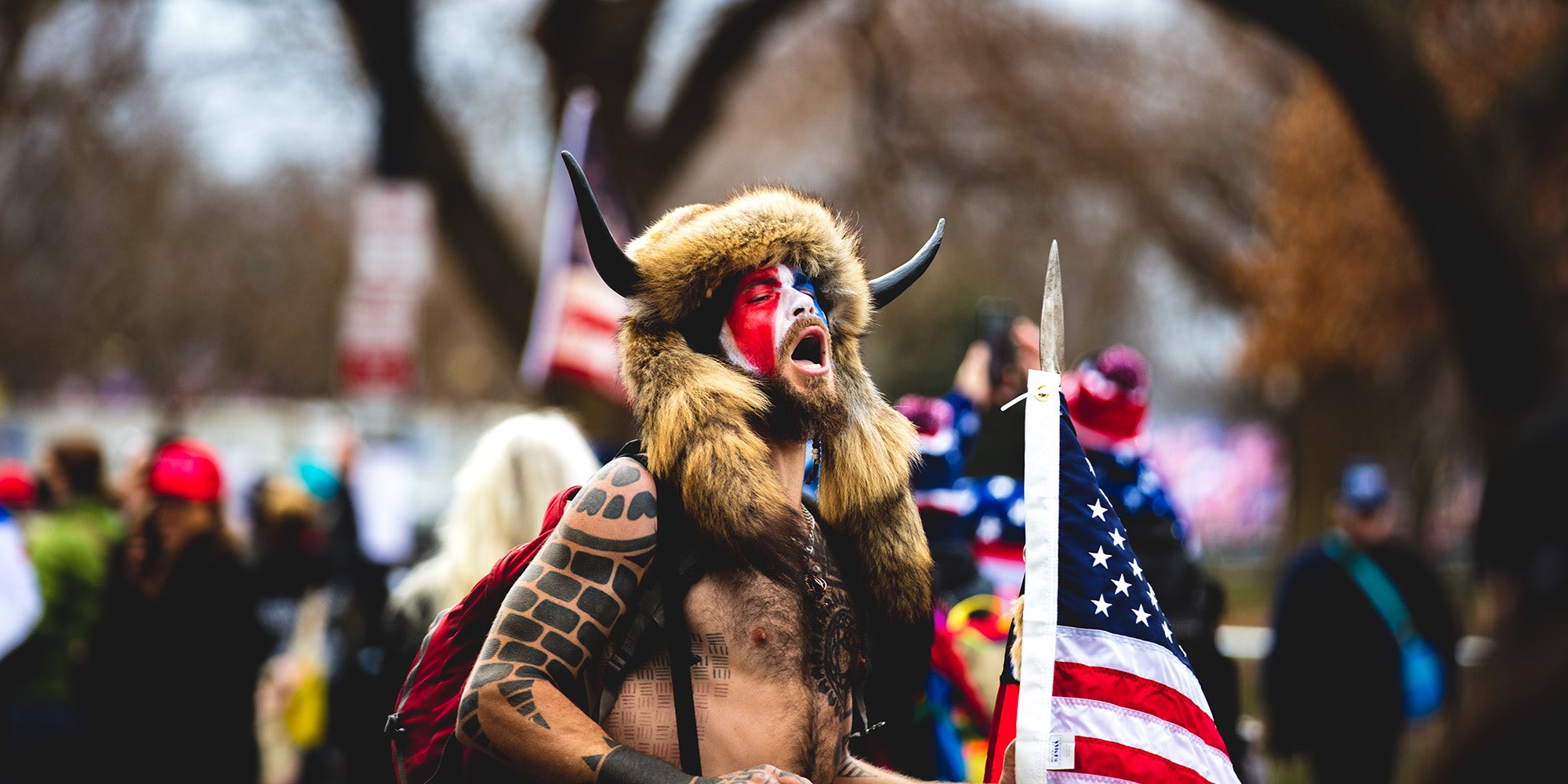 A tweet from Phoenix television reporter Melissa Blasius reveals the QAnon activist known as the "Q Shaman," making his first court appearance Monday for charges related to the U.S. Capitol riot last week, hasn't eaten since Friday because "the detention facility won't feed him all organic food."
The tweet, sent Monday afternoon, sources the mother of Jacob Chansley, aka Jake Angeli, for his apparent self-imposed hunger strike.
As the Daily Dot reported last Wednesday, Angeli was photographed inside the U.S. Capitol, including in one of its legislative chambers, as part of the siege. Perhaps because of his fur, horned headdress, and painted face, he has emerged as arguably the most iconic participant.
The tweet struck a nerve with a number of online people for different reasons. The Hoarse Whisperer cracked, "It's a jail, Jacob. It isn't a Whole Foods."
Filmmaker Mike Dorsey observed, "This dude sounds super ready for the hardships of a protracted civil war," which led a respondent to adopt an old-timey letter writing voice to "report," "Tonight we feast upon Kale, Quinoa, and Locally Sourced Heirloom Tomatoes for tomorrow, we attack those that wish to give us healthcare. We light out at dawn ... No wait, we can't find any free trade coffee, so we pushed it to noon."
One person, who touched on the meme that had Angeli resembling Jamiroquai singer Jay Kay, observed, "Bootleg Jamiroquai thought there was organic food in jail?"
Celebrities even got into the fray. Top Chef host Padma Lakshmi simply said, "I'm done," while former Rep. Katie Hill (D-California) imagined Angeli saying, "I led an insurrection but the federal prison is abusing me because I won't eat non-organic food," before adding, "Wow."
And former Sen. Claire McCaskill (D-Missouri) chimed in, "Ok, this is funny. Organic food demanded by domestic terrorists."
And artist Rob Sheridan remarked, "'His mom says he hasn't eaten since Friday because the detention facility won't feed him all organic food' is a sentence I'm going to let swirl around like a fine wine in a tasting glass, inhaling it slowly to savor the rich aroma, bursting with notes of soyboy and snowflake."
While many of the Twitter responses were of the dunking variety, one person appeared concerned, saying, "This is the type of news that we should stop reporting."
Though someone responded with a counterpoint—"this is extremely funny"—that a number of people appeared to agree with.
*First Published: Jan 11, 2021, 6:13 pm