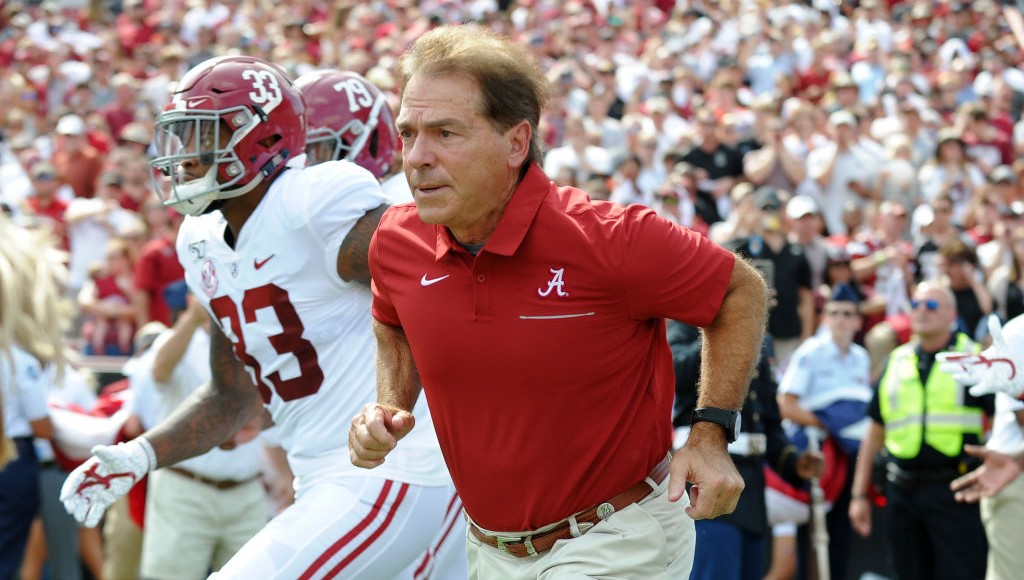 After a Week 1 slate that featured just a handful of big matchups, headlined by Sunday night's dominant performance by Florida State against LSU, the Week 2 schedule in college football boasts the best top-to-bottom Saturday we've gotten in the early season. There are fascinating non-conference matchups throughout the day, with some teams looking to verify a surprisingly strong openers while others are looking to turn the page completely after a disastrous Week 1.
Here we'll look at the best and most intriguing games to watch in each window to try and help guide you to the games everyone will be talking about in the fourth quarter.
Nebraska (+3.5) at Colorado, 12:00 p.m. ET (FOX)
The Huskers lost yet another one-score game in their opener against Minnesota, as their close game demons continue to persist, struggling with turnovers and finishing off drives. Colorado meanwhile stunned TCU on the road and is returning home for the first game of the Coach Prime era in Boulder, which should be rocking to see Shedeur Sanders and Travis Hunter in action. On the look ahead line, Colorado was going to be a touchdown underdog but they're now favored by more than a field goal and it's not hard to see why. Their transfer portal activity has given them a serious athlete advantage, although there are still concerns in the trenches. If Nebraska commits to running the ball and letting Jeff Sims do work with his legs, they should find success against the Buffaloes defense. However, if they test the Buffs secondary through the air too often with a turnover prone QB, they might find some trouble. For Sanders and the Colorado offense, Nebraska will be a different test than TCU and we'll see if Sanders and Hunter can back up their star-making breakouts in the opener with more big time performances.
Utah (-7.5) at Baylor, 12:00 p.m. ET (ESPN)
One of the smelliest lines of the weekend has Utah as just a 7.5-point road favorite against a Baylor team that just lost the opener to Texas State — and not by a fluke. The Bobcats torched the Bears defense and while Utah isn't typically an explosive offense, they will lean on you until you break and the Bears certainly looked breakable in the opener. Utah's defense looked like its usual strong self against Florida, and Baylor will be put to the test physically in this one. That said, Utah always looks a touch different on the road so we'll see if the Utes can travel with a young QB and put on a similar showing to what they did against the Gators.
Notre Dame (-7.5) at NC State, 12:00 p.m. ET (ABC)
The Irish returned from a big Week 0 win in Ireland and took care of business in Week 1 at home against Tennessee State. NC State looked shaky for a bit, but got across the finish line at UConn but has a big time test coming into Raleigh this week. State is typically very good at home against non-conference opponents, but Notre Dame is a semi-ACC member at this point and certainly looks the part of a legit Playoff threat. The Wolfpack know Sam Hartman from his time at Wake and had a great game against him last year, but I'm more concerned with the Pack's efforts up front. They got mauled at times by a UConn team that should have inferior size and strength, and Notre Dame's lines should be far superior to the Huskies. If NC State can't hold their water up front on either side of the ball, it won't really matter how good of a gameplan they construct for Hartman.
Texas A&M (-4) at Miami, 3:30 p.m. ET (ABC)
A year ago, these two teams met in a grinder in College Station that saw the Aggies win 17-9. This year they meet in South Florida, where defense again figures to lead the way for both teams. Miami (FL) dominated Miami (OH) in their opener, yielding only three points, while A&M smashed New Mexico 52-10. Neither of those indicates much for these teams when it comes time to face a quality opponent, but we saw last year that points figure to be at a premium as there are serious athletes on the defensive side of the ball for both of these teams. Whichever offense can establish some form of rhythm in this one should gain the upper hand for their team, but it could be another tense, low-scoring affair on ABC.
Ole Miss (-7.5) at Tulane, 3:30 p.m. ET (ESPN2)
There are a number of rock fight possibilities in the midday window, so for those seeking out offense, let me direct you to Ole Miss-Tulane. Lane Kiffin's boys always look to push the tempo and get up and down the field, while the Wave looked sensational against South Alabama and for a team typically led by their rushing attack, Tulane has some real juice in the passing game with Michael Pratt. I expect this to be pretty back and forth with both teams moving the ball well, and for the Wave this is the biggest game on their schedule so they'll be looking to make a statement at home against an SEC opponent.
Iowa (-3.5) at Iowa State, 3:30 p.m. ET (FOX)
With that out of the way, let's get back to said rock fights with the annual rivalry that almost always delivers in the areas of defense and punting. In theory, there will be far more exciting games than this, but because points are always at a premium here, this game is almost always very tense come the fourth quarter. Iowa's new-look offense looked good for about one quarter in the opener before once again turtling up for the remainder of the afternoon against Utah State, so color me skeptical that they're going to break out against their in-state rivals.
UTEP (-1.5) at Northwestern, 3:30 p.m. ET (Big Ten Network)
You should not watch this game, but as I mentioned last week, one of the great things about college football is the opportunity to do a lil' rubbernecking when there's a train wreck going on. Northwestern's entire football program is that train wreck at the moment, and it is so bad that the Wildcats are home dogs to a UTEP team that has not beaten a Power 5 conference team since 1967! The Miners are a middling CUSA team that lost its opener to a team playing its first-ever game at the FBS level, and yet they are favored (and probably rightfully so) against a Big Ten school. That's incredible and it might be worth just tossing this on a second or third screen to check in on just how much of a disaster the Cats are as this gets into the fourth quarter.
Appalachian State (+19.5) at UNC, 5:15 p.m. ET (ACC Network)
UNC looked solid in the opener against South Carolina, but it wasn't as impressive to me as the score's line might indicate. Drake Maye still can make eye-popping throws, but the decision-making wasn't the best in the opener. They're big favorites against App State this week at home, but I'm just interested to see how the Heels hold up on defense against the 'Eers in this one and if Maye gets back on track a bit. Good luck finding the ACC Network depending on where you live, but if you're able, this one could be an interesting option should some of the 3:30 games get out of hand.
Texas (+7) at Alabama, 7:00 p.m. ET (ESPN)
There's not really a question what the game of the day is as Texas heads to Tuscaloosa in a rematch of one of the most thrilling games of 2022. Alabama won that game, but did so largely on the heroics of Bryce Young. He is gone and Quinn Ewers is back healthy after getting knocked out of the Alabama game last year by a massive hit. That said, the Tide look much improved defensively and I think they like Jalen Milroe and his abilities to lead the running game more than Nick Saban has maybe let on. This will be a great measuring stick game for both teams, because Alabama's looking to reassert themselves as a title favorite while Texas would like to finally get the type of big win that announces their arrival in the playoff hunt.
Oregon (-6.5) at Texas Tech, 7:00 p.m. ET (FOX)
Oregon scored 81 in Week 1, albeit against an FCS opponent, and Texas Tech lost on the road to Wyoming in overtime. So it came as a bit of a surprise to find the Ducks are only a 6.5-point favorite in this one, and we're going to find out something about both teams in this one. Oregon is looking to prove it's the real deal with Bo Nix back under center, and to do that they need to win this game by much more than the Vegas line would indicate. Texas Tech, meanwhile, really needs a bounce back week after a dismal loss to the Cowboys and will need to figure out how to consistently move the ball after scoring 17 in the first quarter at Wyoming and then just three the rest of regulation. I'm not sure how long this one will need to be on your TVs, but it'll be worth keeping an eye on to see if the Ducks can make a statement or if the oddsmakers were right about this being a bit of a trap game on the road.
UCF (-3.5) at Boise State, 7:00 p.m. ET (FS1)
Two of the best non-traditional powers of the last two decades meet in Boise, but they are teams that feel like they're moving in different directions. UCF thrashed Kent State in the opener and is looking to make some noise in Year 1 in the Big 12. Boise, unfortunately, was on the wrong end of a thrashing at Washington and is going to have to shore up their big play defense if they're going to deal with the Knights. The good news is UCF does their damage mostly on the ground and Boise got torched through the air, so maybe they'll be better against UCF. That said, Gus Malzahn offenses are always looking for the chance to hit a big play, just puttering along until you give them the look they want. Boise gave a lot of those looks to Michael Penix and Washington, and we'll see if that gets shored up in time for UCF.
Wisconsin (-6) at Washington State, 7:30 p.m. ET (ABC)
First off, congratulations to all the bars in Pullman on your biggest profits of the year. Second, this is a really weird non-conference matchup and I absolutely love it. Wisconsin spun the tires a bit in the opener against Buffalo and showed there's serious work to do if they're going to hit their ceiling in the first year under Luke Fickell. The new offense led by Tanner Mordecai was not firing on all cylinders and they're gonna need to put up some points against a Wazzu team that looked real good at Colorado State. We'll find out what that all means on Saturday evening in Pullman, but this could be a pretty fun one.
UCLA (-14) at San Diego State, 10:00 p.m. ET (CBS)
Chip Kelly didn't seem real happy in the opener, but UCLA still cruised to a 27-13 win over Coastal Carolina. Now they face another solid G5 team on the road at SDSU, and we'll see if the Aztecs can take the air out of the ball and again frustrate Kelly over limited possessions with the new clock rules. Kelly still is messing around with two quarterbacks and that could make this game closer than Bruins fans would like, particularly if SDSU can establish it on the ground and play a lil keep away to shorten this game.
Auburn (-6) at Cal, 10:30 p.m. ET (ESPN)
It's not often the late-night slate is the most exciting, but I think there's a lot of fascinating stuff to watch after 10 on Saturday. We'll start with another funky non-con matchup with Auburn headed to Berkeley to face a Cal team that ran roughshod on North Texas last week. If you like runnin' the dang ball, this game's for you, because the Tigers like to work it on the ground themselves but also were a bit suspect with their rush defense against UMass (albeit in a blowout win). Jadyn Ott's one of the best backs in the country and will give the Tigers all they can handle on the ground, and this could be a really fun one, particularly given how often Auburn games just get weird in the fourth.
Oklahoma State (-3) at Arizona State, 10:30 p.m. ET (FS1)
Another fun non-con game with the Pokes headed out to Tempe, where hopefully we won't get a dust storm delay that keeps the game from ending until 4 a.m. ET. Oklahoma State took care of business in a sleepy way in the opener against Central Arkansas, while Arizona State got all they could get from Southern Utah deep into the night. Freshman star QB Jaden Rashada showed flashes for the Sun Devils, but they'll need a bigtime performance from him if they're going to beat the Cowboys.
Stanford (+29.5) at USC, 10:30 p.m. ET (FOX)
Stanford took care of business at Hawaii last week and now gets to come back and face Caleb Williams and the high-flying Trojans offense. I'm still not sold USC can really stop anyone on defense when they face a really good team, but good luck to the Cardinal (and most anyone) in keeping up with the reigning Heisman winner in a point scoring contest. I do think the Cardinal can and will put up some points in this one, but this is mostly one to flip over to every once in awhile just to watch Williams chuck it around the yard.