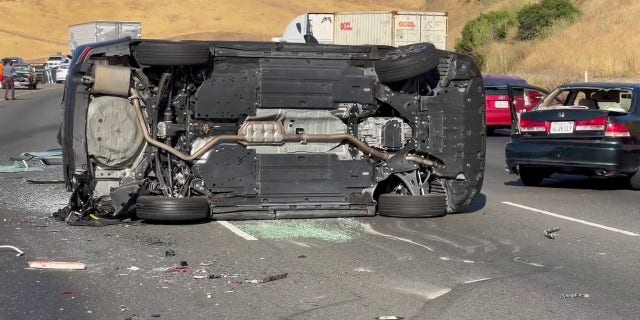 An unruly motor home plowed into 19 cars in slow-moving traffic on a busy California interstate, California Highway Patrol (CHP) confirmed with Fox News Digital. 
CHP officer Robert Purl told Fox News Digital that on Monday at approximately 6:04 p.m., officers received a call that a white motor home crashed into multiple vehicle on I-580 eastbound in northern California. 
Alan Wang captured the devastating aftermath of the multi-vehicle pile up after the RV "plowed" through the bumper-to-bumper traffic.
"It was bumper to bumper, and he was just plowing through everyone and just kept on going down the road, smashing into cars," Wang can be heard saying in his video.
Wang captured the chaotic scene after the RV plowed into the 19 vehicles. One car is seen on it's side while others are seen with cracked bumpers.
"A guy in an older model RV came smashing by and hit me," Wang said. "Smashed into everybody."
FIREFIGHTERS BATTLE LARGE SOUTHERN CALIFORNIA WILDFIRE AMID HIGH HEAT, CONTAINMENT CHALLENGES
"I don't even know where he is now," Wang said in the video.
After wrecking havoc, the RV sped off with CHP officer's quickly on it's tail. 
CHP said a Dublin, California patrol officer saw the white motor home, going 35 mph and passing cars on the right soldier. He observed the reckless driver crash into another vehicle on the off-ramp and continue on, despite crashing into another vehicle.
UNITED AIRLINES EMERGENCY EVACUATION SLIDE FALLS FROM PLANE INTO CHICAGO NEIGHBORHOOD
The CHP officer initiated a traffic stop on the RV, but it did not yield, Purl said. The officer chased the RV down an off-ramp to a road with light traffic. The RV became disabled, and a stand-off ensued.
About 18 minutes later, the suspect self-surrendered, and was taken into custody, police said.
CLICK HERE TO GET THE FOX NEWS APP
The CHP have not released the name of the suspect nor the number of individuals injured during the incident.