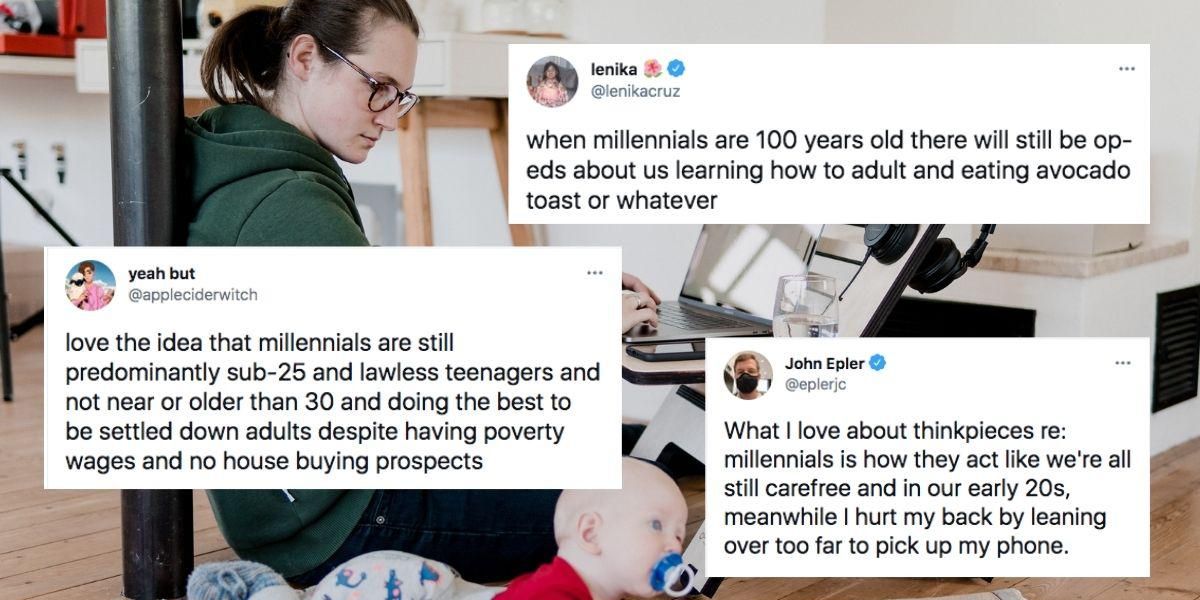 The battle between millennials and older generations isn't exactly a generational war—it's more a case of mistaken generational identity. A decade ago, whining about millennials being young adults unprepared to make their way in the world at least made sense mathematically. But when people bag on millennials now they end up looking rather foolish.
A marketing researcher with a doctorate in social psychology wrote an op-ed for the Chicago Tribune titled "Post-pandemic, some millennials finally decide to start #adulting." And when the Tribune shared it to Twitter, their since-deleted tweet read, "Writer Jennifer Rosner predicts COVID-10 lockdowns will force easy-breezy millennials to grow up."
Hoo boy.
Interestingly, the writer of the op-ed is a millennial herself, but she repeats generalizations about her entire generation that seem like they mainly apply to her own social circle. Read it yourself to decide, but regardless, the tweet of the op-ed itself set off a firestorm of responses from millennials who are tired of being painted as irresponsible young people who don't know how to "adult" instead of what they actually are.
---
First of all, the oldest millennials are turning 40 this year The youngest are 25—either well out of college or well into grad school. And yet, they've been thought of as the youngest adults for the past 10-15 years, even as they've aged into full-on adulthood.
The struggle of millennials is not that they don't know how to be adults. It's that the financial reality of the world in which they came of age made it much harder to get established than previous generations, with two recessions, stagnant wages, rising costs of living, and crippling debt from skyrocketing tuition costs.
Nonetheless, most millennials are 30-somethings who are in the midst of careers, paying mortgages, raising kids, and other extremely adult things. And they're doing it with less security and stability on a basic level than previous generations experienced. They are resilient because they have to be. They are resourceful because they have no choice.
What they, as a generation, are not? Easy breezy.
A good chunk of the parents who have had to figure out childcare for their young kids during a pandemic or learn on the fly how to help their children with virtual school while also managing their own careers from home? Millennials.
Seriously, the oldest millennials were early in their career years when the 2008 recession hit, and the youngest millennials are at that stage now, during this pandemic recession. Those lucky middle-millennials may have had an easier time finding a job—maybe—but they're still dealing with wages that haven't kept up with costs of living increases while trying to getting their families started.
Oh yeah, and they're inheriting a crescendoing global climate crisis to boot. Easy breezy!
The responses were swift and fierce.
And some of them were simply, wryly hilarious.
Every generation has its share of struggles and every generation thinks the generation before and after it is somehow flawed, but it's those generalizations themselves that are the biggest problem. Sure, there are generational differences born of changes in the world, social pendulum swings, and reactions to our own upbringings, but to blame a generation for circumstances they can't control is pretty crappy and to lump them all together as lazy or entitled or "easy breezy" is as inaccurate as it is rude.
I'm not a millennial—solidly Gen X here—but the millennials I know are great people. Leave them alone unless you've got a solution to the challenges they're facing beyond "stop buying avocado toast" and "save up money from your underpaid job for a house you can't afford." And for the love of all that is good and holy, stop talking about them like they're doe-eyed college students. Time to give them the full respect we give all "real" adults. They've definitely earned it.
window.REBELMOUSE_LOWEST_TASKS_QUEUE.push(function(){
var script = document.createElement('script'); script.src = "https://cdn.cookielaw.org/scripttemplates/otSDKStub.js"; script.charset = "UTF-8"; script.setAttribute("data-domain-script","1118f59d-8351-4eb7-bea6-6a23d2f57cf9"); document.getElementsByTagName('head')[0].appendChild(script);
});
window.REBELMOUSE_LOWEST_TASKS_QUEUE.push(function(){
var tags = [ 'https://pymx5.com/scripts/ready.js', 'https://pymx5.com/scripts/ims.js', 'https://pymx5.com/scripts/load_tags.js' ]
function l() { if (tags.length) { var tag = tags.pop(); var script = document.createElement('script'); script.setAttribute('src', tag); script.onload = l; document.body.appendChild(script); } else { window.ia = window.ia || function () { (window.ia.q = window.ia.q || []).push(arguments); } ; ia('track', 'PAGE_VIEW');
docReady(function() { ims.startServices(); } ); } }
l();
});
window.REBELMOUSE_LOWEST_TASKS_QUEUE.push(function(){
window.REBELMOUSE_STDLIB.loadExternalScript("https://ats.rlcdn.com/ats.js", function() {
ats.start( { "placementID": 103, "storageType": "localStorage", "detectionType": "scrape", "cssSelectors": [ "input[type=text]", "input[type=email]" ], "logging": "error" });
});
});
window.REBELMOUSE_LOWEST_TASKS_QUEUE.push(function(){
!function(f,b,e,v,n,t,s) {if(f.fbq)return;n=f.fbq=function(){n.callMethod? n.callMethod.apply(n,arguments):n.queue.push(arguments)}; if(!f._fbq)f._fbq=n;n.push=n;n.loaded=!0;n.version='2.0'; n.queue=[];t=b.createElement(e);t.async=!0; t.src=v;s=b.getElementsByTagName(e)[0]; s.parentNode.insertBefore(t,s)}(window, document,'script', 'https://connect.facebook.net/en_US/fbevents.js'); fbq('init', '1676218835946757'); fbq('track', 'PageView');
});
window.REBELMOUSE_LOWEST_TASKS_QUEUE.push(function(){
function triggerComscorePageView() { console.log('triggerComscorePageView'); window.COMSCORE && COMSCORE.beacon({c1: "2", c2: "18736521"}); fetch("https://www.upworthy.com/res/3rdparty/comscore_pageview"); }
if (typeof rblms !== 'undefined') { rblms.require(['core/event_dispatcher'], function(eventDispatcher) { eventDispatcher.on('viewRegistry:initViews', triggerComscorePageView); }); }
document.addEventListener('click', event => { if (event.target && event.target.classList.contains('show-more')) { triggerComscorePageView() } });
urlChangeHandler(triggerComscorePageView);
});
window.REBELMOUSE_LOWEST_TASKS_QUEUE.push(function(){
(function() { try{var a={l1:document.location.host.replace(/^www./,""),l2:document.title||"Untitled",l3:"__page__",l4:"-",sa:"",sn:""},b=[],c;for(c in a)b.push(c+"="+encodeURIComponent(a[c]));b=b.join("&");(new Image).src="https://d26n2uyu5tcx3y.cloudfront.net?a=5ac31c1640c74c36900b97047f570f19";var d=document.createElement("script");d.type="text/javascript";d.async=!0;var e=document.getElementsByTagName("script")[0];e.parentNode.insertBefore(d,e);d.src="https://z.moatads.com/upworthy105Vonz37/moatcontent.js#"+b}catch(f){try{var g= "//pixel.moatads.com/pixel.gif?e=24&d=data%3Adata%3Adata%3Adata&i=MOATCONTENTABSNIPPET1&ac=1&k="+encodeURIComponent(f)+"&j="+encodeURIComponent(document.referrer)+"&cs="+(new Date).getTime();(new Image).src=g}catch(h){}}; })();
});
window.REBELMOUSE_LOWEST_TASKS_QUEUE.push(function(){
(function(w,d) { w.kwa || (w.kwa = function()
{ (w.kwa.q = w.kwa.q || []).push(arguments); } ); se = d.createElement('script'), fs = d.scripts[0]; se.src="https://cdn.keywee.co/dist/analytics.min.js"; fs.parentNode.insertBefore(se,fs) }(window, document));
kwa('initialize',603);
});
window.REBELMOUSE_LOWEST_TASKS_QUEUE.push(function(){
(function(h,o,t,j,a,r){ h.hj=h.hj||function(){(h.hj.q=h.hj.q||[]).push(arguments)}; h._hjSettings={hjid:1648575,hjsv:6}; a=o.getElementsByTagName('head')[0]; r=o.createElement('script');r.async=1; r.src=t+h._hjSettings.hjid+j+h._hjSettings.hjsv; a.appendChild(r); })(window,document,'https://static.hotjar.com/c/hotjar-','.js?sv=');
});
window.REBELMOUSE_LOWEST_TASKS_QUEUE.push(function(){
let asd=false
});
window.REBELMOUSE_LOWEST_TASKS_QUEUE.push(function(){
function fbvideoID(frame) { var myRegexp = /2F(d+)%/g; var match = myRegexp.exec(frame); return match[1]; } var fbIframe = document.querySelector('iframe[src^="https://www.facebook.com/plugins/video.php?"]'); if (fbIframe) {fvVidID = fbvideoID(fbIframe.getAttribute('src')); if (fvVidID) { fbIframe.insertAdjacentHTML("beforebegin", '
'); // fbIframe.parentNode.removeChild(fbIframe); } } var videoId = "promoted-video"; var oldFacebookVideo = document.getElementById(videoId); if (!oldFacebookVideo) { return }; var facebookVideoPost = oldFacebookVideo.closest(".widget"); if (!facebookVideoPost) { return };
var facebookVideo = facebookVideoPost.querySelector("#" + videoId); facebookVideo.classList.add("fb-video"); var firstPost = document.querySelector(".widget.post-partial");
function onScriptLoad() { FB.init({ appId: window.REBELMOUSE_BOOTSTRAP_DATA.fbId, version: window.REBELMOUSE_BOOTSTRAP_DATA.fbAppVersion, status: true, cookie: true, }); FB.XFBML.parse(); if(fbIframe){ fbIframe.parentNode.removeChild(fbIframe); } }
function loadFacebookScript() { var existingScript = document.querySelector('script[src="https://connect.facebook.net/en_US/sdk.js"'); if (!existingScript) { var script = document.createElement("script"); script.src = "https://connect.facebook.net/en_US/sdk.js"; document.head.appendChild(script); script.addEventListener("load", onScriptLoad); } }
function intersectorCallback(video_player) { var booted = false; var totalSeconds = 0; var interval = null;
function impressionCounter() { totalSeconds++; console.log("I've been watching for " + totalSeconds + " seconds"); } return function intersector(entries) { var entry = entries[0]; if (entry.isIntersecting) { if (!booted) { booted = true; video_player.mute(); video_player.play(); } interval = setInterval(impressionCounter, 1000); } else { if (interval) { console.log("I've stopped watching at " + totalSeconds + " seconds"); clearInterval(interval); interval = null; } } }; }
function trackVideo(video_player) { var observer = new IntersectionObserver(intersectorCallback(video_player), {}); observer.observe(facebookVideo); }
function onFacebookElementLoaded(msg) { if (msg.type === "video" && msg.id === videoId) { trackVideo(msg.instance); } }
function onFacebookReady() { FB.Event.subscribe("xfbml.ready", onFacebookElementLoaded); if (window.oldFacebookWaiter) window.oldFacebookWaiter(); }
if ("FB" in window) { onFacebookReady(); } else { window.oldFacebookWaiter = window.fbAsyncInit; window.fbAsyncInit = onFacebookReady; loadFacebookScript(); }
});



Source link