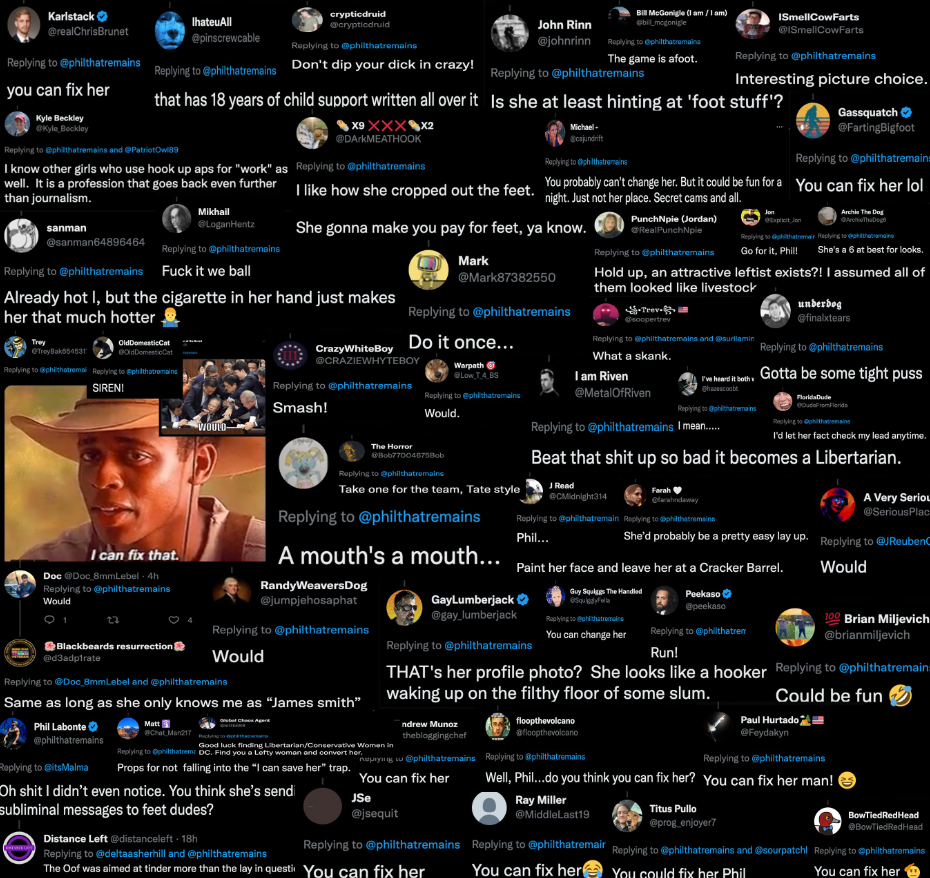 May-December romances get a lot of attention because they're incredibly rare. Relationships that bridge the political divide are also something of an exception.
So when Tinder matched Philip Labonte with Katherine Abughazaleh, theirs would've been an exceedingly uncommon union. Labonte is a 47-year-old libertarian who contributes to conservative influencer Tim Pool's show, and Abughazaleh is a 23-year-old who works for the left-leaning Media Matters.
Labonte could've swiped left and moved on with his life. Instead he apparently "super liked" Abughazaleh's profile, slid into her DMs, and tweeted a screenshot of her profile.
"I haven't even gotten the key to my apartment yet and Tinder is already tryin to hook me up with the Media Matters Tucker Carlson explainer girl," Labonte wrote, adding a crying-while-laughing emoji.
Labonte continued cutting up in the comments. When someone suggested, "Do it, Phil," he replied, "Only if she guarantees I make the 'worst of Tim Pool' list next year."
Labonte's tweet unleashed a floodgate of creepy comments about Abughazaleh.
Several suggested Labonte could "fix her." Others were far more explicit. More than one commented about her feet.
Media Matters is a left-leaning publication that has frequently reported on what it has described as the "extremists, bigots, and conspiracy theorists" who appear on Pool's show. Pool recently hosted white nationalist and antisemite Nick Fuentes alongside Kanye West. Abughazaleh is a Media Matters researcher who monitors Tucker Carlson's show. Labonte frequently appears as a guest to Pool's show.
Abughazaleh highlighted all the remarks she received in response to Labonte's tweet in one photo.
"POV: You're a 23-year-old woman who researches right-wing extremism and a 47-year-old conservative commentator posts your dating profile on Twitter," Abughazaleh tweeted along with screenshots of roughly 50 of the comments.
Abughazaleh added that she wasn't traumatized by the incident, but said it was "pathetic" and "gross" and also a fairly common occurrence.
Labonte's behavior wasn't well-received in some corners.
@What46HasDone commented, "This dude is about to be eligible for an AARP membership and he's tweeting condescending nonsense about a woman half his age as if she somehow is the lame one in this pairing."
"47 year old conservative men 'superliking' 23 year old media matters employees to own the libs—conservatives you have got to get your dudes in hand this is so fucking embarrassing for you," @SweatieAngle wrote of Labonte's initial tweet.
Many thought it was weird for Labonte to pay to super like Abughazaleh's profile so he could send her a message, then tweet about it as if it was just a joke.
Via Twitter direct message on Tuesday, Abughazaleh confirmed that Labonte DM'd her. His message said, "I haven't even gotten the keys to apartment yet and Tinder is playin games," along with a sideways smile.
People also questioned whether Tinder lets users pay extra to contact people outside their preferred age range. According to Tinder, people should only be able match with those who correspond to their age and gender preferences.
Abughazaleh told the Daily Dot that her profile is set to match with people whose age is 35 at the most.
"I don't know if it's a glitch or a perk for men using the subscription service but I've gotten many superlikes from men outside of my age range and distance radius," Abughazaleh said.
She also sarcastically described Labonte's conduct as "very cool and super not pathetic."
We crawl the web so you don't have to.
Sign up for the Daily Dot newsletter to get the best and worst of the internet in your inbox every day.
*First Published: Jan 24, 2023, 2:55 pm CST
Claire Goforth is a staff writer at the Daily Dot covering all things politics and technology with a focus on the far right and conspiracy theories.